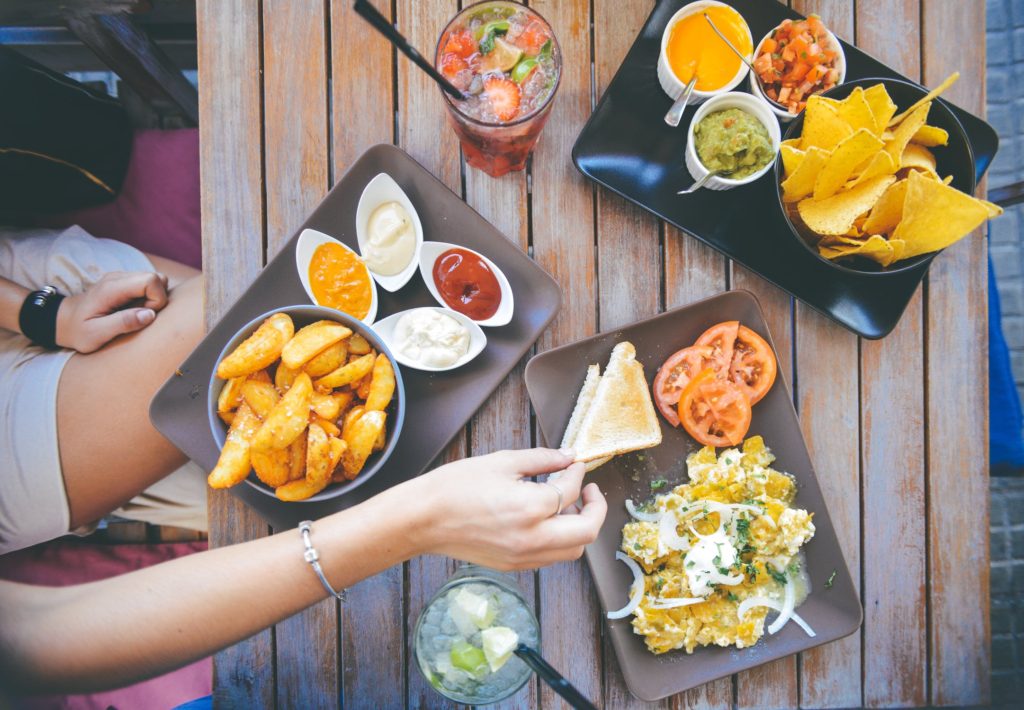 Calabasas is a beautiful city in the heart of Southern California that provides residents with a close proximity to shopping, award-winning schools, and delicious eateries as well as the spectacular surrounding Santa Monica Mountains.
As a residential community, Calabasas is among the most popular in California, as it offers residents a great place to delve into the peaceful Southern California lifestyle that's known for relaxation, enjoying the finer things of life, dining, and spending time with family. The weather is almost always pleasant, which adds immeasurably to this lifestyle and keeps you in touch with the many natural areas and outdoor destinations throughout the city. Calabasas plays host to numerous restaurants that might want to visit, but here is a list of our 11 favorite restaurants in Calabasas that you won't want to miss once you settle down in the area.
11. Toscanova
Toscanova is a chic and modern Italian eatery with contemporary decor and a lively and engaging atmosphere that focuses exclusively on Italian cuisine. Situated within The Commons at Calabasas upscale shopping center, Toscanova offers an extensive menu that's separated into soups, vegan dishes, sandwiches, pastas, salads, beef, fish, and pizza. When dining inside this restaurant, you'll be provided with intimate and romantic lighting that goes well with a date. Their wine list is practically endless and includes a wide range of both Italian and California red and white wines. You can take your meal outside to a scenic patio area that provides you with amazing views and a comfortable breeze as you dine. When visiting Toscanova, the place is located at 4799 Commons Way Ste A in Calabasas and is open from 11:30AM-10:30PM Monday through Wednesday, 11:30AM-11:00PM Thursday through Saturday, and 11:00AM-10:30PM on Sunday.
10. King's Fish House
King's Fish House is a casual seafood restaurant in Calabasas that earns a place on this list due to the huge variety of fish and seafood dishes that they offer as well as the festive atmosphere. People who visit enjoy the attentive waiting staff along with the ample portion sizes no matter which dish they order. They are open for lunch and dinner and provide a separate menu that you can look at during happy hour that offers specials on tequilas, draft beers, and a range of bar food. When attempting to set a reservation at King's Fish House, they are situated at 4798 Commons Way in Calabasas and are open from 11:00AM-9:00PM Sunday and Monday, 11:00AM-10:00PM Tuesday through Thursday, and 11:00AM-11:00PM Friday and Saturday.
9. 10 Speed Coffee
10 Speed Coffee is a small coffee shop with a fantastic bike theme and an energetic and welcoming atmosphere that will have you returning time and again for your morning coffee. The seating is situated in a manner that encourages socializing and a sense of community due to the lengthy tables and intimate decor. If you've never visited, the entrance to the place is at the back of the store, while a small and shaded outdoor seating area allows you to sit in the place that makes you the most comfortable. 10 Speed Coffee is popular among residents of Calabasas due to its friendly atmosphere and delicious coffees. Their coffee menu is extensive, including all of the espressos, cappuccinos, and mochas that you can expect to find at a cafe. Along with these drinks, they offer a vast selection of dishes that you can pair with your coffee for breakfast, lunch, or dinner, from muffins to sandwiches. If you have plans to visit 10 Speed Coffee, this cafe can be found at 23504 Calabasas Rd in Calabasas and is open from 6:00AM-8:00PM seven days a week.
8. Brandywine
Brandywine is a family-friendly restaurant that focuses primarily on a refined Continental cuisine with a large amount of French cuisine on the menu. Whether visiting for lunch or dinner, the food at this eatery is known by practically everyone who visits to be superb in its taste and beautifully presented when delivered to the table. Along with their standard dishes, they offer a fresh fish of the day that varies each time you visit as well as a dessert menu that changes almost every day. The atmosphere is an elegant and intimate one that's buoyed by the personal and gracious service that's always provided by the staff. If Brandywine is the next restaurant you want to visit, they are located at 22757 Ventura Blvd in Woodland Hills and is open from 5:00PM-10:00PM Saturday, Monday, and Tuesday. On Wednesday, Thursday, and Friday, they open at different times for lunch and dinner at 11:30AM-2:00PM and 5:00PM-10:00PM respectively.
7. Blue Table
Blue Table is a small Italian deli and market that's known for the tasty sandwiches as well as the "cheese closet" that provides visitors with access to a range of imported cheeses. With sidewalk seating and communal tables, the atmosphere is an eclectic one that invites socializing with the people you're sitting next to. The menu is usual cafe fare that focuses on sandwiches, salads, pizza, and a selection of entrees. Every day, they offer several unique specials that you might want to sample during your next visit, all of which are created from fresh and local seasonal produce. People also enjoy the expansive wine list that offers a vast selection of red and white wine varietals to choose from. When stopping by Blue Table, this restaurant can be found at 4774 Park Granada Ste 4 in Calabasas and is open from 10:00AM-6:00PM Monday through Friday and 11:00AM-5:00PM on Saturday.
6. Banzai Sushi
Banzai Sushi is a premium sushi restaurant in Calabasas that offers a contemporary setting and quiet atmosphere alongside a creative menu that includes an extensive number of sushi rolls, soups, salads, appetizers, vegetarian dishes, and special lunches and dinners that focus on a specific theme such as a sashimi dinner. Residents and tourists alike love visiting Banzai Sushi for their blue fin tuna and tempura ice cream as well as the fact that they offer low prices for all of their dishes. If you're looking to visit Banzai Sushi, they are located at 23508 Calabasas Rd and are open from 11:30AM-2:30PM and 5:00PM-10:00PM Monday through Thursday, 11:30AM-2:30PM and 5:00PM-10:30PM on Friday, 5:00PM-10:30PM on Saturday, and 5:00PM-10:00PM on Sunday.
5. Parkway Kebab & Grill
Parkway Kebab & Grill is a unique restaurant in the heart of Calabasas that makes its way onto this list for the Persian and Iranian cuisine that they specialize in. The portion sizes are substantial while their famous chicken and beef kebabs are the highlights for many who visit. The atmosphere is a lively and welcoming one that provides a great backdrop as you eat. When dining at this restaurant, consider tasting one of their daily kebab lunch specials, which cycles in a handful of different kebabs throughout the week. When setting your calendar for your next visit, Parkway Kebab & Grill is located at 5659 Las Virgenes Rd in Calabasas and is open from 11:00AM-8:00PM Monday through Thursday, 11:00AM-9:00PM on Friday, 12:00PM-9:00PM on Saturday, and 12:00PM-8:00PM on Sunday.
4. Saddle Peak Lodge
Saddle Peak Lodge is an upscale eatery in Calabasas that's situated within a rustic mountain lodge and offers a romantic and cozy atmosphere. They specialize in New American fare and wild game like elk and buffalo, while they have a whiskey bar on the third floor of the lodge that provides you with every type of whiskey that you could imagine. Their menu is divided into small plates, large plates, and ones that can be shared. You will need to set a reservation a couple of weeks in advance to ensure you get a spot at this luxurious restaurant. When you want to drop by the Saddle Peak Lodge, they are situated at 419 Cold Canyon Rd in Calabasas and are open from 5:00PM-10:00PM Monday through Saturday and 10:30AM-2:00PM, 5:00PM-10:00PM on Sunday.
3. Salt
Salt is a restaurant and bar with a focus on American cuisine and craft brews. With chic and industrial decor and a cozy atmosphere, this is a great place to eat at when dining with a group of friends. The menu is semi-upscale with a simplified amount of dishes for you to select from, which are divided into appetizers, salads, entrees, a la carte, and sides. Their staff is widely regarded to be very friendly, while the drink menu provides you with a large number of cocktails and craft beers to choose from. When you're thinking of visiting Salt, they can be found at 26500 Agoura Rd. in Calabasas and are open from 11:00AM-9:00PM Monday through Thursday, 11:00AM-10:00PM on Friday, 4:00PM-10:00PM on Saturday, and 4:00PM-9:00PM on Sunday.
2. Shibuya
Shibuya is a Japanese sushi restaurant that's known for having some of the best sushi in Southern California. Their menu has a focus on rolls, sashimi, and standard seafood entrees. The atmosphere inside is an energetic one due to the popularity of the destination, which is why you'll want to arrive around 30 minutes early, as the lines can get long. Their high-end sushi and other dishes are always fresh, whether you order standard sushi rolls or octopus. If you wish to visit Shibuya, this restaurant is located at 4774 Park Granada in Calabasas and are open at many different intervals throughout the week, including 12:00PM-2:30PM and 5:30PM-9:30PM on Tuesday, Wednesday, and Thursday, 12:00PM-2:30PM and 5:30PM-10:00PM on Friday, 5:30PM-10:00PM on Saturday, and 5:00PM-9:00PM on Sunday.
1. The Six
The Six is a modern American restaurant that provides visitors with a cool and casual atmosphere where they can go to listen to live music or watch the weekly football game. They strive to provide inventive menus that put a spin on standard American cuisine, as their primary menus are changed with each of the four seasons and focus on pizzas, flatbreads, sandwiches, and a range of entrees. Their drink menu includes numerous cocktails, wines, and beers to select from, while happy hour brings with it an entirely different menu of food and drinks for you to try. When visiting The Six, they are located at 23536 Calabasas Rd in Calabasas and are open from 11:30AM-10:00PM Monday through Thursday and 10:00AM-12:00AM on Friday and Saturday.
Find Your Dream Home and Enjoy the Community of Calabasas
If you're looking to purchase a home in the area or you're simply looking for a bite to eat on your way through, you'll be sure to find something you like in this spectacular community in Southern California.
Looking to purchase a home in Calabasas or West San Fernando Valley? Browse our Calabasas homes for sale or contact the Nicki & Karen Southern California Luxury Real Estate team today to find the home of your dreams!