Southern California – Living the Dream

With a wealth of breathtaking scenic views, an ideal climate, and recreational activities that span from the mountains to the sea, eastern Ventura and western Los Angeles counties offer an exclusive collection of the most enticing properties in the world. Whether you're searching for a lavish equestrian estate, an incomparable family community, a luxuriously private seaside home, or the finest amenities in country club lakeside living, it's all here for you. Come with us to discover the world of your dreams.
Agoura Hills

Harmoniously blending old and new, Agoura Hills is steeped in its historical and colorful Western roots while still offering a variety of cosmopolitan experiences. Located on the edge of the Santa Monica Mountains, and a part of the California chaparral and woodlands ecoregion, the city of Agoura Hills has serenity ingrained into its very essence.
During the community's decades of careful growth, the town's charming rural center has expanded to include exclusive gated estates, luxurious equestrian properties, and even a nearby collection of boutique wineries. In fact, in Agoura Hills you're just as likely to see someone riding down the road on horseback as you are to see them drive by in a luxury automobile.
With Los Angeles just a short drive away, Agoura Hills has become home to those who appreciate the work opportunities that the City of Angels has to offer, but prefer to live in a small-town atmosphere of safe streets, friendliness, and one of the finest school districts in California.
Calabasas

Why is Calabasas ranked as one of the nation's top ten places to live? Simply put: it's an ideal place to call home!
The neighborhoods that populate the city of Calabasas are geographically situated in the beautiful rolling hills at the eastern end of the Conejo Valley and western side of the San Fernando Valley. This geographic pinnacle allows residents the opportunity to enjoy a quiet picnic in a tranquil meadow during the day followed by a quick drive into Los Angeles for a dose of high-octane entertainment at night.
Perhaps this is one of the reasons why Calabasas is the spot where you'll find some of the biggest entertainment "A-listers" living in the most luxurious gated communities the region has to offer. Add to that modern shopping centers, an active business center, along with a selection of outstanding public and private schools, and you have the formula for a very bright future.
Camarillo & Santa Rosa Valley

Quietly nestled in the Conejo foothills, the communities of Santa Rosa Valley and Camarillo area are bordered by Wildwood National Park and the Las Posas Hills. With unobstructed vistas and brilliant blue skies reminiscent of days-past, the area captures the very essence of Ventura County's rural lineage - peaceful equestrian pastures, a scent of citrus blossoms in the air, and rolling hills that wind towards the ocean's shore.
Being centrally located within Ventura County, day-trip excursions to Santa Barbara, the local beaches, and Los Angeles are a breeze and provide the chance to experience a wide range of dining, performing and visual arts, and plenty of relaxation. And for the ultimate shopping experience, the local outlet stores are some of the best in southern California.
The area is also known for having the most moderate weather in the country (300 days of sunshine a year), encouraging a lifestyle of outdoor living. A paradise for families, it offers great schools, golf courses and country clubs, youth sports leagues, and miles of trails for exploring. And during harvest season be sure to stop by one of the roadside stands that sell locally grown fresh fruits and vegetables. It doesn't get any better than this!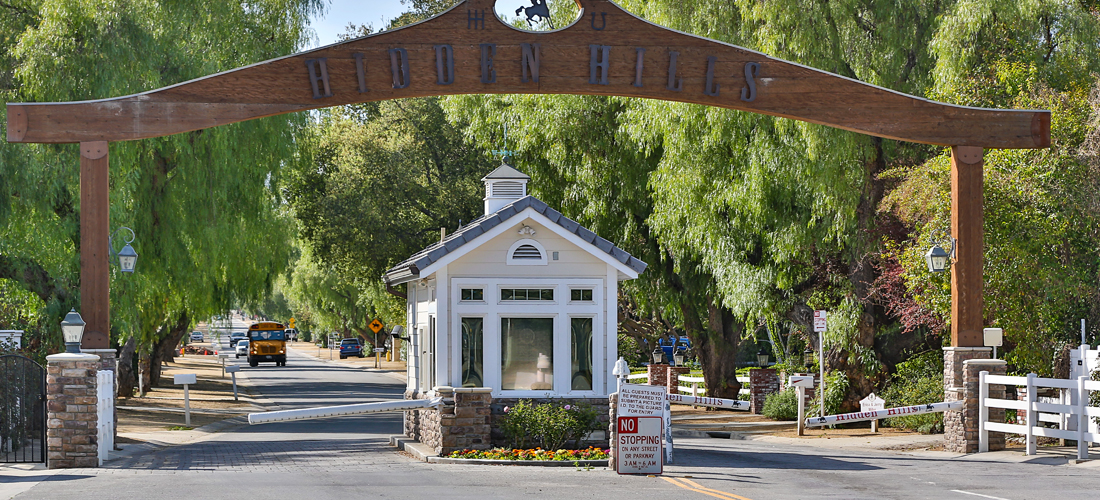 One of the most affluent cities in the country, a mere 2,000 residents reside in the prestigious community of Hidden Hills. Having gained a reputation for the ultimate in privacy and exclusivity, the planners have also created the amenities for a wonderful living experience for the entire family.
Residents experience a small-town atmosphere that celebrates its distinctive rural ambiance in ways that makes you feel like you've taken a step back in time. With bridle trails that lace the neighborhoods; white three-rail fencing adding charm to the streets, and the lack of any street-lights or sidewalks, the community offers a refreshing change of pace from the nearby city.
Hidden Hill's unique spirit is also infused into its community generated activities which include a summer camp for children, annual parades, carnivals, parties, a welcome wagon, and weekly community-wide barbecues all summer long.

A refuge for exclusive living, Hidden Valley is a community where serenity and privacy go hand-in-hand. With fabulous equestrian estates and magnificent luxury homes seamlessly woven into the pastoral countryside it is called home by those in search of a lifestyle of quiet living while still desiring easy access to all that the Greater Los Angeles area has to offer.
Outdoor-living in Hidden Valley comes as naturally as the cool sea breezes that keep the Valley's air fresh. With only the majestic Santa Monica Mountains standing between itself and the beautiful Pacific, the area offers miles of nature-filled hiking, equestrian, and cycling trails etched into the mountains that lead to the ocean's shoreline. With its unspoiled beauty, unobstructed views, brilliant blue skies and wide-open rural pastures it stands as a symphony for the senses and one of the last remaining opportunities to enjoy a world of secluded luxury.
Lake Sherwood

A private gated community where spectacular homes coexist with a world renowned golf course and country club, Lake Sherwood has earned its reputation for offering an unparalleled lifestyle where your choices are limited only by your imagination.
Centrally located, the opportunities for fine-dining along with world-class entertainment and recreational activities are limitless. With its magnificent architecture and inspiring location it's not hard to understand why Lake Sherwood has become home to a long list of notables from the entertainment industry and world of sports. In fact, it has been attracting celebrities since 1921 when scouts from Hollywood found it to be the perfect location for the Sherwood Forest in the film "Robin Hood" starring Douglas Fairbanks, Sr.
The Sherwood Country Club environment offers a resort experience with pristine pools, tennis courts, spa and fitness center and a beautiful Georgian Colonial inspired club house. Golfing enthusiasts have the opportunity for an exceptional playing experience on the Jack Nicklaus designed championship course. With its valleys, waterfalls, running streams and unique rock formations it's not only a unique challenge for golfers - it's a trip through paradise.
Malibu

Just as the Yellow Brick Road was the pathway to reach the exquisite Emerald City, the Pacific Coast Highway has become the road that will lead you to the paradise of Malibu; a land of beauty where you can find the most stunning and desirable luxury homes on earth – and even a few wizards who make movies come alive!
Although usually characterized by surf, sun and celebrity sightings you'll be surprised to find that Malibu, with a population of only 13,000, is actually a closely-knit community featuring a geographically-diverse, small town atmosphere.
Your choices for living in this seaside oasis are as wide and varied as its glorious sunsets. From the Bluffs with its sweeping views of the shoreline and Channel Islands; to the waterfront homes where the Pacific serves as your private backyard; to the tranquil canyons of the towering Santa Monica Mountains with homes sheltered in an environment surrounded by verdant foliage and solitude, Malibu serves as an affluent enclave infused with nature's beauty and coupled with an exceptional living experience.
North Ranch - Club Estates

The exclusive gated community of North Ranch offers residents 4,700 acres of scenic perfection. Meticulously crafted with a creative synergy between the environment and the properties, the designers have created visual masterpieces by integrating the winding arroyos and towering foothills into the views from the large home sites.
The North Ranch Country Club is no less impressive and serves as the social and recreational center point for the community. The challenging 27-hole course provides mountain views, lakes and scenery dotted with ancient oaks. The club also has excellent tennis facilities and an active clubhouse for its members. North Ranch is home to many celebrities and business executives who find the location and amenities perfectly suited to their lifestyle and needs. The community is located in the city of Westlake Village, renowned for fine dining by the lake, convenient shopping, and numerous recreational opportunities - both on and off the water. Families with children have the choice of exceptional public and private schools is the nearby area, all with stellar reputations.
Somis
To the outside world, the quaint community of Somis is best known for its agricultural and rural environment. But for people who call Somis home, the small-town oasis is a welcome and refreshing departure from the hustle-and-bustle of city living.
With the ridge line of Santa Paula's South Mountain adding to its picturesque vistas, this bucolic atmosphere offers residents a slower pace of life, an abundance of quietude, and a community where neighbors are still happy to help their neighbors.
The Somis countryside is dotted with luxurious estates and ranches, where at the end of the day from your front porch you can breathe-in the country air, sip a glass of lemonade, and savor a Moorpark Arroyo Sunset. Or for those who would rather have a taste of "city life" Westlake Village and Thousand Oaks are just a short drive away.
Thousand Oaks

Since its inception in 1962, the city of Thousand Oaks has carefully cultivated and retained its indigenous character. Sheltered in the heart of the Conejo Valley its gorgeous hillsides, stately oak trees, spectacular sunsets, award-winning schools, and ranking as one of the safest cities in America Thousand Oaks has earned it the reputation of being an unparalleled spot to raise a family.
The word 'outdoors' is synonymous with the city. And all you have to do is look around to know why. 1,500 acres of pristine countryside has been city mandated to remain a part of the landscape: 47 impeccably maintained parks and playfields have been created to provide relaxation and recreational opportunities for residents: 110 miles of walking and hiking trails are groomed for peaceful strolls into scenery that has remained unchanged for centuries.
Add to this, recreation and leisure programs for all ages, a regional theater that attracts major acts, and superb shopping and dining destinations, and you have the quintessential environment for working and living.
Westlake Village

Developed by prominent architects, engineers, and land planners, the community of Westlake Village has become an acclaimed model for the planned community concept and recognized as one of America's most successful suburbs and finest areas to live, work and raise a family.
Westlake Village has the good fortune of having been established in a perfect geographic location for both access to business centers and recreational destinations. With the canyons of the Santa Monica Mountains providing a conduit to the shores of the Pacific, the mountain range also offers a dramatic backdrop for the town's namesake- a tranquil 125 acre private lake that offers sailing, fishing, and an exclusive selection of extraordinary water-front homes. And to preserve the pristine quality of these assets, a comprehensive commitment to maintain an environmentally conscious way of life was launched by the city long before 'going green' became a national trend.
The city's controlled growth policy has kept the Village blissfully quaint while tastefully integrating a wide selection of architecturally significant shopping malls, quality restaurants, and a network of city streets, parks, and trails where runners, hikers, and cyclists can enjoy the beauty of Westlake Village.
Community Schools & Links