Throughout time, a White Stallion has served as a symbol of illustrious rarity. Often depicted with exceptional markings and features that set it apart from the ordinary, they have come to represent a fantastical world where the exceptional is possible and dreams are limited only by one's imagination. Welcome to 2500 White Stallion Road– distinguished estate living designed to cater to the senses.
Hidden Valley serves as the secluded retreat for this spectacular residence. Celebrated for panoramic vistas that stretch from the Santa Monica Mountains to the blue Pacific, spectacular equestrian and bike trails, and century-old oak trees that dot the countryside, Hidden Valley is called home by those in search of quiet country living while still having easy access to all that the Greater Los Angeles area has to offer.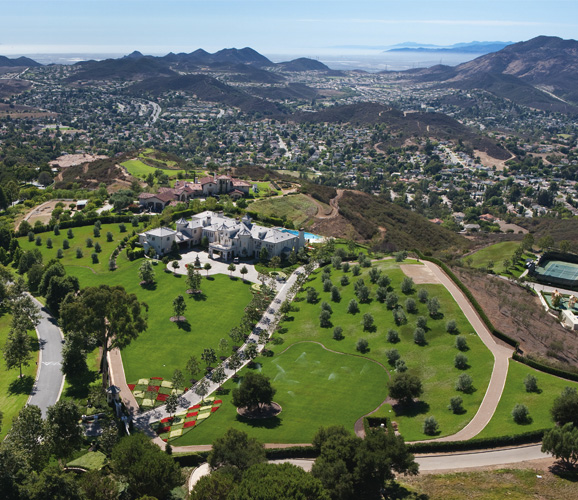 Rarely, if ever, will you find the attention to the extraordinary that 2500 White Stallion Drive has cultivated throughout its 23 acres of masterfully designed and meticulously manicured grounds. Beyond the beautifully ornate gate and guard shack, the expansive rolling green lawns quietly lead you into an estate that has been generously infused with features that never cease to amaze. On a canvas covered with delightful red and soft white begonias, limestone walkways lined by flowering magnolia trees, magnificent hand carved French limestone fountains and planters, and a variety of exquisitely arranged and executed parterres inspired by the Gardens of Versailles, the grounds are a showcase of elegance and grace, and an appropriate prelude to the sophistication and style that the living quarters has to offer.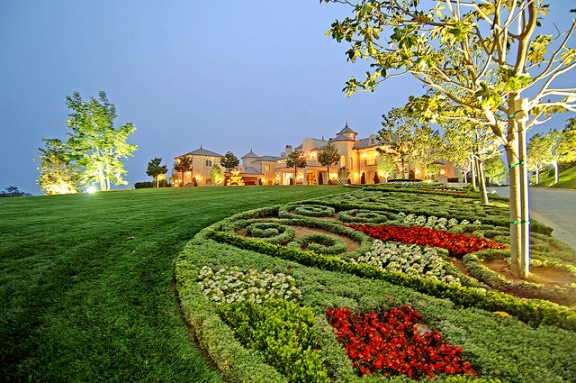 The two-level French Formal home was recently renovated and redesigned for the sole purpose of pursuing the art of fine living. Throughout the over 16,000 square feet of living space, you'll find a wealth of traditional European culture and charm at every turn: glorious ceilings framed by glazed wood crown moldings; custom quartz rock crystal chandeliers; Breaumanier limestone flooring ,and an elegant use of rich woods and upholstered walls. This appreciation for French artisanship is carried through to many of the home's eight fireplaces, where intricately hand-carved limestone mantles provide a stunning focal point.
Yet with all of the home's aesthetic visuals, its living quarters never disappoint when it comes to providing for a lifestyle of relaxation and enjoyment. From the comfortable elegance of the formal dining room, perfectly appointed to encourage an evening of fine dining and engaging conversation while sampling the offerings of the home's wine cellar; to the theater with its rich woods, acoustically perfect sound system and plush, oversized burgundy-leather seating; to the kitchen and breakfast area, appointed with state-of-the-art appliances, Italian hand-carved wood cabinetry, and abundant quartz countertops that provide all of the space necessary to undertake the preparation of a savory Ratatouille or a mouth-watering chocolate soufflé, the home seems to anticipate your every need.
Likewise, the nearly 3,800 square foot master suite displays a refined elegance that caters to moments of intimate privacy and luxurious living. The spacious suite is a sumptuous oasis that provides a relaxing sitting room, a second bedroom, gymnasium, dual-master baths, oversized walk-in closets with bone washed wood and silver leaf accents, and expansive windows that frame the stunning views of the Piute Mountains and the Pacific Ocean.
The rear grounds of the estate are no less magnificent. Optimizing its natural geographical setting of breath-taking views and dazzling sunsets, the crystal-clear infinity pool and cascading spa is complimented by Versailles pattern limestone terraces and walkways that form a captivating symmetry to the upper terrace. The lower terrace is a recreational lover's paradise featuring a knoll top tennis and sport court complete with grandstands and surround-sound speakers, as well as a custom designed play land – the kind that every child dreams of.
Like a mythical White Stallion, the estate is proudly poised atop a promontory in a land of rolling hills and stately oak trees. Possessing an illustrious rarity all its own, this home was conceived and created with the kind of care and craftsmanship that reaches beyond the ordinary to achieve a level of unparalleled grandeur and magnificence.