Hidden Valley: Southern California's Secret Celebrity Enclave
Interview and post by : Deidre Woollard & Candice Cerro, REALTOR.com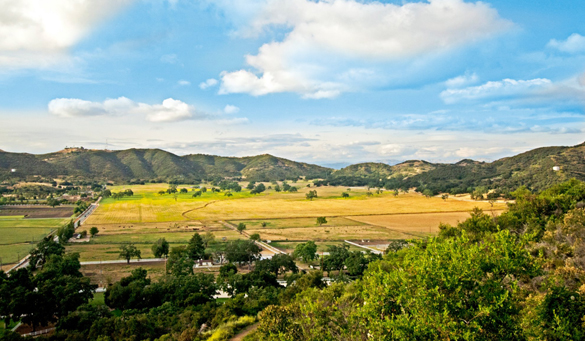 Reality television shows may have given people the impression that celebrities in Los Angeles spend all their time in Beverly Hills or lunching at The Ivy but some of the biggest celebs actually make their home in quieter places far from the throngs of paparazzi.
We enlisted two local real estate experts, Nicki LaPorta and Karen Crystal, who have each been selling real estate in the area for over a decade, to give us the inside scoop of the world of Hidden Valley. Hidden Valley is a small community located north of Los Angeles in the mountains outside Thousand Oaks, California. Here you'll find only around 40 homes each with at least 20 acres of property. The area has attracted celebs including Jamie Foxx, Tom Selleck and Ellen Degeneres and Portia de Rossi. Hidden Valley is no trendy newcomer either; for years Sophia Loren owned a ranch with the tranquil name of La Concordia, Robert Wagner ruled the roost at the more prosaically titled RJ Farms and actor William Powell also had a ranch here. The area's roots actually stretch back further still, into the reaches of old Hollywood when Lake Sherwood was used for the filming of the first Robin Hood movie in the early 1920s.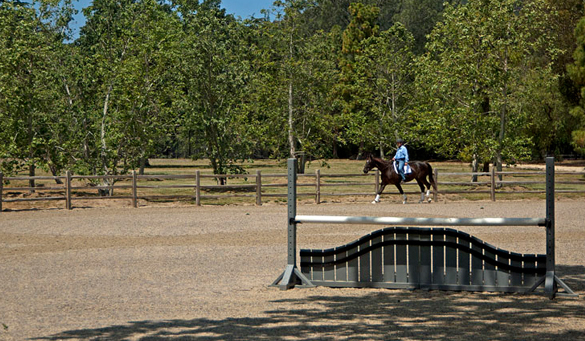 The area is also attractive to billionaires, none more famously than David H. Murdock, the chairman of Dole Foods, who first began buying land in the area back in the 1980s. Nicki and Karen tell us that they've taken some very big spenders on tours through the area. The same things that appeal to their famous clients also appeal to those without name recognition: good schools, private space, scenic beauty and lovely weather. The local private high school Oaks Christian has been attended by children of Wayne Gretzky, Will Smith and Joe Montana and has earned the nickname "Celebrity High."
(image of Oaks Christian via Oaks Christian Facebook Page)
Those who worry about spending hours in L.A. traffic can also choose to fly in to the nearby Camarillo airport, a perk for those who count this as one of several homes in a luxury portfolio. Some properties are working farms with stables and extensive equestrian facilities while others feature just a few pampered family steeds. Homes tend to be customized to the specific owner's wants and needs and therefore can stay on the market for a while until the right purchaser is found. Prices start in the $5-to-$6 million range, a price point that weeds out many potential buyers. But as Nicki and Karen tell their clients, you aren't just buying a home but a lifestyle.
A trip to see a home in Hidden Valley is not a casual in-and-out jaunt. There are no open houses. Nicki and Karen scrupulously screen clients before doors are ever opened and protect the privacy of both buyers and sellers. The pair usually opt to show a home together, giving the potential buyer not just a look at the home and grounds but also at the Hidden Valley lifestyle, a place where the hustle and bustle of Los Angeles doesn't seem like it exists only an hour away. Nicki and Karen are protective of this part of town, instructing clients that "you can't get this anywhere else in L.A." They say that being in Hidden Valley is an emotional connection and that nearly everyone they have helped buy a home here has chosen to stay in the area.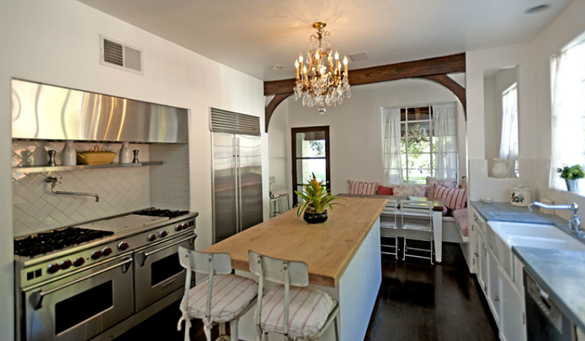 Should you want to make Hidden Valley your home, you might want to take a page from Meryl Streep's book. If you sighed over Streep's lovely camera-ready home in "It's Complicated" you can make the manse your own. The 56-acre ranch is listed for $12 million. The classic Spanish hacienda has a pool house, patio with a terracotta fountain, six-stall horse barn, greenhouse and more.