The Conejo Valley and the West San Fernando Valley consist of a large number of spectacular lakes and beaches, providing you with many opportunities for luxurious waterfront homes of all types. The spectacular Southern California weather also lends itself to the ideal location for a waterfront home, as the consistent breezes from the nearby Santa Monica Mountains help to keep these areas crisp and cool all year round. The beautiful waterfront views offered by these properties make them some of the most desirable homes in the entire country. By knowing where to find waterfront homes for sale in both the Conejo Valley and the West San Fernando Valley, you should have an easier time locating the home that's right for you (or at least knowing where to start)!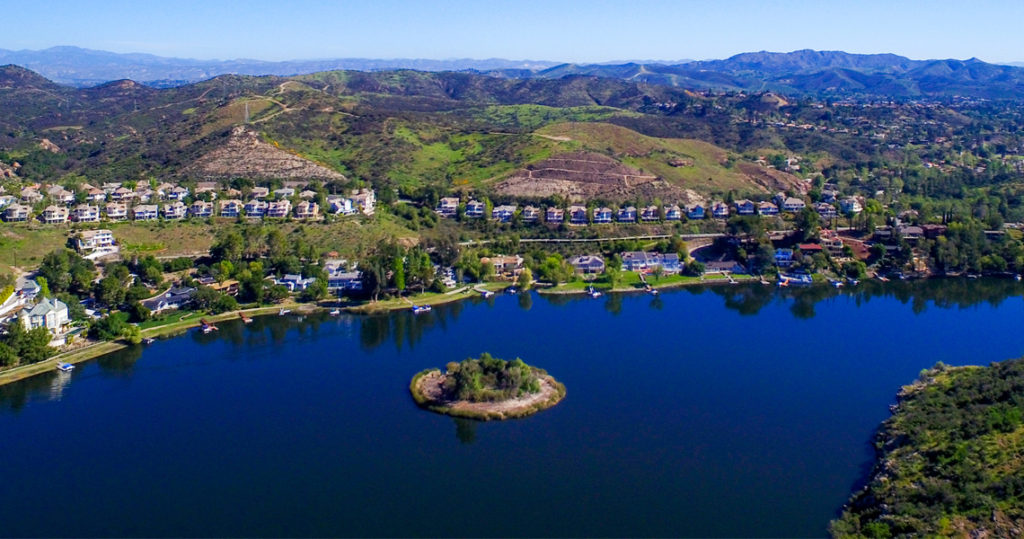 Calabasas Waterfront Homes
The Calabasas Lake is a unique man-made lake towards the center of the Conejo Valley that stretches across 21 acres and was initially created in the late 1960's. As the only body of water in the city of Calabasas, the Calabasas Lake serves as a picturesque location for the waterfront properties of Las Villas Calabasas and Calabasas Park. If you're a member of the homeowner's association in the area, boating and fishing are two activities available to you at this lake that you can partake in whenever your heart desires.
Las Villas Calabasas is one of two waterfront neighborhoods at the Calabasas Lake, providing you with a large variety of properties to consider when searching for your new home. The homes within this area include a number of attached homes and single-family residences with floor plans of up to 4,000 sq. ft. When searching for a home in this area, you'll be presented with options that offer anywhere from 1-4 bathrooms and 2-bedrooms, allowing you to select the property that best meets the needs of you and your family. Most of the homes in the neighborhood look directly out to the lake, providing you with scenic views of the surrounding area. The general price range for homes in this neighborhood is around $1.35-1.45 million on average, while some of the features you can expect to find in homes like these include large kitchens, walk-in closets with ample storage space, and stylish furnishings.
Calabasas Park is another small community where a subsection of the homes are situated alongside the Calabasas Lake, particularly those along the northern border of the community. Many of these waterfront properties are single-family residences that have been built in the Spanish or Mediterranean architectural styles, both of which are very common in Southern California. The homes in this neighborhood vary substantially in size and price, as the floor plans range from 1,500-15,000 sq. ft., while the number of bedrooms can be anywhere from 2-10 and the number of bathrooms anywhere from 1-8, providing you with enough options to fit numerous budget amounts. When you're considering a home in this neighborhood, the average price range for a house extends from around $900,000-$1.4 million, although certain houses can sell for as much as $4 million. When looking at the homes in this neighborhood, some of the features you may be provided with include a fireplace, gorgeous views of the lake, spacious kitchens and backyards, and sometimes a pool/spa area.
Malibu Waterfront Homes
The premier waterfront destination for prospective homebuyers in the Conejo Valley and surrounding areas is Malibu, a world-famous residential destination where many notable celebrities reside, due largely to the fact that it offers amazing views, quick access to the beach, and the availability of luxury homes. The majority of homes in this neighborhood would classify as single-family residences, although a substantial portion are attached homes, most of which are built in the contemporary or cape cod styles to match the beach lifestyle that many residents practice. The homes in this area are among the most sought after in the state, which is why they come with a price range that extends anywhere from just under $1 million to upwards of $24 million, although the average is around $4 million. These properties can range from 1,200-11,000 sq. ft. in size, while the amount of beds and baths in these homes can extend from 1-7 and 0-8 respectively. As for the features available with these homes, they largely depend on the type of home you select. For a property in the $2.5-3 million range, primary features might include spacious gardens, large patios, a fireplace, and possibly a pool/spa area, while the main features for a property ranging from $10-15 million could include a beachfront location, open floor plans, a large outdoor entertainment deck, a recreational space, and possibly an elevator to take you between floors.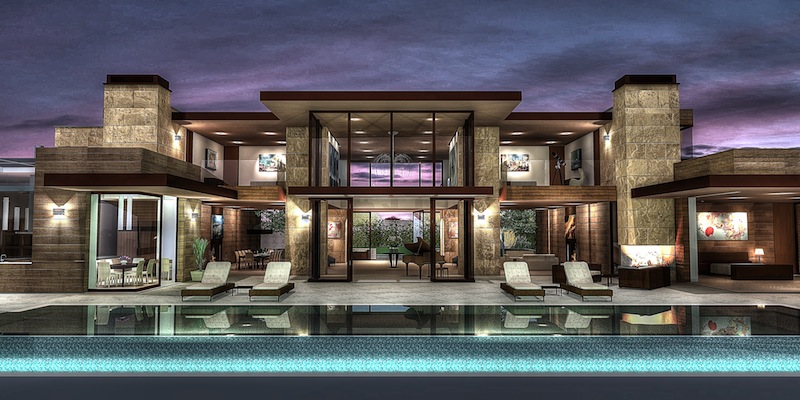 Another Malibu waterfront neighborhood is that of Malibu Lake, which is situated near Agoura Hills and provides prospective residents with numerous waterfront properties that are situated on the shores of the lake by the same name as this neighborhood. This neighborhood features mostly midsize cottages and single-family residences with a price range of around $700,000-$1.5 million and floor plans that can be as large as 7,500 sq. ft. When selecting a home in this neighborhood, some of the features you can expect include wood fireplaces, beamed ceilings, spacious lots, and stainless steel appliances in the kitchen.
Westlake Village Waterfront Homes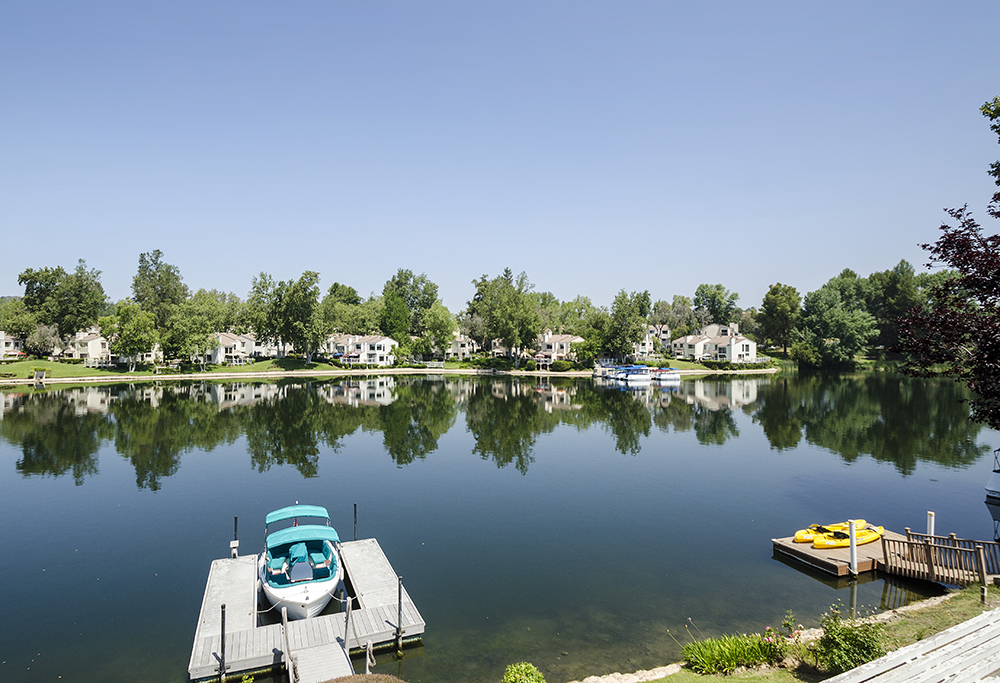 Westlake Village is a thriving planned community around Westlake Lake that's known for its laid-back and peaceful lifestyle that many residents of the community are fortunate to enjoy. In the center of the community is a spacious 125-acre lake that goes by the name of Westlake Lake, wherein more than 1,300 homes are situated over the eight miles of shoreline. This community is known for being a boat community, as residents of Westlake Village are the only ones with boating access to the lake itself, providing you with a sense of exclusivity as you take your boat out onto the lake. The lake is also well stocked with bass, providing residents with additional activities that they can partake in on their waterfront property. The main neighborhood in this community to provide access to waterfront homes is the Westlake Lake neighborhood.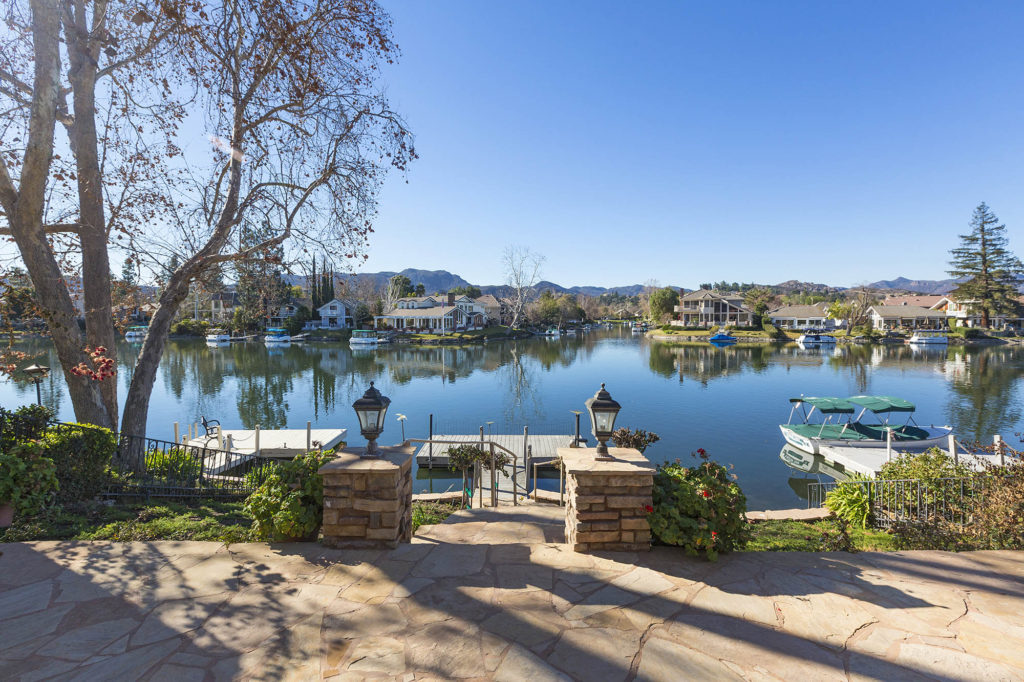 Westlake Lake is the premier neighborhood in Westlake Village and is the place you'll want to consider moving to when you're searching for a waterfront property in the area. The homes within this neighborhood are single-family residences along with a number of attached homes, most of which are built in the Mediterranean style. You can find houses that include anywhere from 2-5 bedrooms and 0-6 bathrooms as well as floor plans that extend anywhere from 2,000-8,000 sq. ft. A unique aspect of many of the homes in the Westlake Lake neighborhood is that the majority of the waterfront properties consist of a very small dock that extends out over the water, providing you with a space where you can hook up a boat or a small yacht to use later in the lake that the neighborhood is named after. Although this is one of the foremost features that prospective homeowners look for in one of these properties, some additional features available in the majority of these houses include a wet bar, open floor plan, stone fireplace, spacious kitchens, a pool area, and large walk-in closets. When you're considering a home in this neighborhood, the price range can be around $1.5-3.5 million, although the median sale price is around $1.8 million.
Lake Sherwood Waterfront Homes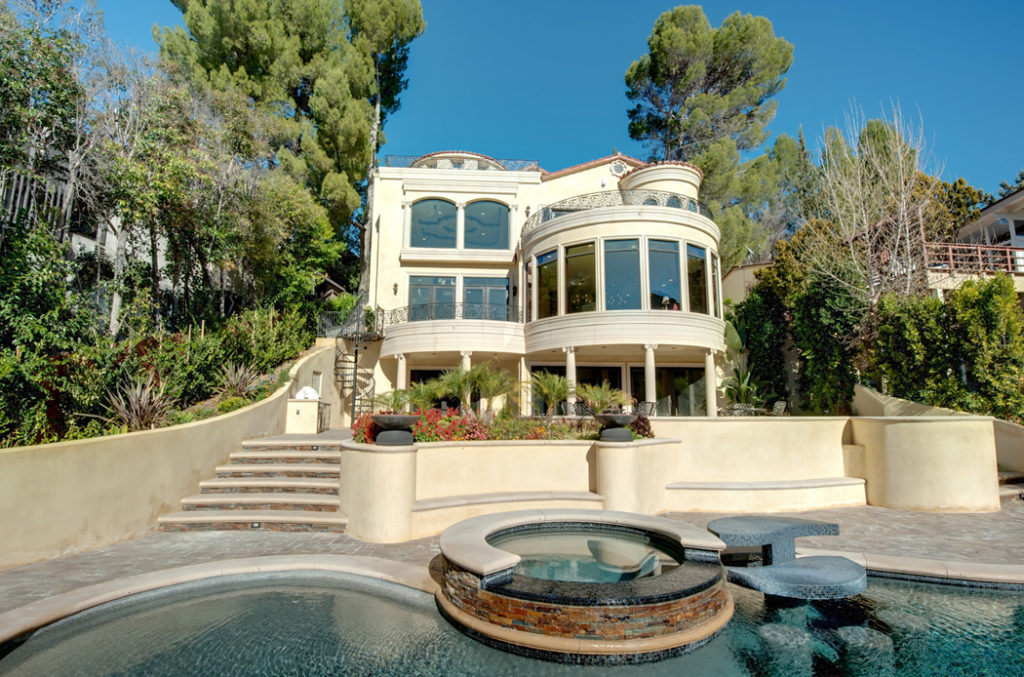 Lake Sherwood is a large community and neighborhood that surrounds a lake of the same name, providing you with the ability to find a vast number of waterfront properties. Almost all of the properties surrounding the reservoir are luxurious in nature, providing you with elegant furnishings and a substantial amount of property features and amenities. The majority of these waterfront homes can be found along Lake Sherwood Drive, while the homes themselves are single-family residences and larger estate homes, some of which have been custom built with a contemporary and modern look. The features available with these homes depends on the price of the property, as the price range for houses in this neighborhood extends anywhere from $1.5-20 million. If you're selecting a home in the $1.5-4 million range, some features you can expect to be provided with upon purchase include granite counters in the kitchen, wood flooring throughout the home, both indoor and outdoor fireplaces, and a pool or spa area. If you purchase a home in the $12-20 million range along the waterfront of Lake Sherwood, you'll be provided with spacious floor plans that extend from 10,000-15,000 sq. ft., stylish furnishings, luxurious amenities, a wine cellar, gourmet kitchen, pool and spa area, and much more!
Searching for Waterfront Homes in the Conejo Valley or West San Fernando Valley?
If you're interested in these waterfront properties and would like to do some independent research, feel free to use our property search feature to browse the inventory of homes for sale in these areas. We're here to help throughout your entire search! If you have any questions, feel free to get in touch and we'll help you find the waterfront home of your dreams.