The Sherwood Country Club is a  luxurious country club and premium golf course which can be found in the Lake Sherwood community. This country club is surrounded by luxurious estates that provide prospective homeowners with the utmost in style and sophistication. The country club and the surrounding estates are nestled among the Santa Monica Mountains in Ventura County, providing residents and golfers with spectacular views and amazing Southern California weather that's cool, crisp, and comfortable all year long.
The estates provide residents with luxury away from the big city, as almost all of the homes surrounding Sherwood Country Club are typically vast estate homes and properties that provide large lots, stylish furnishings, private pools, and views of the nearby golf course. This affluent neighborhood is in close proximity to many of the shopping and entertainment options found throughout Thousand Oaks. When you are searching for one of these spectacular luxury estate homes that are up for sale in this neighborhood, you will be provided with many options that will deliver luxury and relaxation while providing you with close proximity to the exclusive country club.
The Sherwood Country Club
The Sherwood Country Club is a premier destination for anyone who loves golf and enjoys spending their time among luxury and style. This country club is among the most exclusive in all of California, as it boasts a mere 375 members for the golf course and clubhouse as well as 175 members for the tennis clubhouse.
Due to the exclusivity of this club, it has attracted many celebrities and high profile guests over the years, from professional golfers to famous actors. This country club can be found in Lake Sherwood at the very base of the Santa Monica Mountains, which is why the weather at this golf course is always pleasant due to the breezes that waft in from the mountains.
This club plays host to a regulation 18-hole golf course along with a driving range and a spacious golf clubhouse that was built in the elegant Georgian architectural style and provides members with a place for socializing and getting to know other members of the club.
Along with the golf course, members have access to a vast tennis clubhouse, gymnasium, Olympic-size swimming pool, spa, and a state-of-the-art fitness facility, allowing you to sit back, relax, and socialize with other members. The 12 tennis courts available in the clubhouse include a total of eight hard courts, two clay courts, and two grass courts, providing you with the means of playing on your favorite surface.
The country club was formally opened in 1989 and has since hosted many prestigious golf tournaments, including the PGA Tour on numerous occasions.
Sherwood Country Club Golf
While the Sherwood Country Club is outfitted with a wide range of amenities that club members can enjoy, the main draw of this club is its golf course and the many features that come with it. The Par-72 course at the Sherwood Country Club was designed specifically by Jack Nicklaus and is among the most beautiful courses in Southern California. Dotted around the landscape of this course are many trees, bunkers, and water hazards, which means that golfers will have their skills tested if they want to achieve a competitive score. Most of the 18 holes are designed to be challenging in a number of ways, as some are straightforward with a tricky hole placement while others have several twists and turns along with difficult bunker placements. The bentgrass on this course is kept in pristine condition at all times, while the course amenities include an open-field driving range that you can practice on before taking to the course as well as several small putting greens and chipping areas.
If you're interested in becoming a member of the Sherwood Country Club, doing so will be difficult but not impossible, especially if you live in one of the estates surrounding the club. The primary way to become a member is by invitation or with a referral by another member. From time to time, this country club offers a variety of options that will allow you to become a member, although the cost of each is substantial and there are only a small number of openings. For instance, a standard membership requires an equity membership payment as well as monthly dues, which will provide you with premium access to the course and the numerous practice areas that come with it, locker areas where you can keep your equipment, a full restaurant, and complete access to the tennis clubhouse and all of its amenities, from the fitness center to the pool. Additional memberships available to you include one for people who do not live in California, a membership to the tennis club, and a social membership, each of which has its own unique benefits.
The Sherwood Country Club is as much of a social destination as it is a golf destination, which is why weddings and other events are held there on a regular basis. Over the years, tournaments such as The Shark Shootout, the Chevron World Challenge, and the Northwestern Mutual World Challenge have been held at this country club on a regular basis. One of the latest tournaments to call this course its home is the PGA Tour tournament that's known as the PowerShares QQQ Championship, which is a second-round playoff event for PGA Tour Champions. This 54-hole event began in 2016 and takes place every October, gathering 72 of the best players in the world to battle it out against one another. This 5-day event offers numerous VIP experiences to fans and golf lovers who wish to be a part of the PGA Tour and the prestige that comes with it.
Sherwood Country Club Weddings & Events
Due to the beautiful vistas and picturesque surroundings available at the Sherwood Country Club, it is a popular destination and spectacular venue that's perfect for weddings and a wide array of events. While this destination is known for its golf course, it's also outfitted to be the ideal place to hold a special event, as it offers pristine Georgian architecture, stunning gardens, lakes, fountains, and old oak trees as well as a distinctive cuisine that's provided by professional staff and a reputable catering crew that makes for the perfect host.
The Santa Monica Mountain backdrop adds to the ambience and atmosphere, ensuring that your event is a memorable one. If you are considering holding a wedding at this venue, you can have the wedding in the grand ballroom that accommodates 250 or on the croquet lawn that accommodates up to 300, the decision of which is entirely up to you. Some other events that are popular at the Sherwood Country Club include mitzvahs, birthday parties, retirement parties, and business meetings, allowing you to book the venue for practically any type of event.
The Sherwood Country Club Estates
When you are interested in purchasing a home within the Sherwood Country Club neighborhood, each of them will provide you with the height of luxury, as they are available as spacious single-family residences, large estates, and custom properties. The luxury homes within this golf club community are outfitted with a wide range of stylish amenities, although the amount of amenities you are provided with depends largely on the price you pay for the home. Estates within the $5 million range typically boast multiple floors, square footage of anywhere from 4,000-6,000, home automation systems, large outdoor patios, gourmet kitchens, and numerous fireplaces, while estates in the $10-12 million range might provide you with such amenities as a private pool and spa area, direct views of the golf course, floor plans with around 10,000 sq. ft., chandeliers, marble accents, and possibly a sport court with access to tennis and basketball courts.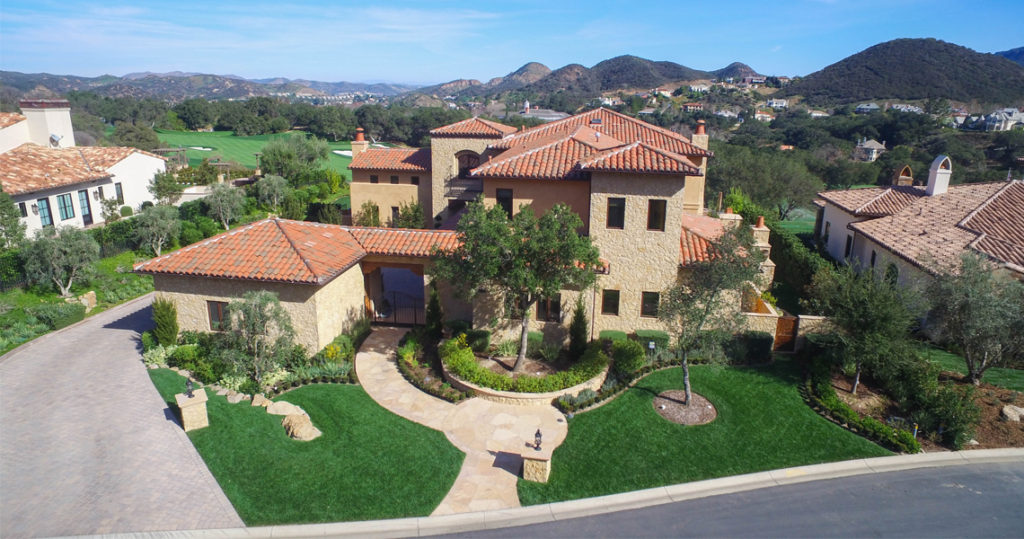 Each of these estates typically come with exquisite furnishings that help to provide the interiors and exterior with personality. When you are set to purchase a home in this area, the estates available to you can range in price from $2.5 million to upwards of $15 million, which accommodates a variety of budgets. You should also be aware of the fact that the listing price is hardly ever final, so don't be wary of negotiating the price down to obtain a more favorable sale price.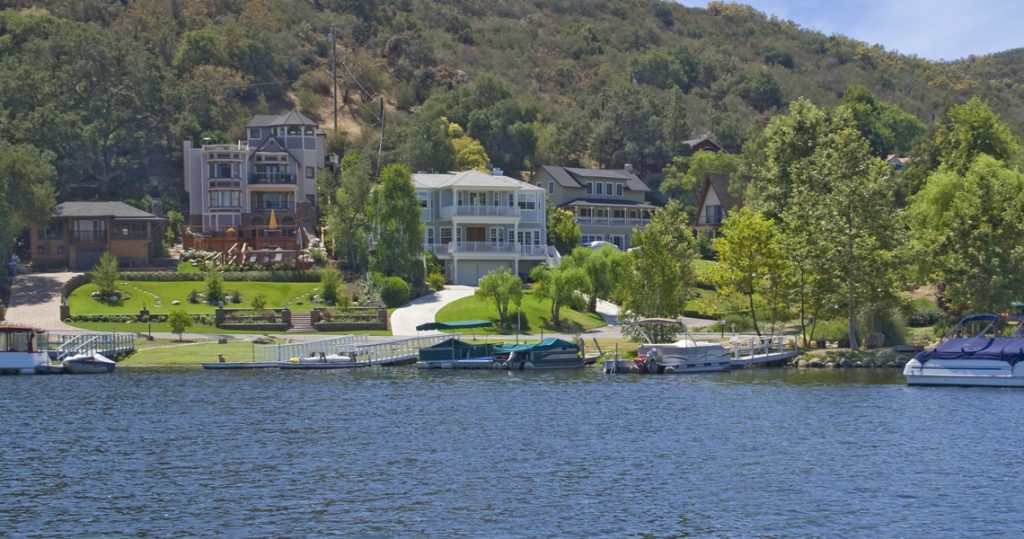 Along with the luxury provided with these homes, purchasing an estate in this neighborhood will also provide you with ample amounts of safety and security, as this community is guard-gated on a 24/7 basis, allowing you and your family to feel safe at all times. These estates can come in a wide range of different architectural styles that include the popular Hampton and Tuscan styles, while also providing you with anywhere from 3-9 bedrooms and a similar amount of bathrooms.
View our Sherwood Country Club Estates and other luxury homes for sale
Many celebrities have called the Sherwood Country Club estates their home over the years, including Britney Spears, Sylvester Stallone, Sean Connery, Mel Gibson, Jane Seymour, and Will Smith, among many others, due largely to the fact that the community provides privacy, easy access to the Sherwood Country Club, a wide array of outdoor activities, and close proximity to many shopping and entertainment destinations in Thousand Oaks. If you're searching for a home that will provide you and your family with grandeur and opulence, these estates offer some of the best amenities, furnishings, and views that you can find in all of Ventura County.
Want to learn more about the Sherwood Country Club &  Estates?
Looking for more to do in Lake Sherwood? Check out the Sherwood Lake Club for Golf, Dining & Events, Activities, and more!
If you're interested in buying a home, selling a property, or would like to learn more about the Sherwood community, contact Nicki & Karen of Ewing & Associates Sotheby's international Realty today!