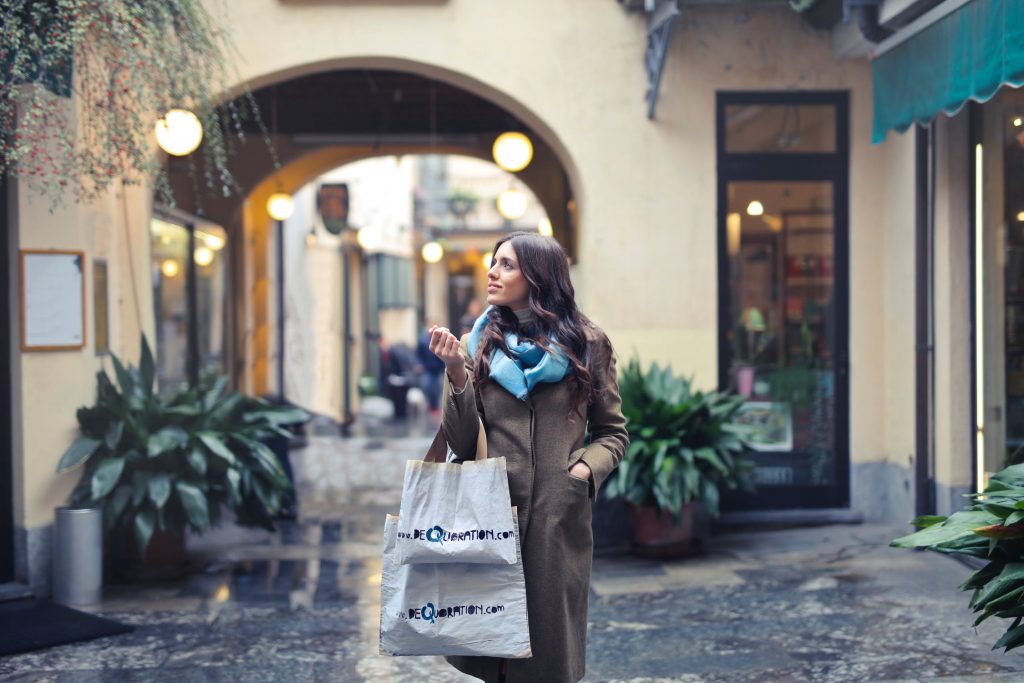 Calabasas is a central hub for entertainment and shopping in Southern California, as people from all over the Greater Los Angeles area head over to Calabasas for all of their shopping needs, from groceries to home goods or boutiques and everything in between. Celebrities have been known to frequent these local shopping hotspots due to the large variety of different types of shops within close proximity to one another and the luxury residential properties closeby. The beautiful Southern California scenery and comfortable weather all throughout the year provide a sense of relaxation whenever you're shopping in Calabasas, while the luxury lifestyle caters to the upscale shopping and entertainment venues that the city of Calabasas has to offer.
7. The Oaks Shopping Center
The Oaks Shopping Center is a spacious shopping center that offers an open-air and enclosed experience throughout the two levels of shops that you can find at this destination. Within this relaxing yet upscale shopping center, you are provided with access to more than 180 different shops, from Macy's to Nordstrom. Over the years, the majority of the shopping center has undergone major design renovations that have focused on making sure that the place mirrors the Mission Revival architectural style that's common throughout much of Southern California. When shopping at The Oaks, you can find all different types of shops within the premises, including clothing stores, electronic shops such as Apple, jewelry and makeup boutiques, salons, home goods stores, and chocolate shops.
The restaurants and dining options inside The Oaks are just as varied as the stores, as you can dine at such restaurants as Subway, The Cheesecake Factory, Chipotle Mexican Grill, Olive Garden, and StoneOven Gourmet Sandwiches & Salads, which provides you with a wide range of cuisines to sample from. For entertainment, this shopping center houses a popular movie theater known as Muvico 14 Theaters, giving you easy access to all of the latest blockbusters. When planning a visit to this shopping center, you might want to do so during an event, as there are many held there throughout the year, ranging from farmers markets to fashion shows. When you're considering a trip to The Oaks Shopping Center, it can be found at 350 W Hillcrest Dr in Thousand Oaks, CA and is open from 10:00AM-9:00PM Monday through Saturday and from 11:00AM-7:00PM on Sundays.
6. Whizin Market Square
Whizin Market Square is a relatively small yet unique boutique shopping center that's situated in Agoura Hills. The entirety of this shopping destination is focused on capturing the relaxing and peaceful Southern California lifestyle where artisanal goods and eclectic food are celebrated. As you're walking inside the mall, you'll notice a large amount of greenery as well as wood accents that help to set the mood, while the shops and stores are divided into three sections that include market row south, market row north, and market hall, the latter of which contains shops on two different floors. The market hall area consists of numerous beauty and jewelry shops like Simon Hazan Hair Design and Monica Designs Jewelry, while the market row north section contains a large variety of shops, including fitness centers like Center Barre and clothing stores like Pebbles Clothing. As for the market row south area, it's here that you can find a variety of clothing, antique, and home goods stores.
When you're looking to take a break from the shopping, there are seven eateries situated throughout Whizin Market Square, such as Numero Uno Pizza and Woodranch. For dessert, you can stop by Tifa Chocolate & Gelato to sample one of the more popular ice cream shops in Southern California. One of the primary events held at the Whizin Market Square every Thursday night is the "Tunes & Tastings" event, which provides you with many foods and wines that you can sample while listening to live music from local musicians. If you're thinking of taking a visit to the Whizin Market Square, this store can be found at 28914 Roadside Dr in Agoura Hills and is open every day from 8:00AM-10:00PM.
5. The Village at Westfield Topanga
The Village at Westfield Topanga is a section of Westfield Topanga that was built as an expansion to it in 2015. It's an open-air shopping location that consists of dozens of name-brand stores, boutiques, and smaller shops. From spas and jewelry shops to yoga centers and home furnishings stores, The Village is known for its variety. This area within the Westfield Topanga shopping centers also plays host to nearly two dozen restaurants, including Jimmy's Famous American Tavern, Larsen's Steakhouse, and Sushi Katsu-ya.
If you're searching for entertainment when shopping at The Village, consider attending the foremost event at this shopping destination known as The Village Unplugged. Every Sunday starting at noon, you'll be able to listen to some of the best local musicians throughout Southern California. The Village at Westfield Topanga is situated at 6600 Topanga Canyon Blvd in Canoga Park, CA and is open from 10:00AM-9:00PM Monday through Saturday and from 11:00AM-7:00PM on Sundays.
4. Shoppes at Westlake Village
Shoppes at Westlake Village is a shopping mall that's among the most popular of its kind in Westlake Village, as it focuses on providing a memorable experience with only a small selection of stores and restaurants. Among the dozen stores within Shoppes at Westlake Village, there are a dozen different types to visit, including hair salons, nail spas, a shoe store, clothing stores, jewelry stores, and home goods shops.
When you're spending a day out and about in Westlake Village, you'll also be pleased to know that this shopping center is comprised of 11 cafes, full-scale restaurants, and chocolate shops, from Tifa Chocolate & Gelato and In-N-Out to Q Sushi and Los Agaves Restaurant. The many events held at this shopping center include holiday sing-a-longs, Valentine's Day celebrations, and a Spring Fling event that welcomes the new season with face painting, music, arts and crafts, and a range of other fun activities for the whole family to enjoy. If you are looking to visit the Shoppes at Westlake Village in the near future, they are located at 30770 Russell Ranch Rd in Westlake Village, CA and are open every day from 8:00AM-10:00PM.
3. Malibu Country Mart
Malibu Country Mart is a vast outdoor shopping mall in the heart of Malibu that is designed primarily to emulate the relaxing and laid-back atmosphere of the city that it resides in. This outdoor lifestyle center is situated just nearby the beach and provides families and couples alike with a great place to shop, socialize and have fun. When traversing the grounds of this lifestyle center, you'll be presented with art galleries, upscale boutiques, and delicious eateries. The just over 5 dozen stores and restaurants include many upscale clothing stores, salons, and jewelry shops, as well as shoe stores like the Canvas Boutique & Gallery. When it's time to eat, head on over to such restaurants as Mr. Chow for a luxurious 5-star dining experience or Coffee Bean & Tea Leaf for a drink and a quick bite to eat.
If you're taking your children with you, this place houses a large outdoor playground with nearly a dozen swings and a couple of spacious jungle gyms. Throughout the year, the Malibu Country Mart hosts numerous seasonal events that help to bring the community closer together, such as watching classic movies in the summer or visiting an art festival during the fall. When visiting the Malibu Country Mart, their building is situated at 3835 Cross Creek Rd in Malibu, CA and they are open every day from 9:00AM-6:00PM.
2. The Promenade at Westlake
The Promenade at Westlake has been the first choice for shopping centers among the majority of residents of Thousand Oaks for more than two decades due to its focus on style and luxury. When you're shopping, you'll be presented with a combination of elegant boutiques, modern fashion and home goods shops, and popular brands from around the world. They have just over two dozen stores within The Promenade, many of which are beauty salons, nail spas, and clothing stores. You can also drop by Barnes & Noble to get in some reading or stop in Cost Plus World Market for some furniture to liven up the interiors of your home. The dozen restaurants in The Promenade include two chocolate shops, a French bakery, a couple of small cafes, two American steakhouses, and a couple of delectable Italian eateries.
During your time at The Promenade, consider stopping by Cinepolis Luxury Cinemas, as this destination allows you to view all of the upcoming blockbusters while being provided with a one-of-a-kind experience where the food is gourmet and the seats are leather ones that fully recline. Throughout the year, they host a large number of in-store style events and entertainment for the entire family, such as Easter brunch, live entertainment, or a wine tasting. The Promenade at Westlake can be found at 100 Promenade Way in Thousand Oaks, CA and is open from 10:00AM-8:00PM Monday through Thursday, from 10:00AM-9:00PM on Friday and Saturday, and from 11:00AM-7:00PM on Sundays.
1. The Commons at Calabasas
The Commons at Calabasas is an upscale retail and entertainment center that has proven over the years to be among the more popular destinations in Southern California. This shopping complex comes with a fantastic open-air layout with lavish amenities and stately Mediterranean architecture, which makes for an atmosphere that's sociable, fun, and comfortable. There are nearly two dozen stores in The Commons at Calabasas, including apparel stores such as Chico's and Kate Spade, jewelry stores like Polacheck's Jewelers, and home goods stores like Williams Sonoma Home and Paper Source. The restaurants within The Commons are nearly as popular as the stores that they are situated beside, as you'll be provided with access to such fine-dining destinations as Le Pain Quotidien and Sugarfish by Sushi Nozawa. For dessert, you might be interested in See's Candies or Jeni's Splendid Ice Creams.
If entertainment is what you're after, the Edwards Grand Palace Stadium 6 theater allows you to watch the latest films as well as some harder-to-see independent films that can only be found in select theaters. If you're interested in one of the many events held at this shopping center, make sure to check the online calendar before your next trip to find information about family events, beauty events, and food festivals. The Commons at Calabasas is located at 4799 Commons Way and is open from 10:00AM-8:00PM Monday through Thursday, from 10:00AM-9:00PM on Friday and Saturday, and from 11:00AM-7:00PM on Sundays.