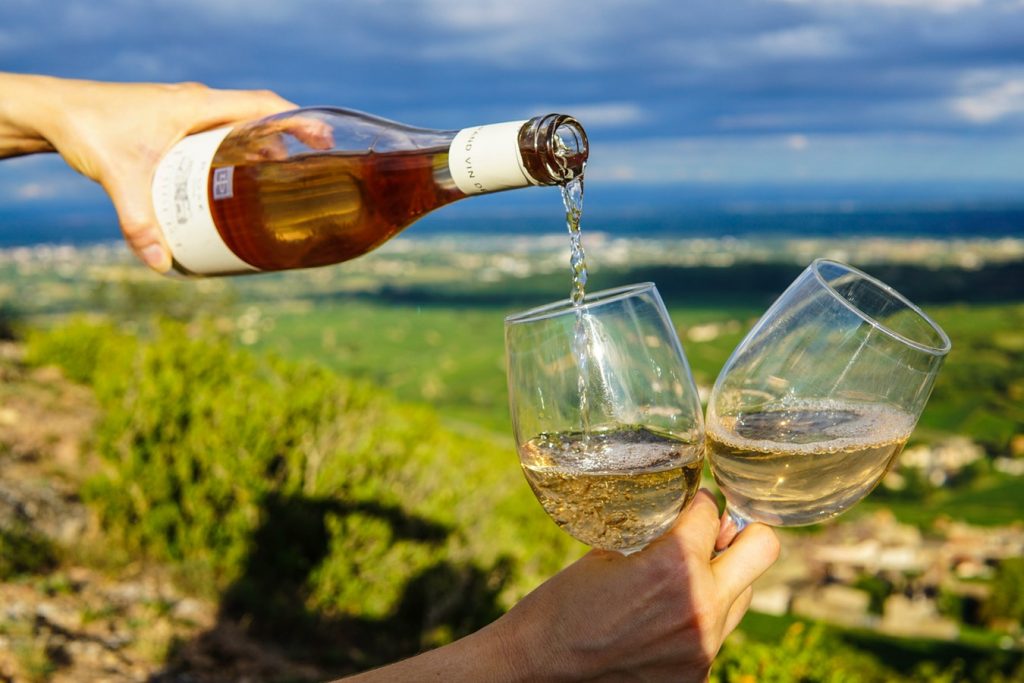 There are times when you just need to have a glass of wine… or two… or even three when the occasion calls for it. Ventura County is not only an ideal location to live and enjoy the year-round splendid Southern California weather, but it's also a premier destination for wines and vineyards, which is shown by the fact that wine growing has been increasing in popularity throughout Southern California over the last decade or so.
Given the many benefits of growing wine in this region, there are a myriad of fantastic wineries and tasting rooms all over Ventura County that you can visit throughout the year. Whether you're looking to have a glass of wine alongside a beautiful setting after a long day of work or would like to spend a day out with friends, Ventura County plays host to a number of spectacular destinations that allow you to enjoy the finer things in life.
7. Pantess Cellars (formerly known as San Vicente Cellars)
Pantess Cellars is a smaller, artisanal winery that produces high quality wines from several valleys throughout Santa Barbara County and the Central Coast of California. They implement wine-making techniques to ensure that their varietals stand out and are unique among other wines in Ventura County. When visiting their tasting room, you may also want to consider purchasing some of the many wine accessories that they offer, which includes fine stemware that will look fashionable in the home of any wine lover.
When you stop by the tasting room at the Pantess Cellars, you will be able to sample 1-ounce portions of six of their wines for just $15. This winery offers a Wine Club membership, which costs around $55 per three months and comes with such benefits as a free wine tasting for two, 20% off a case of wine, 15% off all wine purchases, and the provision of two select wine bottles every three months. The tasting room itself is spacious and designed for socializing while also providing you with a glimpse of the wine-making process.
If you are planning a visit to Pantess Cellars, their winery is located at 537 Constitution Ave D in Camarillo, CA and are open from 1:00PM-6:00PM on Saturday and Sunday.
6. Four Brix Winery & Tasting Room
The Four Brix Winery & Tasting Room is among the most treasured craft wineries in California, as it provides visitors with a vast selection of varietals that were made from grapes in destinations like Spain, Italy, France, and California, allowing you to taste wines from around the world. Their eventful tasting room is known as the BrixHouse and is a great place to go if you want some fun and entertainment along with your wine, as the BrixHouse plays host to such events as a Blending Party, Wine Dinner, Concert in the Cellar, BBQ Pizza Nights, and Foodie Friday.
When you're not visiting the tasting room during an event, you will still be provided with several wines to taste as well as a charcuterie plate or even pizza. Overall, they offer 13 different wine varietals, each of which comes with a unique taste. If you're searching for a wine club to join, you can become a "Brix Head" member, which will provide you with numerous benefits, the primary of which gives you a 20% discount on four bottles, a 25% discount on six bottles, and a 30% discount on eight bottles.
The Four Brix Winery & Tasting Room can be found at 2290 Eastman Ave # 109 in Ventura, CA and is open from 12:00PM-5:00PM Thursday, Saturday, and Sunday, and from 12:00PM-8:00PM on Friday.
5. Millesime Cellars
Millesime Cellars is a winery that specializes in the production of old-world style wines, particularly from the wine regions in Italy, France, and Portugal. Along with the many standard varietals at Millesime Cellars, they offer five different blends, each of which provides you with a well-rounded taste that you can't find anywhere else. The tasting room is small and cozy, and is outfitted with many seating areas with large wine barrels that act as tables to place your glass or food as you sample their wines.
Millesime Cellars offers visitors the chance to join one of several different wine clubs, a couple of which provide a new experience alongside the discounts that typically come with membership to a wine club. Their four wine clubs include The Millenium Wine Club, Blend to Bottle, Grape to Bottle, and The Vintage Wine Club. Both the Blend to Bottle and Grape to Bottle clubs provide you with the chance to make your own wine alongside a professional wine-maker, after which you will be given 20 cases of the specific blend that you created.
When scheduling a trip to Millesime Cellars, they are situated at 425 Constitution Ave H in Camarillo, CA and are open from 12:00PM-6:00PM Thursday through Sunday.
4. Strey Cellars
Strey Cellars is a stylish, contemporary winery and tasting room that aims to provide visitors with a one-of-a-kind experience as they sample some of the many available wines. They offer fourteen different wines dating back to 2012 and later, all of which can be sampled in their tasting room. These offerings include a 2013 Cabernet Sauvignon and a 2013 Merlot. The room itself is sleek and comfortable, providing you with plush chairs to sit in while you relax and sip their wines. This is a relatively new winery that specializes in Zinfandel varietals and offers an inexpensive wine tasting if you're on a budget.
For just $10, you will be provided with six small glasses of wine, each of which is from a different bottle to ensure that you're able to sample the many flavors this wonderful winery has to offer. If you purchase a bottle of wine after the tasting, the tasting is free. It's also possible to become a 4B Wine Club member, which provides you with a complimentary tasting that accommodates up to four people, access to future varietals they create, and a 15% discount on any wines you purchase. Their facilities are also available as a venue if you wish to host an event at the winery.
Strey Cellars is located at 951 N Rice Ave in Oxnard, CA and are open from 12:00PM-6:00PM on Friday and 11:00AM-6:00PM on Saturday and Sunday.
Magnavino Cellars is an elegant and cozy winery that provides visitors with access to four white and six red varietals. Their tasting room is stylish and relaxing, allowing you to sample six bottles of wine in a Tuscan-inspired atmosphere. Most of their bottles are in the $20-30 range, while members of their Magnavino Cellars wine club are offered a variety of discounts that can drop the price up to 20% depending on the number of bottles selected. Alongside their delicious wines, Magnavino Cellars is known for the exclusive events that they host on occasion for club members, which includes wine tours, special dinners, vertical tastings, cupcake pairings with different varietals, and live music!
Every Friday, they provide guests with an After Dark event from 5:00PM-8:00PM where you can socialize, enjoy a glass of wine, and taste some of their delectable foods, which include cheese platters, salads, and a variety of additional small plates. This winery has been opened since 2008 and focuses on creating new hand-crafted wines on a regular basis, allowing you to taste something new with each visit.
When planning a trip to Magnavino Cellars, their winery can be found at 961 N Rice Ave in Oxnard, CA and are open from 2:00PM-8:00PM on Friday and from 11:00AM-6:00PM on Saturday and Sunday.
2. Cantara Cellars
Cantara Cellars is an intimate winery and tasting room that offers a vast selection of red and white wines, most of which are produced from grapes that are grown directly in the Lodi Appellation area within Northern California. You can schedule a private event in their large tasting room or visit specifically for a tasting, although this visit needs to be made by appointment. When at one of their wine tastings, you will be able to sample three of their wines and several small plates of food.
If you want to get a more up-close look at how they create and package their wine, you can opt to take a tour of their barrel room, which also provides you with the unique opportunity to sample one or two of their barrel wines that may not yet be available in their tasting room. The Cantara Cellars wine club is notable for providing members with a 20% discount on all bottles as well as free tastings whenever you visit.
Cantara Cellars is situated at 126 Wood Rd # 104 in Camarillo, CA and are open from 11:00AM-6:00PM Thursday through Sunday.
1. Herzog Wine Cellars
Herzog Wine Cellars is a renowned winery in Oxnard that offers a classy tasting room where you can sample a wide array of different red and white wines, all of which were crafted from grapes in California. They currently offer 20 different varietals of wine, eight of which can be sampled during a tasting at Herzog Wine Cellars. Their main focus is in Cabernet Sauvignon and Chardonnay, although they also offer bottles of Zinfandel and Chenin Blanc. Inside the winery is the famous Tierra Sura Restaurant that specializes in Mediterranean cuisine, allowing you to enjoy a beautiful meal after or before your wine tasting.
As with all wineries in Ventura County, Herzog Wine Cellars provides guests with the ability to become a member of a wine club, of which there are six to select from. No matter which club you join, you will be provided with shopping, shipping, and dining discounts as well as access to exclusive member events that take place in the tasting room throughout the year. The VIP Club, in particular, offers you access to pre-release tastings in advance of the release of a limited-production bottle.
Herzog Wine Cellars can be found at 3201 Camino Del Sol in Oxnard, CA and are open from 10:30AM-9:00PM Sunday through Thursday and from 10:30AM-4:00PM on Friday.
Looking to grab a bite in Westlake Village?
When the day is done and you've tasted all the delicious wine Ventura County has to offer, be sure to stop by Casa Nostra in Westlake Village for a perfect cap to your wine-filled evening with authentic Italian Food and a spectacular atmosphere!
Conclusion
There are many beautiful and memorable wineries in Ventura County that will provide you with endless varietals of grapes and wine offerings to sample, the previous seven of which are among the best wineries available to locals of this spectacular area in Southern California.
If you're looking to settle down in Ventura County, contact us today and we'll help you discover all that this spectacular area of Southern California has to offer!