View this post on Instagram
Westlake Village is home to a wide variety of fantastic dining, shopping, and entertainment options, due primarily to its reputation as being a major hub in the Conejo Valley as well as the fact that it's central to many residential communities throughout the area. No matter the occasion, you may want to head out and take advantage of the scenic rolling hills and spectacular weather that Westlake Village provides. If you love Italian food and all the wonderful dishes that come with the cuisine, Casa Nostra is an ideal spot to enjoy a delicious meal and a drink with friends and loved ones.
A Beautiful Restaurant and Relaxing Atmosphere to Enjoy While You Eat
When visiting Casa Nostra, one of the first things you're bound to notice is the relaxing atmosphere the moment you arrive at the restaurant, this atmosphere is also elegant and romantic, providing you with a perfect dining venue for any occasion. Situated in an office park, this eatery aims to provide guests with an authentic Italian atmosphere where comfort and relaxation are of the highest order.
Casa Nostra is only open for dinner, making it the perfect restaurant to visit for a date. The Casa Nostra venue is spacious yet cozy, providing you with seating options both inside and outside on their sizable patio. When dining inside, you can take a seat at the lengthy bar or one of the many tables situated throughout the restaurant. Immediately upon entering, you will be greeted by a waiter who will guide you to your seat. No matter where you're sitting, you will likely be able to spot two large chalkboards on the wall, both of which list any specials that they are offering for the specific day that you're visiting.
Many locals from Westlake Village enjoy dining out on the vast patio, as the tables are shaded and string lights are hung over the area to provide more intimate lighting in the evening. Given the beautiful Southern California weather, the patio has proven to be very popular with Casa Nostra visitors.
Both the interiors and exteriors are decorated with authentic Italian art, dishware, and standard home decor, which is done to ensure that the atmosphere matches what you would expect to find when visiting a fine dining restaurant in Southern Italy. Many, if not all, of the waiters can speak Italian and English, which is a nice touch that adds to the authenticity of the restaurant. If you're interested in pairing your meal with one of their bottles of wine, their entire wine selection is housed in a stylish case along the wall that offers a complete view of each bottle before making your selection.
When dining at Casa Nostra, you'll forget for a moment that you're in Westlake Village and can imagine yourself in the picturesque fields of Tuscany or Sicily.
Italian Food at Its Finest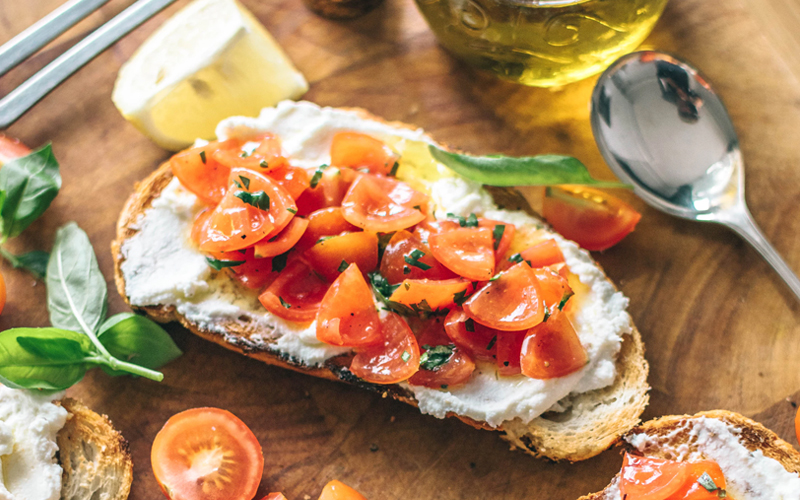 Casa Nostra is largely considered to be among the best Italian restaurants in Southern California, as it provides visitors with an extensive menu of Italian food at its finest. The menu itself is very neatly broken down into appetizers, soups, pastas, and entrees, each category of which is filled with a wide array of tasty dishes that cover many different types of food. All of their dishes are created from ingredients that are imported directly from Italy as well as some locally grown produce that's always fresh. Among their pasta dishes, you can order the pasta to be either gluten free or whole wheat if your diet calls for it, while it's possible to add chicken or shrimp to any of the dozen pasta dishes. These pastas include options like wide noodles pasta in a braised duck ragu and crispy pancetta, egg yolk, and Reggiano cheese. It's also possible to request standard spaghetti with meat sauce if you're searching for the most traditional of Italian meals.
The specialties offered by Casa Nostra include the chicken parmigiana as well as the tagliata Casa Nostra, which is a sliced New York steak that's topped with both arugula and Parmesan cheese. A few of the desserts that are most commonly selected by visitors of Casa Nostra include a Nutella cheesecake, a lemon cello tiramisu, cannoli, and chocolate cake, all of which are crafted to match traditional Italian recipes.
If you're not too familiar with Italian food, having a better understanding of some of the local favorites should give you a better idea of what to order once you're seated. The spinach gnocchi is a favorite pasta among many who dine at this eatery, providing you with the ability to select one of four sauces for the dish, including tomato, Alfredo, pesto, or Gorgonzola sauce. As for entrees, a couple favorites among Westlake Village locals include the braised pork shank over a mushroom risotto as well as the salmon all griglia, which is a grilled salmon with a lemon caper sauce and steamed broccoli. Casa Nostra aims to go a step further than most restaurants when creating their food in order to make sure that it's always fresh, which is exemplified by the fact that their pesto sauce is created fresh on a daily basis, an extra step that not many restaurants take the trouble of performing.
If you're traveling with a party, a unique option at Casa Nostra is the inclusion of a fixed party menu with $45, $55, and $65 menus. These party menus allow you and those you are traveling with to taste a large variety of dishes, as each of the three party menus is outfitted with a couple of appetizers to select from, three different pastas you can choose, several possible entrees, and family-style desserts that are designed to feed the entire table, such as a chocolate tart and cheesecake or the assorted chef's selection of homemade cakes.
During your time at Casa Nostra, you might also want to pair your meal or dessert with a glass of wine, of which they have a vast selection to choose from. All of their white and red wine varietals come from either California or Italy, while they also offer a variety of Chianti wines from the Tuscany region of Italy.
What the Locals Say
At the end of the day, nothing can beat the impressions of other locals who have eaten at Casa Nostra, as they know the best places to eat in and around Westlake Village. On that front, Casa Nostra has received practically rave reviews by locals who have dined there. Even though the restaurant is located in an office park, locals love that it feels as though they are in Italy from the moment they step inside. Not only is the atmosphere authentic but also accessible for people who have never dined in an Italian restaurant before. Despite the fact that the entire menu consists of Italian cuisine, locals believe that the menu offers a substantial amount of variety, with the majority of dishes hailing from Southern Italy. If you've long been a fan of Italian cuisine and know what specific dishes are supposed to taste like, you will be pleased that locals find the food to be completely authentic to how the dishes taste in Italy.
Read Judson C.'s review of Casa Nostra Ristorante on Yelp
One aspect of dining at Casa Nostra that practically every local agrees on is that the customer service is exemplary, as the waiter or waitress is almost always prompt and will check in several times throughout the meal to ensure that you have everything you need. Another favorite for locals who dine there is the outdoor patio area, as they believe that the place is quiet and peaceful while providing amazing views of the nearby scenery. Two additional facets of the restaurant that locals swear by include the dish variety as well as the dessert selection.
The reason that locals enjoy the dish variety as much as they do is because of the fact that it takes into account a wide range of diets, as there are dishes on the menu that accommodate vegetarians, people who avoid foods with gluten, and anyone who loves fish. As for the dessert selection, the treats offered at Casa Nostra are as highly regarded as their main entrees, as they are both unique and delectable to the taste buds. If you're considering a visit to this eatery, locals believe that the restaurant is perfect for both birthdays and romantic nights out!
Too Far From Westlake Village? No Problem!
When you're planning a visit to Casa Nostra for some delicious Italian food, it's heavily recommended that you make a reservation to ensure that you can get in at the time and date that you want. The restaurant is situated at 717 Lakefield Rd. Ste H in Westlake Village and is open from 5:00PM-9:30PM on Sunday and Monday, from 5:00PM-10:00PM Tuesday through Thursday, and from 5:00PM-10:30PM on Friday and Saturday.
If you live too far from Westlake Village but are yearning to try some of their renowned Italian food, they have two additional locations in Pacific Palisades and Downtown Los Angeles. If you plan on visiting the Pacific Palisades location, they can be found at 1515 Palisades Dr in Pacific Palisades and are open every day from 11:30AM-10:00PM. As for the Downtown Los Angeles location, they are situated at 825 W 9th St in Los Angeles and are open from 11:30AM-10:00PM Monday through Thursday, from 11:30AM-11:00PM on Friday, and from 5:00PM-11:00PM on Saturday.
Casa Nostra Westlake Village
Casa Nostra Pacific Palisades
Casa Nostra Downtown Los Angeles