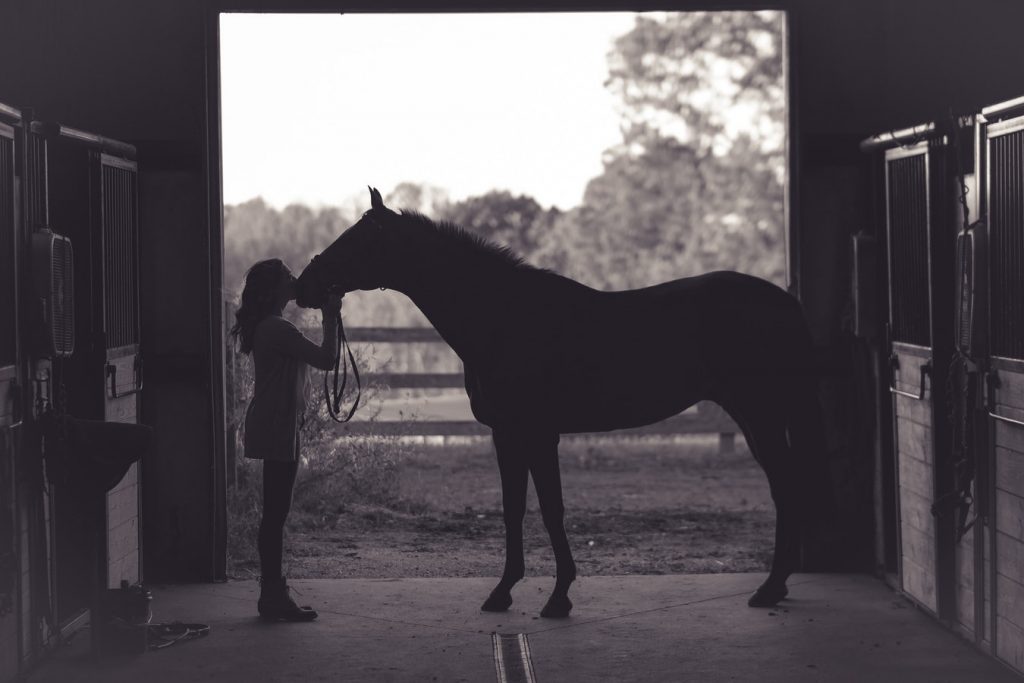 If you enjoy horseback riding and are looking for a place where you can lead an equestrian lifestyle, there are many communities throughout the Conejo Valley as well as both Ventura County and Los Angeles County that are heavily influenced by the equestrian lifestyle, providing you with many wonderful destinations to go horseback riding.
These areas have become hotspots for horseback riding due to the beautiful Southern California weather and natural features that help to provide the perfect setting for a picturesque ride out in the majestic Santa Monica Mountains and Conejo Valley areas.
If you're searching for a place to live that will put you close to some of the better horseback riding destinations throughout Ventura and Los Angeles Counties, these areas consist of a large number of ranch-style homes that are notable for their spacious lots of many acres, which are perfect if you own a horse or would like to in the future. Whether you're a seasoned professional or have never ridden horseback before, the spectacular scenery throughout the Conejo Valley provides you with the optimal backdrop to enjoy horseback riding.
Rocking K Horse Rentals (Newbury Park)
Read J H.'s review of Rocking K Horse Rentals on Yelp
Rocking K Horse Rentals is a place that allows you to go on horse rides among the beautiful scenery of Newbury Park. Their horseback adventures take riders through the serene setting of the Boney Mountains, providing you with gorgeous and expansive views of the surrounding valley. The trails you'll be taking when renting a horse also offer views of the Rancho Sierra Vista Satwiwa National Park that sits adjacent to the main trails, providing you with both mountain and coastal views. The trails used by Rocking K Horse Rentals are multi-use trails, which means that you'll experience a lot of bikers and hikers on your ride.
Even if you've never ridden a horse before, no experience is necessary with the Rocking K Horse Rentals, as each trail ride is guided by a seasoned professional, which means that you can confidently bring your kids along. They offer a variety of different rides for you to select from, all of which range from 1-2 hours, although children can select a shorter 1/2 hour ride. If you take a child that's younger than 16, they will be required to wear protective headgear during the ride. A unique service provided by Riding K Horse Rentals is a summer horse camp for children, which is a great way to provide your child with an unforgettable experience. There are also a selection of special rides that you might want to consider, ranging all the way from sunset rides and dinner rides to engagement rides and privately chartered ones.
Although you can only book your horse rental at the Rocking K Horse Rentals destination in Newbury Park, you can learn more about the numerous trail rides they have to offer here. You should be aware of the fact that they accept cash only.
Oakridge Riding Club (Moorpark)
Read Jenn L.'s review of Oakridge Riding Club on Yelp
Oakridge Riding Club is a horse riding school that's open to the entire family, as there are a large variety of different types of horseback riding that you can engage in while visiting. When becoming a member, you will learn how to ride a horse if you don't yet know how and will also be taught proper horsemanship, horse care, and safety. If you're searching for a way to experience relaxing horseback riding, the riding lessons will take you along the numerous trails around the riding club, providing you with scenic views of the nearby mountains. Their riding lessons are available in 45-minute increments.
When you wish to take part in some horseback riding in Moorpark, you will be placed into one of many riding skill levels to ensure that the time you spend on the horse is appropriate to your skill level. Young riders under 7 have their own lesson that they are placed into, while all other riders are placed into such riding levels as beginner, advanced beginner, intermediate, and advanced, allowing you to improve your horse riding skills no matter the amount of experience you have. Whether you wish to participate in a riding camp, riding lesson, or horse training, you can visit the services page of the Oakridge Riding Club website to learn more about what each option entails and the pricing associated with it.
Santa Rosa Valley Park (Camarillo)
Read Sylvia F.'s review of Santa Rosa Valley Park on Yelp
Santa Rosa Valley Park is a beautiful open park in Camarillo that offers amazing views of the nearby scenery, which primarily includes mountains, flowing plains, and forestry. You may even spot some of the local wildlife during your travels. Along the horseback riding trails are numerous creeks and small waterfalls that will have you stopping to snap a photo, while the park consists of just over 50 acres of open space that you can explore at any pace that you desire. Since this open space is available to be used by anyone, it's common to pass hikers and bikers given the fact that the trails are multi-use, but these trails are wide enough to support your horse along with any other people who are traveling them.
You will eventually come across two trails that are specifically designated for horses only, one of which takes you along the delightful Paradise Falls. Since this is an open space park, you are expected to take your own horse and any gear that you require, such as a helmet. The park is equipped with an ample amount of parking along with room for sizable horse trailers. There are several picnic areas along the way that you can use when stopping for lunch or to take a break during your ride through the park.
Malibu Riders (Agoura Hills/Malibu)
Read Kriisti V.'s review of Malibu Riders on Yelp
Malibu Riders is a great place to go when you want to take a guided ride along some of the most beautiful scenery and trails in Agoura Hills and Malibu. This is among the more popular destinations for horseback riding in the Conejo Valley, as it's available in three different locations, two of which are found in Agoura Hills and one of which is located in Malibu. No matter which of these three options you choose, each take you through trails within the national and state parks within Los Angeles. Although each trails starts and ends at the same spot, you won't see the same view twice, as all three trails are round-trip loop trails.
The Malibu Creek ride in Agoura Hills takes you through the Malibu Creek State Park and is available as either a 1-hour or 2-hour ride. The Paramount Ranch trail in Agoura Hills allows you to ride along a 3-mile loop trail through an old western town that's been the production spot of hundreds of films over the years. You'll ride through forests and along streams and may spot some of the local wildlife, including deer, bobcats, and coyote. The Zuma Canyone trail in Malibu takes you and your horse through the breathtaking Santa Monica Mountains, affording you both coastal and mountain views. When reserving a ride with Malibu Riders, each of the three trails is open to everyone from age 6 and up.
One fantastic option available to you if you intend to go horseback riding at Malibu Riders is that they provide you with the ability to book your group ride online at one of the three destinations available to you. If you're visiting the Malibu Creek destination in Agoura Hills, book here. When visiting the Paramount Ranch destination in Agoura Hills, book here. If the Zuma Canyon destination in Malibu is the one you're considering, book here.
To Circle K Stables (Newbury Park)
Read Manu H.'s review of To Circle K Stables on Yelp
To Circle K Stables is a horseback riding destination that's open to the entire family. The trails available at To Circle K Stables take you through the best scenery in Newbury Park as well as some of the Santa Monica Mountains. Every ride is guided, which makes this a great destination for beginners or intermediate riders, although advanced horseback riders will enjoy the fact that you can select two different types of horses, one that moves at a slow speed and another that moves at a medium speed.
For the best scenery, consider scheduling your ride towards the end of the day, as sunset rides are available. When considering a visit to the To Circle K Stables in Newbury Park, the minimum riding time for adults is one hour while the minimum time for children is 30 minutes. Make sure that you have cash on hand, as this is the only payment method accepted at the To Circle K Stables. If you have a child that's interested in learning to ride horses, a horse camp for children is also available. If you've never ridden a horse before, consider taking a lesson through the facilities before going out on one of the trails.
Malibu Horses (Malibu)
Read Leslie A.'s review of Malibu Horses on Yelp
Malibu Horses is one of the premier horseback riding destinations in Malibu, as the trails available at this horse renting location provide you with access to scenery that offers wide variety. Along your journey, you'll travel through vineyards, streams, and mountains and will also be provided with views of the Pacific Ocean. There are many different types of rides and lessons available for you to select from, ranging from romantic rides for two to an advanced lesson that will teach you how to handle, groom, and saddle horses as you ride the trail.
No matter which ride you select, it can last anywhere from 1-2 hours, with most rides being 90 minutes. Don't forget to spend some time at the ranch before or after the ride, as you'll have the chance to see such species of animals as zebra, yaks, and buffalo roaming around. While there isn't a direct website for Malibu Horses, there are a couple of places you can go to book a lesson or ride online, including here for a variety of different lessons and here for romantic couple rides that take you through the mountains or beaches of Malibu.
Southern California is a perfect setting for anyone who enjoys spending time outdoors and going horseback riding and can be a wonderful destination if you're interested in owning a ranch property where you can enjoy an equestrian lifestyle. If you're looking to purchase a luxury ranch property in Southern California, contact us today and we'll help you leverage our local knowledge, insight, and experience to assist you in finding your Southern California dream property!