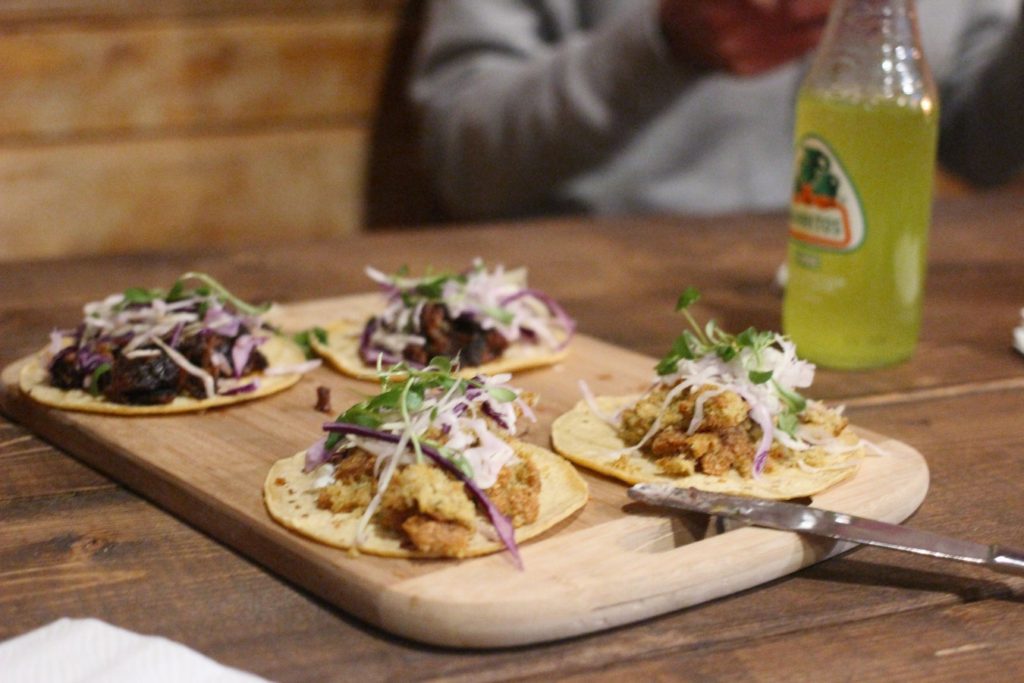 Calabasas is a wonderful city in the heart of Southern California that provides residents with beautiful weather and comfortable temperatures all year round. If you're searching for a Calabasas home for sale and are looking to explore this spectacular city, you'll find that there's much to see and do — including luxury shopping, fine dining, and participating in adventurous outdoor activities. If you want to relax and take in all that the city has to offer, you'll have a countless number of fantastic options at your disposal!
When you're in the mood for delectable Mexican cuisine, Southern California is home to some of the best Mexican food in the country. Each of the 12 hotspots on this list are popular among residents of Calabasas because of the authentic and delicious Mexican dishes they offer which keep customers coming back for more!
Read Abdul S.'s review of Taqueria Las Virgenes on Yelp
1. Taqueria Las Virgenes
Taqueria Las Virgenes is a small Mexican restaurant in Calabasas that focuses on casual dining. Their menu mainly consists of burritos, tacos, sandwiches, and nachos. Most of their ingredients are locally sourced to ensure that the meal is fresh and authentic. They are open for breakfast and lunch, during which they offer such dishes as breakfast burritos, meat quesadillas, and taco plates. The atmosphere is typically laid back where you can quickly grab a bite to eat while running errands or heading to work.
You can find the menu here or get directions here.
Read Kristiani H.'s review of La Paz Mexican Seafood on Yelp
2. La Paz Mexican Seafood
La Paz Mexican Seafood is a popular restaurant in Calabasas that provides visitors with a lively and energetic atmosphere where they can eat from a Yucatan and Mexican-style menu.
Among the more notable aspects of this restaurant is that they offer more than 140 types of tequila, which ensures that you'll always have something new to try when visiting. They are open for lunch and dinner and provide bar seating where you can sit when you want to grab a quick bite to eat or watch the game during dinner.
Their menu is extensive and includes everything from fajitas and carnitas to prawns and shrimp ceviche, which should satisfy lovers of standard Mexican food as well as seafood. Some of the favorite dishes among locals include huevos rancheros, poc chuck, and carne asada. Consider visiting on Sunday if you want to take part in the Sunday brunch, which is an all-you-can-eat buffet for just $35 per person.
The full menu can be found here or get directions here.
Read L M.'s review of Sagebrush Cantina on Yelp
3. Sagebrush Cantina
Sagebrush Cantina is a fantastic Mexican restaurant that offers a fun and welcoming atmosphere where you can watch TV at the bar while sipping a margarita or listening to live music.
Their Mexican fare mainly focuses on tacos and fajitas but also offers a wide range of dishes like tacos, pizza, burgers, and salads. Some of the classic favorites at the Sagebrush Cantina include grilled Atlantic salmon, steak picado, and the carnitas plate. You can pair the plate of your choice with a delectable wine, of which they have an extensive list for you to select from. They also offer a variety of specials throughout the week like tacos and tequila Wednesdays and margarita Mondays.
You can view the complete menu here or get directions here.
Read Steve A.'s review of Santa Fe Cafe on Yelp
4. Santa Fe Cafe
Santa Fe Cafe is a small restaurant with a cozy atmosphere that offers a menu centered entirely around traditional Tex-Mex dishes. They are open seven days a week for breakfast, lunch, and dinner.
Among the more popular dishes that are offered at this restaurant include the blackened shrimp burrito and Parmesan tacos. They also offer a variety of combination plates where you can try two different entrees in a single plate. If you're a vegetarian or vegan, several dishes are available that accommodate such diets, which include the vegetarian breakfast burrito as well as the vegetarian taco, the latter of which is served with either pinto beans or black beans. When you visit this restaurant, you'll be provided with low prices and ample plate sizes.
The full menu is available here or get directions here.
Read Rebecca K.'s review of Blu Jam Cafe on Yelp
5. Blu Jam Cafe
Blu Jam Cafe is an eclectic eatery that offers a menu comprised of a variety of different cuisines, one of which is Mexican cuisine. The restaurant itself offers a lively and social atmosphere where you can choose to eat inside or at the outdoor patio.
Whether you visit for breakfast or lunch, you'll be presented with a lengthy menu that includes such dishes as the turkey pistou sandwich and chicken tacos. Among the best aspects of this restaurant is that they offer a sizable number of vegetarian, vegan, and gluten-free dishes like the Tuscany soup, strawberry salad, and vegan tofu sandwich. Some of the favorite dishes among locals include the herb crusted chicken and the brunch Argentinean lomo.
The complete Blu Jam Cafe menu can be seen here or get directions here.
Read Sara D.'s review of Gracias Señor! on Yelp
6. Gracias Señor!
Gracias Señor! is a delightful food truck that's a favorite among the locals. Although the food truck itself is small, the wide variety of Mexican dishes that they provide are sure to satisfy any craving you have.
When you're there, make sure that you taste some of their guacamole, which many customers consider to be some of the best guac they've tasted. Their menu is updated daily, which will provide you with something new to try each time you visit. Their main dishes typically center around different tacos, tortillas, quesadillas, burritos, and burgers. You should also check out their daily special before ordering. The staff is considered to be very friendly and attentive, which should make your experience a pleasant one.
The main menu for this restaurant can be viewed here and is available for catering events & parties in the Los Angeles area. Contact them directly at (323) 386-3424 to find out where they're currently located in the Calabasas area prior to your visit.
Read Larbi N.'s review of Taqueria La Plebe and More on Yelp
7. Taqueria La Plebe and More
Taqueria La Plebe and More is a food truck that serves the entire Los Angeles and Calabasas areas and provides visitors with all kinds of different Mexican dishes. During your stop at this food truck, consider ordering their asada tacos or burritos, both of which are considered to be favorites among locals because of how tender the beef is. They offer more than 50 Mexican dishes for you to sample. Their prices are also very inexpensive with tacos at $1-1.50 and tortillas at $2-3. This food truck is unique in that it's open at night, which means that you can stop for a quick meal when returning home from a party or movie.
You can view photos of the menu here. This food truck can be found at 8802 Reseda Blvd, Northridge, CA 91324 — but you may want to call (747) 998-9481 to confirm their location before heading over (it is a mobile food truck after all).
Read Hidi P.'s review of Tacos Playa De Oro on Yelp
8. Tacos Playa De Oro
Tacos Playa De Oro is another Mexican food truck in Calabasas that focuses primarily on tacos and nachos. The staff at this food truck is known to be very friendly and will put your order together in a short period of time, which should be helpful when you're in a rush or have an appointment that you need to get to. The al pastor tacos are particular favorites among many residents of Calabasas who visit the food truck. They offer around a dozen different types of tacos as well as numerous burritos, tortillas, and quesadillas. If you're in the mood for a burrito, try the burrito supreme, which provides you with around eight different ingredients along with your selection of meat. They also offer a wide range of Mexican sauces that you can add to your dish to bring out the flavor.
Get directions to the Tacos Playa De Oro food truck here.
Read Jeff S.'s review of The Taco Chef on Yelp
9. The Taco Chef
The Taco Chef is a taco truck that serves all of Calabasas with a Mexican-inspired menu that's filled with authentic dishes. Some of the favorite menu items among residents of Calabasas include the carne asada tacos and the chorizo tacos. Some of the other dishes you might want to try while ordering from the food truck include street corn, chicken burritos, and queso tacos. While you're there, you might want to order a beer, of which they have more than half a dozen to select from. These beers can be purchased as four ounce samplers or 16 ounce drafts. A few of their side dishes include veggie cheese fries, taco chef fries, and fresh cut fries for a more traditional side dish.
You can call to confirm their location at (213) 761-8226.
Read David C.'s review of Tacos Eronga #1 on Yelp
10. Tacos Eronga #1
Tacos Eronga #1 is a food truck based out of Los Angeles that serves all of Calabasas. As the name implies, they are known widely for their delicious tacos, which include such options as the carnitas, pollo, chorizo, and asada tacos. A large number of tortillas and burritos are also available. Make sure that you check the window on the food truck for some signs that detail the daily specials that they are offering at the moment. On most days, they will offer half a dozen different daily specials for you to choose from. If you're looking to widen your palate, a unique aspect of this food truck is that they offer a variety of eclectic cocktails, the primary of which include the prawn cocktail and the prawn and chicken cocktail.
Be sure to call (818) 269-7580 to confirm their location before making the trip out.
Read Alexander M.'s review of El Charro Mexican Grill on Yelp
11. El Charro Mexican Grill
El Charro Mexican Grill is a Mexican restaurant in the heart of Calabasas that's housed in a gas station just off of Ventura Freeway. This restaurant provides visitors with a large menu that covers a variety of cuisines.
While Mexican cuisine is the main focus of the eatery, there are also a couple of dishes that you can order if you're in the mood for some Thai cuisine, which include the sesame teriyaki bowl and sesame teriyaki noodles. Their primary Mexican entrees include fresh soft tacos, chips and guacamole, beef taquitos, loaded nachos, and large crispy tacos. Some of the specials that are offered at the El Charro Mexican Grill extend to the Philly cheese steak sandwich and the tortilla wrap. When visiting this restaurant, you can expect a relaxing and casual atmosphere where you can chat with your friends or enjoy the beautiful Calabasas scenery.
The El Charro Mexican Grill menu can be found here or you can get directions here.
Read Steve A.'s review of Cafe Ole on Yelp
12. Cafe Ole
Cafe Ole is a casual Mexican eatery that acts as a combination between a coffee shop and Mexican restaurant. The food that's offered at this cafe is standard Mexican fare with a focus on tacos, burritos, and quesadillas. A favorite among people who visit this restaurant is the Parmesan chicken taco, which also comes with lettuce and tomatoes. The breakfast burrito is another favorite that you might want to try. When you're dining there for breakfast or lunch, consider pairing your dish with a coffee, tea, or espresso, of which there are dozens of varieties to select from like the caramel latte, chai tea latte, or cappuccino.
The Cafe Ole menu can be viewed here or you can get directions here.
The Best Mexican Food Calabasas has to Offer!
We hope this list provides you with everything you need to know about the local Mexican food to be found in Calabasas. If you're looking to learn more about Calabasas or find a home for sale in Calabasas — feel free to contact us directly and we're more than happy to assist you with the home buying or selling process! We look forward to speaking with you!
Did your favorite Calabasas Mexican food joint not make our list? Let us know where you like to enjoy Mexican food in Calabasas in the comments below and we'll add it to the list!