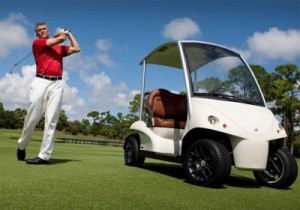 Luxury Cars: If you like playing golf, then you will definitely be interested in this car, a so-called reinvented golf cart in the form of a luxury car. Garia is built using the highest standards of the automotive industry, using a double wishbone front suspension similar to those found in sports cars and inspired by Formula 1 vehicles.
Also, the drive train used on this vehicle is produced by a company that builds Ducati gearboxes while the aluminium profiles in the frame are made by the same company that supplies aluminum profiles to Aston Martin, Jaguar and Volvo. The car comes with hydraulic brakes on all four wheels with discs, but the most interesting thing is that it will be built at the Valmet Automotive factory in Finland, manufacturer of the Porsche Cayman and Porsche Boxster.
Inside the car we can find an in-built refrigerator, hand-stitched seats and an exclusive personalization program where you can choose to have The Garia painted in your favorite color or matched to your other cars. The Garia will also be street legal and available in the US market as an LSV (Low Speed Vehicle). Official debut will be made at the 2010 Geneva Motor Show in March.
Author: Andrew Christian