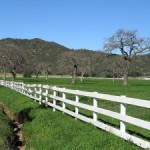 Hidden Valley  is one of those places where you suck in your breath, let out a low whistle and think, "So this is how the other half lives."
Tucked in the away in the northern Santa Monica mountains, Thousand Oaks' Hidden Valley may be considered the millionaires' bargain club. Right next store to Lake Sherwood, this community, although it enjoys it's amenities, largely prides itself on it's less stodgy, ranch style homes. With roughly 60 homes, residents range from horse enthusiasts to boutique winemakers and of course, leaders of industry.
Residents include David Murdock, Jamie Foxx, Tom Selleck, and more!
Possibly the most well known resident is David Murdock, owner of Dole Food Co and one of world's wealthiest people. But years before Murdock came to play the area was used in the filming of "Robin Hood," starring Douglas Fairbanks in 1921. Jamie Foxx bought here a couple years back to join Tom Selleck and former Major League Baseball player Todd Zeile and his wife, 1984 Olympic gold medal-winning gymnast Julianne McNamara. Sophia Loren owned a ranch here for many years but has since sold La Concordia; Sylvester Stallone was one of the original Hidden Valley owners as well.
Hidden Valley's demographics (according to Wikipedia) are:
population was spread out with 33.0% under the age of 18, 4.2% from 18 to 24, 20.9% from 25 to 44, 31.9% from 45 to 64, and 10.1% who were 65 years of age or older. The median age was 40 years. For every 100 females there were 92.7 males. For every 100 females age 18 and over, there were 90.6 males.

The median income for a household in the city was $200,000, as is the median income for a family. Males had a median income of over $100,000 and females $41,667. The per capita income for the city was $94,096. About 1.8% of families and 3.5% of the population were below the poverty line, including 2.3% of those under age 18 and 2.7% of those age 65 or over.

Many enjoy the comfort of being separated from a busting city and finding $10 million homes at 1/4th the cost of Bel-Air. Hidden Valley attracts a highly specific personality and taste.