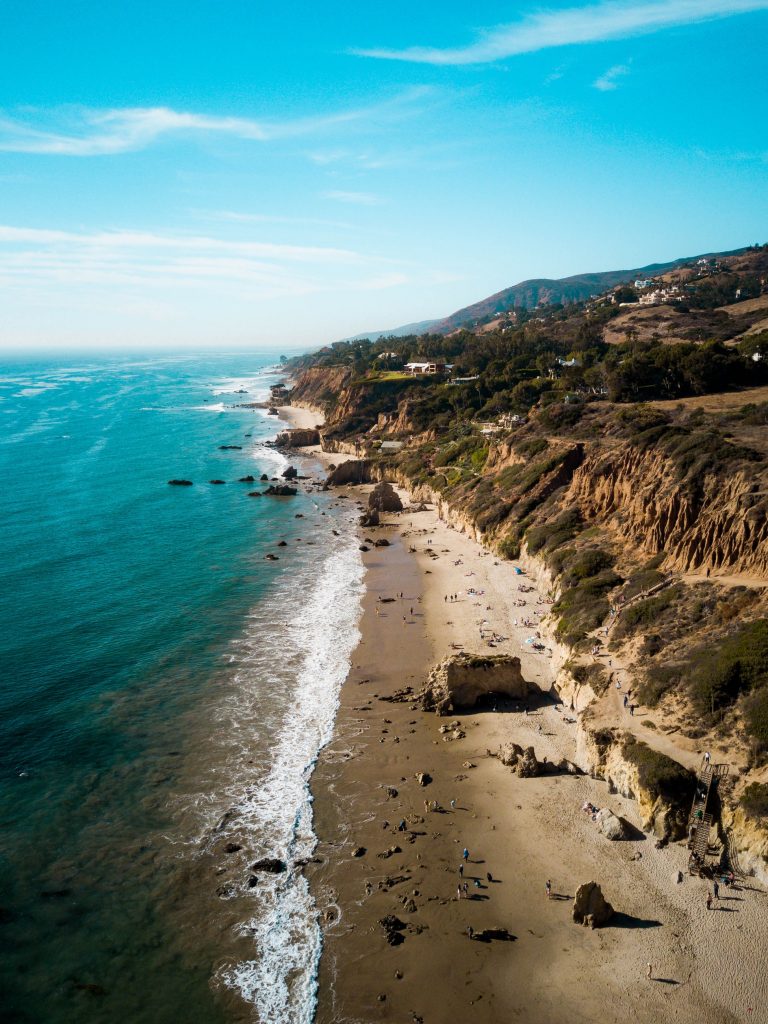 Malibu is a beautiful beach city on the coast of Southern California that provides residents with a wide array of exciting things to do and places to visit. Although the city is known for its many world-famous beaches and state parks, Malibu also plays host to many popular shopping hot spots that you can stop by at anytime, whether you're out on the town with friends or need to get some errands done. The shopping destinations in and around Malibu provide something for everyone, from delicious eateries and stylish boutiques to name brand clothing stores and antique shops. These are the nine shopping hot spots in Malibu that you don't want to miss out on!
9. Shoppes at Westlake Village
The Shoppes at Westlake Village is a popular and spacious shopping mall in the heart of Westlake Village that provides visitors with access to many boutiques, shops, and eateries as well as a wonderful outdoor area for socializing with large oak trees and pristine fountains that set the scene.
This shopping center consists of 35 shops and restaurants that have been chosen to represent a wide range of different dining and shopping experiences. Seasons is a shopping destination where you can go to for stylish home decor, clothes for your baby or infant, and handmade jewelry, while Lighthouse Salon Suites provides visitors with a state-of-the-art facility offers everything you could expect out of an upscale salon.
The nearly dozen restaurants that can be found at this shopping center include a wide array of different cuisines, from Japanese at Q Sushi to Mexican at the Los Agaves Restaurant. Popular chain eateries such as TIFA Chocolate & Gelato and In-N-Out are also available.
The Shoppes at Westlake Village is located at 30770 Russell Ranch Rd in Westlake Village, CA and is open from 8:00AM-10:00PM seven days a week.
8. The Oaks Shopping Center
The Oaks Shopping Center is a two-story indoor and outdoor shopping center that is a go-to shopping destination for residents in and around Malibu, due to the fact that it contains one of the larger collections of shops and restaurants throughout Southern California.
When visiting here, you will be able to experience more than 180 boutiques, shops, and eateries, providing you with a one-stop shopping destination where you can search for the latest fashion at Macy's and Nordstrom or stroll over to the Muvico 14 Theaters to catch one of the latest films.
This open-air shopping center contains something for everyone, as you are provided with access to stores like Apple, JCPenney, Sephora, Brookstone, and Pottery Barn. Given the fact that it's impossible to see everything in one trip, you might want to peruse The Oaks directory in order to identify the shops that you would like to visit beforehand.
The Oaks Shopping Center can be found at 350 W Hillcrest Dr in Thousand Oaks, CA and is open from 10:00AM-9:00PM Monday through Saturday and from 11:00AM-7:00PM on Sundays.
7. Trancas Country Mart
Trancas Country Mart is a large retail complex that is unique in the fact that its stores and structures are all designed with a rustic and barn-like aesthetic, as this shopping destination is designed to provide visitors with a relaxing and laid-back experience to match the one provided by the beaches and parks of Malibu.
Situated in Western Malibu, the Trancas Country Mart provides you with an open-air shopping experience where you can stop by Starbuck's for a cup of coffee or head over to Irit Design for some elegant jewelry. Some of the other shops that can be found at this 17-acre shopping complex include Sweetbu Candy, Hair Malibu, Malibu Garden Center, Hiptique, and Vintage Grocers. The Trancas Country Mart is situated at 30745 Pacific Coast Hwy in Malibu and is open every day from 6:30AM-9:00PM.
6. Point Dume Village
Point Dume Village is a vast shopping mall in the center of Malibu that provides you with nearly a dozen stores, smaller boutiques, and cafes to visit when spending time in the city.
Almost all of the stores within this shopping center are local shops that are designed to provide the community of Malibu with everything it needs. Malibu Beach Yoga offers you a place where you can go to find inner peace and joy, while Sun Life Organics is a juice bar and health food store that was founded in Malibu in 2011 and provides visitors with juices and superfoods that will keep them healthy and fit. Pavillions is the neighborhood grocery store, while Oceanne Salon & Day Spa will fulfill all of your beauty needs. If you're searching for a local book store, this shopping center plays host to Bank of Books, a family-owned bookselling business that houses the most recent bestsellers as well as antique books and a selection of out-of-print publications.
When planning a visit to the Trancas Country Mart, it is located at 29169 Heathercliff Rd. in Malibu and is open from 8:00AM-6:00PM Monday through Friday and 9:00AM-3:00PM on Saturdays.
5. Malibu Colony Plaza
Malibu Colony Plaza is a shopping center off of the Pacific Coast Hwy. that includes a wide range of different stores, and eateries.
Practically all of your needs can be fulfilled at the Malibu Colony Plaza. If you need to go the bank or send a package, some of the destinations in this plaza that might interest you include Bank of America, Wells Fargo, USPS, and UPS. If you're getting ready to go out to one of the many local beaches in Malibu and need some more gear, consider stopping by Becker Surfboards to gain access to all of the beach equipment you desire. A couple of the beauty stores available to you include the Oasis Malibu Salon and The Nail Spa at Malibu, both of which are reputable destinations with quiet and elegant environments.
The Malibu Colony Plaza can be found at 23755 Malibu Rd. and is open every day from 9:00AM-5:00PM.
4. Promenade at Westlake
View this post on Instagram
The Promenade at Westlake is an upscale shopping center in Thousand Oaks with a focus on premium shops, boutiques, and restaurants. This outdoor shopping center also houses one of the more unique movie theaters in Southern California, which is the Cinepolis Luxury Cinemas, a place where you can go to watch both older films and newer blockbusters while being provided with reclining seats with leather upholstery and a gourmet menu with options such as lobster rolls, flat-bread pizzas, and paninis.
The two dozen stores available to you include such destinations as Barnes & Noble, Capri Nail Spa, Nike, and Planet Beauty. When visiting during lunch or dinner hours, a few of the eateries you might want to stop by include Marmelade Cafe, Paul Martin's American Grill, and See's Candies.
This premier shopping mall is situated at 100 Promenade Way in Thousand Oaks and is open from 10:00AM-8:00PM Monday through Thursday, 10:00AM-9:00PM on Friday and Saturday, and 11:00AM-7:00PM on Sunday.
3. Malibu Village
Malibu Village is one of the largest shopping centers in Malibu and has a focus on local boutiques, restaurants, and high-end retail. If fashion is what you're searching for at this shopping center, consider visiting stores like The Alcove and Zadig & Voltaire, the first of which focuses on casual beach clothing while the latter centers around Euro chic fashion. For a different kind of workout, Soulcycle is an indoor cycling destination where you will be provided with a full-body workout.
If ever you're in the mood for some authentic Italian ice cream, stop by Grom Gelato, which is a small cafe that offers many flavors of 100% natural Italian gelato. Some of the additional restaurants to consider the next time that you're visiting Malibu Village include Chipotle Mexican Grill, Malibu Burger Co., and the Marmelade Cafe.
When planning a trip to this shopping destination, it can be found at 3822 Cross Creek Road in Malibu and is open each day from 10:00AM-6:00PM.
2. Malibu Lumber Yard
Malibu Lumber Yard is a shopping mall that was designed to provide residents of Malibu with a place that they can travel to for shopping and socializing with friends. The many shops and restaurants available at the Malibu Lumber Yard are housed in several buildings that enclose a central area that's designed for socializing or grabbing a quick bite to eat with friends. In this area are numerous tables, couches, and chairs where you can sit to admire the view or relax after a long day.
Although this spacious wood deck is a large portion of the appeal of traveling to the Malibu Lumber Yard, it's also a favorite among residents of Malibu for the many shops that it contains, providing you with access to such destinations as Alice + Olivia, Lauren Moshi, Malibu Beach Salon, and Pop 3939, the latter of which is a smaller boutique that houses a vast array of local artisan art, clothing, jewelry, ceramics, and baskets. Cafe Habana and Burgerfi are two popular restaurants that offer distinctly different cuisines within the Malibu Lumber Yard, the first with a Pan-Latin Cuban cuisine and the second with a gourmet American cuisine.
The Malibu Lumber Yard is located at 3939 Cross Creek Rd in Malibu and is open from 10:00AM-6:00PM Monday through Saturday and 11:00AM-6:00PM on Saturday.
1. Malibu Country Mart
Malibu Country Mart is a spacious outdoor lifestyle center with a particular focus on boutique stores. It's situated just nearby many of the local beaches and offers access to numerous stores that you won't be able to find anywhere else. When you wish to relax after a long day shopping, there are several sizable playground, picnic, and courtyard areas that will keep you and your children comfortable.
There are a total of over 75 shops and boutiques throughout the Malibu Country Mart, including such favorites as Morgane Le Fay, Room at the Beach, Ted Baker, and Chrome Hearts. A couple of children's stores such as Toy Crazy and Burro can also be found on the premises. A few of the cafes and restaurants that you might be interested in during your next visit include Malibu Kitchen, Sunlife Organics, and John's Garden.
This lifestyle center is situated at 3835 Cross Creek Rd in Malibu and is open every day from 9:00AM-6:00PM.
Want to learn more about Malibu?
Contact us today and we'd love to help you explore the world famous Malibu community. This beachfront community offers a number of spectacular luxury homes with ocean and mountain views. Let Nicki & Karen of Compass help you find the home of your dreams! Contact us today!
Search our inventory of Malibu Homes for Sale