Somis is an unincorporated and agricultural community in Ventura County that provides residents with bountiful amounts of rural and scenic beauty due to its location nearby the Simi Valley. If you enjoy spending your time among nature, the community of Somis consists mostly of vast expanses of farmland and provides residents with easy access to a large number of parks and recreational facilities.

When you purchase a home in the community, one of the first things you'll likely notice is how pleasant the weather is, as the hottest months of the year only reach into the upper 70's on average, which is much lower than the average of 86 degrees throughout the U.S. While the majority of Somis can be described as rural, the main thoroughfare of the community is comprised of several shops and businesses where you can do your shopping, although the many shopping and entertainment destinations of Camarillo and Thousand Oaks are just a short drive away.
When you are searching for a home in Somis, you will be presented with numerous single-family residences, ranch-style homes, and a few estate houses that offer grandeur and luxury to anyone with the budget for it. If you've found a home and are considering settling down into the community, you'll find that it offers a wonderful education system as well as numerous places to visit and things to do.
Somis Homes for Sale
If you're searching for a home that will provide you with a great place to relax and enjoy nature in all its splendor, Somis likely has the property that you're looking for. The community is comprised mainly of single-family residences and ranch-style homes that consist of spacious lots with views of the nearby Simi Valley. There are also a few larger estate houses for you to consider, which tend to range between 6,000 and 10,000 sq. ft. in size and provide you with outdoors pools, opulent furnishings, open floor layouts, and custom fireplaces.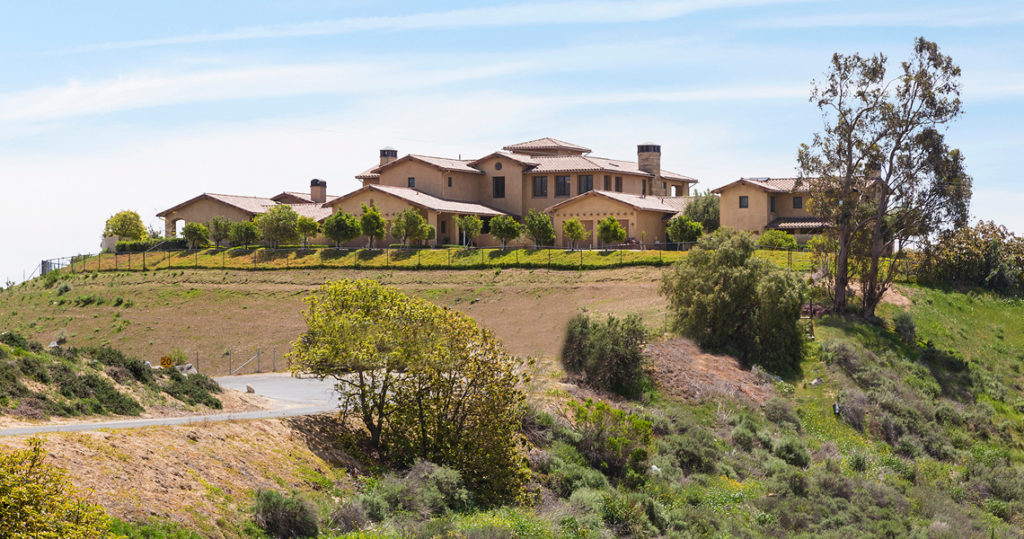 Given that there are around 30-40 homes on sale at a given time in Somis, it can be difficult to extrapolate the market trends of the community, although there is some data that should assist you when searching for a home that will fit your preference and match your specific needs. For instance, the median listing price as of September 2017 is around $1.25 million, which is down $100,000 from the average of $1.35 million that subsisted from April to August of this year. Although the current prices have dropped around 8 percent from the months prior, they are still well above the low of $800,000 that was reached in December of last year, which indicates that home prices have been rising over the past few years but have remained relatively consistent as of late.
What this data tells you is that now is a great time to buy, as the median listing price is slightly decreasing, which is also backed up when looking at the median listing price per sq. ft. that's currently sitting at $350 per sq. ft., a drastic decrease from the price of $435 in September 2016. As the market is currently a buyer's one, this also means that the market is more competitive, which is displayed by the fact that homes currently sit on the market for an average of three months until they are purchased, which has been on a steady decline since a high of 218 days in September of the previous year. Although the current listing price is $1.25 million, the median closing price is a much lower $825,000, which should give you room to negotiate the price down once you've settled on a home that you wish to move into.
History of Somis
While Somis is a small unincorporated community in Ventura County, it also has a rich history that began with the presence of the Chumash Indians, much like the remainder of Ventura County. Although the Chumash Indians lived on the land that is now Somis for thousands of years, most of the community was established into a rancheria that went by the name of Somes in 1795, which was shortly after the arrival of Spanish missionaries to the majority of California. It wasn't until nearly 100 years later that it was developed into the community that is now known as Somis, which occurred when the land was established as an unincorporated community by D.T. Perkins and Thomas Bard in 1892.
For most of the next century, Somis existed as an agricultural hub like the majority of the rural land on the adjacent Oxnard Plains. It was in Somis that crops such as wheat, barley, were shipped through the wharf in Hueneme to many areas across the world as well as to Los Angeles and San Francisco by rail, which allowed for many landowners in Somis to be profitable through farming. There is no official government in Somis, but the community is served by the Ventura County fire department and sheriff's department. Today, the community remains a rural destination for prospective homeowners searching for a peaceful and serene environment among the rural landscape of Ventura County.
Somis Schools & Education
Somis is served by several smaller school districts, the foremost of which is the Somis Union School District, a district created by the residents of the community back in 1898. It consists of only one school, known as Somis Elementary School, which will be in walking distance if you purchased a home in the area and are looking to enroll a child into the school. Somis Elementary acts as both an elementary and middle school, providing education to children between the grades of PK-8. If you live in Somis, you will also have access to the schools in the Mesa Union School District and Oxnard Union High School District, the former of which consists of only one school, known as Mesa Elementary. The two high schools within the Oxnard Union High School District that are open to residents of Somis include Oxnard High and Rio Mesa High.
Wonderful @MesaUnionSchool TK/Kindergarten Thanksgiving 🦃 performance this morning! Thank you to all the students, parents, and our terrific teachers 👩‍🏫 @AnnieMorgan805 , @ClaireA112 , @great2teach , @kelseyandkinder , and Mrs. Lindsey! #mesamoments pic.twitter.com/At8Jj33l5v

— Mesa Union School (@MesaUnionSchool) November 17, 2017
There are numerous unique programs that are available at some of these schools that allow your children to take advanced curriculum, which can be especially important when attempting to get into a certain college or for any teenager who already has an idea of what career they would like to build towards while in high school. When attending Somis Elementary, students from the grades of 6-8 have the ability to enroll into an advanced algebra course, although the amount of programs available to your children expands substantially once your child reaches high school.
If your child is set to attend Rio Mesa High, they will be provided with the option of enrolling into two different art courses that involve either advanced dance study and IB art, six foreign language courses, five social science courses such as theory of knowledge, one advanced English literature course, and seven STEM courses that range from IB mathematical studies to AP environmental science. As for Oxnard High, the advanced courses that you can select from for your child include two foreign language courses, one social science course, one English language course, and seven STEM courses.
Somis Dining, Shopping & Entertainment
Although Somis is a relatively small community, it is situated nearby many delicious eateries, fantastic shopping destinations, and exciting places to visit. When you are considering a move to Somis, having a thorough understanding of the best places to visit in the community should help you get acclimated to the area.
The Somis Cafe and Market is a small eatery that operates as both a cafe and market, serving authentic American and Mexican cuisine for breakfast, lunch, and dinner. Situated along the main thoroughfare of Somis, this restaurant has a casual and laid-back atmosphere, while the plate sizes are ample no matter what you order. The extensive menu includes a wide range of breakfast burritos, soft and hard shell tacos, a la carte items and a variety of lunch and dinner plates, from Chile Verde to bistec ranchero. The restaurant is open for 7 days a week and there's no need to make a reservation, although it is possible to schedule your food for pickup.
Ric's Restaurant & Sports Lounge is a casual restaurant and pub that acts as a gathering place for family and friends, as it offers a full bar with a large amount of beers on tap as well as access to several high definition TV sets where you can watch any game that's on during the week. Their menu is comprehensive, boasting almost every category of food you can expect, from pizza and seafood to pasta and burgers. If you want a lighter meal, they offer a substantial number of soups and salads with options for vegetarians and vegans. If you're visiting primarily for happy hour, it lasts from 3:00PM-7:00PM, during which you will have access to numerous drinking specials, such as the house wine or Ric's specialty for less than you would otherwise pay.
Read Ray G.'s review of Somis Nut House on Yelp
Somis Nut House is a specialty shop in the heart of Somis that offers a range of hand-picked gourmet nut and dried fruit gift baskets that you can get for yourself or someone close to you. When perusing this store, you'll discover dozens upon dozens of unique chocolates, candies, dried fruits, nuts, seeds, and trail mixes that you can purchase. Their range of dark chocolate treats includes everything from dark chocolate almond bark to dark chocolate coconut haystacks, while their many different nuts include delectable butter toffee almonds and honey roasted cashews.
DeLiese Cellars is a cozy and elegant winery that provides visitors with samples of unique wine varietals, a comfortable environment, and a spacious tasting room. They also offer a large variety of DeLiese Cellars wines that you can taste, which are considered by many who visit to be among the best wines in Southern California. The Cellar, which is what their tasting room is referred to, is an elegant wine tasting and dining room where you can host events if necessary and where you'll be able to taste any of the dozens of wines that they offer.
Read Annette M.'s review of Paradise Falls on Yelp
Paradise Falls Hiking is a great destination for anyone who loves spending time outdoors. If you enjoy taking pictures, the premier aspect of this destination is the 40 ft. waterfall of Paradise Falls that's situated within the 2.8-mile loop trail that can be used for hiking or bicycling. This trail can be hiked by all skill levels and is open to dogs as long as you keep them on a leash. There are also several wonderful picnic spots along the way that you might wish to stop at while hiking.
Need help finding your Somis dream home?
If you're interested in buying a home, selling a property, or would like to learn more about the Somis community, contact Nicki & Karen of Ewing & Associates Sotheby's international Realty today!