The city of Agoura Hills is home to many different types of exciting restaurants, from newly launched and trendy gastropubs to mouthwatering steakhouses and MasterChef inspired kitchens. Residents of Agoura Hills and surrounding areas love the wide variety of food that this community has to offer, as the many restaurants in the city represent a range of different cuisines and dining experiences. Here is a list of some of our favorites in Agoura Hills that you'll want to reserve a table at as soon as possible!
10. The Naked Ramen [Ramen/Japanese] – $$
The Naked Ramen is a small ramen restaurant that offers a wide array of authentic Japanese dishes, from salmon oyako danburi to shoyu ramen. The atmosphere inside is lively and energetic, making it a great place to visit with friends. One area that The Naked Ramen focuses on is the presentation of the dish, which makes looking at the food nearly as fun as eating it. There are a few large screen HDTV sets situated around the interiors of the restaurants, providing you with the means of watching whichever sports game is on when visiting. A couple of the customer favorites that should be at the top of your list when ordering include the maze ramen as well as the ginger pork donburi.
The Naked Ramen is located at 30315 Canwood St. in Agoura Hills and is open from 11:30AM-10:00PM Monday through Thursday, 11:30AM-1:00AM on Friday and Saturday, and 9:30AM-9:00PM on Sunday.
9. Plata Taqueria & Cantina [Mexican] – $$
If you're in the mood for Mexican cuisine, the Plata Taqueria & Cantina is an upscale Mexican eatery that's open for lunch and dinner and has a menu filled entirely with authentic Mexican dishes like the pescado taco with grilled white fish. Their menu can be divided into a number of sections that include burritos, salads, entrees, soups, and tacos, the latter of which is available with a special during both lunch and dinner that allows you to choose a combination of any three tacos for $13. The atmosphere is a welcoming one, whether you're visiting for happy hour or lunch. Some of the favorite dishes at Plata Tagueria & Cantina include the shrimp taco and chicken salad with kale. Their guacamole is also widely regarded as being delicious.
When setting up a reservation, this eatery is situated at 28914 Roadside Dr #110 in Agoura Hills and is open from 11:30AM-9:00PM Sunday through Thursday and 11:30AM-10:00PM on Friday and Saturday.
8. Tavern 101 Grill & Tap House [American/BBQ] – $$
The Tavern 101 Grill & Tap House is a barbecue restaurant that's open for breakfast, lunch, and dinner and wants to provide guests with a one-of-a-kind experience that focuses on delivering a friendly and inviting atmosphere where socializing with friends and family is encouraged. The primary eating area is outside under a partially shaded area where lights are strewn up above. There's also a small bar inside where you can order a drink or sample from the special bar menu. Both eating areas are outfitted with a large television set, as the restaurant aims to be the place where residents of Agoura Hills go for every big football and basketball game. Their menu is filled with classic American cuisine and barbecue dishes, while the customer favorites include the famous tavern baby back ribs as well as the tri-tip. Live music is played on a regular basis out on the patio.
This restaurant can be found at 28434 Roadside Dr. in Agoura Hills and is open from 11:30AM-9:00PM on Monday and Tuesday, 11:30AM-10:00PM Wednesday through Friday, 9:00AM-11:00PM on Saturday, and 9:00AM-9:00PM on Sunday.
7. SoLe SoupS [Soup/Salad/Pasta] – $
SoLe SoupS is a unique restaurant that's focused almost entirely on soup, although they also offer a variety of salads and pasta for you to select from. All of their menu items are made fresh daily from local ingredients, while they strive to add twists to each dish they make. All of their soups are kept in stainless steel pots at the counter that keep the ingredients warm while you order. Favorites among customers who have visited include the parsnips and apple soup as well as the standard tomato soup, although they have a range of flavors and textures to choose from. The atmosphere inside is a relaxed and cozy one.
When considering a visit to this restaurant, SoLe SoupS is located at 28708 Roadside Dr in Agoura Hills and is open from 11:00AM-7:00PM Monday through Friday and 11:00AM-5:00PM on Saturday.
6. Osteria Orto [Italian] – $$$
Osteria Orto is an authentic Italian restaurant with outdoor patio seating that provides visitors with an elegant and romantic atmosphere. They are open for lunch and dinner and offer an extensive wine menu that includes a wide array of red and white wines by the glass or bottle, most of which come from the Le Marche region of Italy. Among their many salads, appetizers, pastas, and entrees, customer favorites include the Australian rack of lamb and fettuccine pasta. Their main specialty is with the desserts that they offer, as they are all made to order and vary each night depending on which ingredients the head chef has on hand, providing you with something new to taste with each visit.
This Italian restaurant is situated at 5719 Lake Lindero Dr in Agoura Hills and is open from 4:00PM-9:00PM on Sunday and Tuesday, 11:30AM-9:00PM on Wednesday and Thursday, and 11:30AM-10:00PM on Friday and Saturday.
5. Twisted Oak Tavern [American/Gastropub] – $$
The Twisted Oak Tavern is a gastropub that focuses entirely on American cuisine, providing you with a lively and hip atmosphere where you can watch the game, order drinks with friends, or select one of the many delectable dishes and entrees when visiting with the family. The plate sizes are always substantial no matter what you order while the customer favorites include dishes like the Ahi tuna and the teriyaki wings. Live music is regularly played while you eat, which makes for a fun and energetic atmosphere. They also have a large number of beers on tap, each with a distinct taste.
When planning a visit to this eatery, the Twisted Oak Tavern is located at 30105 Agoura Rd in Agoura Hills and is open from 11:30AM-10:00PM Monday through Wednesday, 11:30AM-11:00PM on Thursday, 11:30AM-12:00AM on Friday, 11:00AM-12:00AM on Saturday, and 10:00AM-10:00PM on Sunday.
4. Simply Fish Grill [Seafood] – $$
Simply Fish Grill is the place to be if you enjoy seafood, as their menu consists almost entirely of seafood dishes, from grilled shrimp tacos to the wild Mahi Mahi burger. The atmosphere is a casual and relaxed one where you go inside and order before taking a seat. If you want to taste one of their specials, they offer five different lunch specials with dishes like shrimp and salmon at reduced prices from 11:30AM-3:30PM. Customer favorites include the grilled Mahi Mahi and seared Ahi tuna. They also have over a dozen sides you can add to any dish you order, from grilled zucchini to a seaweed salad.
Simply Fish Grill can be found at 5653 Kanan Rd in Agoura Hills and is open from 11:30AM-9:00PM Monday through Saturday.
3. Uncle Af's [Sandwiches] – $
Uncle Af's is a small cafe with a focus on sandwiches. They are open for breakfast, lunch, and dinner and provide you with a comprehensive menu of American cuisine with dishes like a club sandwich and tuna sandwich. They are known for the many specialty sandwiches that they provide, as they offer around a dozen sandwiches that come with a unique twist on the standard recipe. Among these specialty sandwiches, customer favorites include the chicken firecracker sandwich and Af's cold cut sandwich, the latter of which consists of mortadella, black forest ham, and salami. If you're a vegetarian or vegan, three specialty sandwiches are available to you, including the happy cow, vegetarian, and Mona Lisa sandwiches.
Located at 5905 Kanan Rd in Agoura Hills, Uncle Af's is open every day from 10:30AM-7:00PM.
2. eLoong Dumplings [Chinese] – $$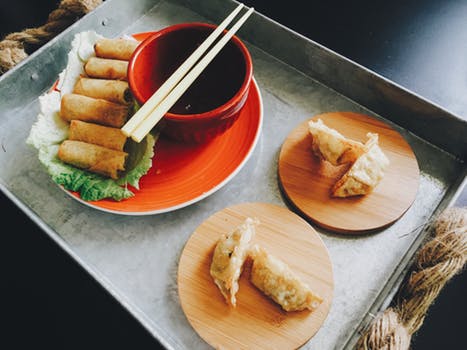 eLoong Dumplings is a popular Chinese eatery in Westlake Village with a casual yet sophisticated atmosphere and a simple menu. Their numerous offerings are divided into appetizers, soup, noodles, stir-fried rice, stir-fried noodles, sauteed greens, and steamed dumplings. Although customers enjoy their many soups, noodles, and other dishes, customer favorites include the large variety of dumpling dishes that they have to offer, from pork and shrimp dumplings to vegetarian dumplings. With some dishes, you can choose to eat with chop sticks or standard utensils.
This Chinese eatery can be found at 30843 Thousand Oaks Blvd in Westlake Village and is open from 11:00AM-3:00PM and 4:30PM-9:00PM Tuesday through Sunday.
1. Old Place Restaurant [American] – $$
The Old Place Restaurant is an American eatery that's designed to match the rural and rustic aspect of Agoura Hills, as the restaurant is situated in an ex-general store that's now bedecked in decor that's meant to appear similar to an old Western film. The Old Place Restaurant is primarily a steak house, while the atmosphere inside is laid back and relaxed. You'll need to make a reservation when attempting to visit this eatery, as the fact that they are open only four days each week makes a reservation necessary. Their menu focuses on hearty American dishes, many of which are grilled over an open fire. Favorites among customers include the mac and cheese with a breadcrumb crust and the rib-eye. They also offer a variety of soups that include mushroom, clam chowder, and corn soups. Live music is held there from time to time, especially on weekends.
This American eatery is situated at 29983 Mulholland Hwy in Agoura Hills and is open from 4:00PM-10:00PM on Thursday and Friday and 9:00AM-10:00PM on Saturday and Sunday.
Want to learn more about Agoura Hills?
We are your local source for information and all things Southern California Luxury Real Estate! We have the experience and resources to help you place your property on the market at the right price or assist you in searching for the home that fits your budget and matches your exact criteria.
If you're looking to buy or sell a home in the Conejo Valley, contact us today to start the process!
Looking to grab a bite in the nearby Westlake Village? Be sure to stop by one of our favorite Italian Restaurants, Casa Nostra in Westlake Village for a spectacular atmosphere and dining experience!