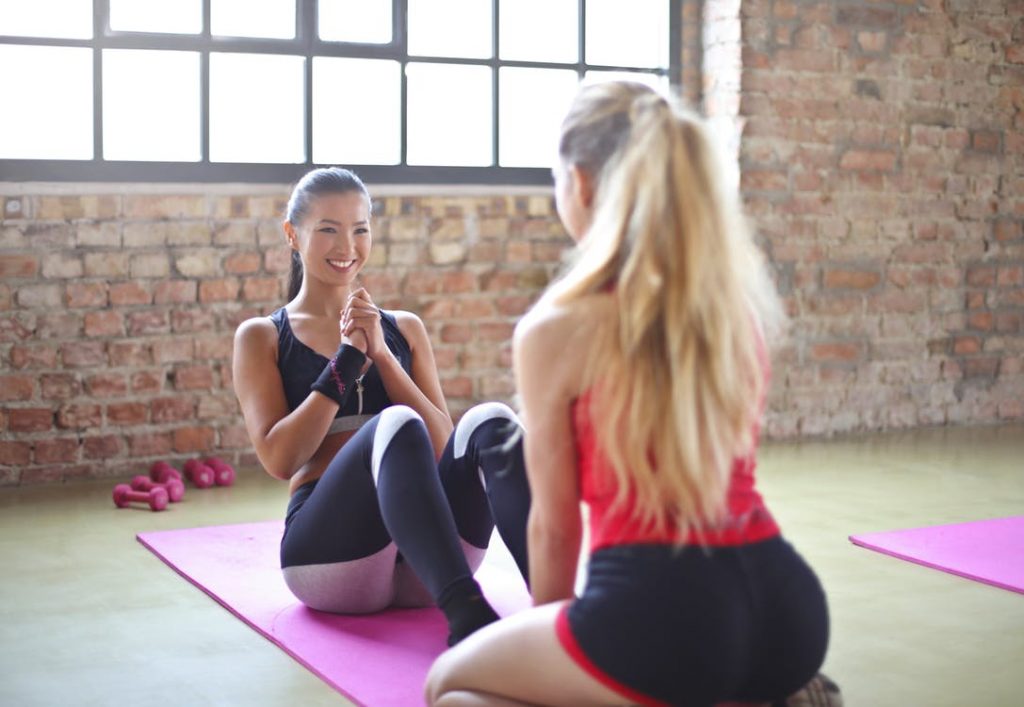 Pilates is a popular exercise that's very similar to yoga and is designed to strengthen the core of your body, such as the abdomen, lower back, and thigh, among other areas. Through the usage of Pilates in your workout routine, you'll be able to not only improve your core strength but also improve your balance, coordination, flexibility, and posture. Over the years, Pilates has been growing in popularity and is considered to be one of the foremost methods of staying in shape and reducing stress. Westlake Village is a central hub to surrounding communities for everything from shopping and dining to entertainment, while Westlake Village also offers many upscale Pilates studios for the active and health-conscious residents of this spectacular community.
7. Studiotyla
Read Amy C.'s review of Studiotyla on Yelp
Studiotyla is a Pilates studio that focuses on promoting a positive and enjoyable atmosphere when working out. All of the sessions offered at Studiotyla are broken down into lengthy 75-minute sessions that are designed to improve numerous facets of a person's health, from their strength and endurance to their muscle mass and metabolism. They also use a range of additional fitness equipment that includes resistance tubes, straps, kettle bells, hand weights, cardio equipment and MELT foam rollers. Although each 75-minute workout session is focused on obtaining similar benefits, each session differs slightly. The types of classes available for you to select from include Reformer, Reformer Gentle, Reformer Plus, RX-Reformer, Reformer Fusion, and MELT, the latter of which is a unique class that's designed to restore the connective tissue in the body to help with chronic pain and aging.
You can expect a maximum of 12 people in each class, although this number is oftentimes lower. The costs associated with this Pilates studio depends on the type of session you select. For group classes, you can book a single class for $30, five classes for $150, 10 classes for $300, or 20 classes for $550. Private 1-on-1 sessions can be booked for a single session at $80, five sessions for $390, or 10 sessions for $750. You could also request a private session with Tyra, the head Pilates instructor at this studio, for either a single session at $100 or 10 sessions at $950. Studiotyla can be found at 880 Hampshire Rd Suite Y in Westlake Village and is open from 7:30AM-7:00PM on Monday and Wednesday, 6:30AM-7:00PM on Tuesday and Thursday, 7:30AM-12:00PM on Friday, 7:30AM-10:30AM on Saturday, and 7:30AM-11:30AM on Sunday.
6. Chea's Pilates Evolved
Read Mimi D.'s review of Chea's Pilates Evolved on Yelp
Chea's Pilates Evolved is among the most popular Pilates studios in the Conejo Valley and offers a variety of private, semi-private, and small group classes that are available for all age groups and at any fitness level. The studio is run by Chea, who has over 40 years worth of experience in teaching Pilates and similar fitness classes. The relaxing and calm atmosphere allows you to become comfortable with your surroundings when just getting started with Pilates. For small group classes, the room accommodates up to 10 people, but the classes typically don't go over five.
Each class is around 45-minutes to an hour in length. If you're considering attending a group class, around 2-3 scheduled classes are held each day. As for private classes, you can schedule these at any time during normal business hours. Chea recommends that every new visitor to this Pilates studio attends a private sessions first in order to get acclimated to the studio and Pilates in general before joining group sessions. Chea's Pilates Evolved is situated at 3625 Thousand Oaks Blvd #211 in Thousand Oaks and is open from 7:30AM-7:30PM Monday through Friday and 9:00AM-1:00PM on Saturday.
5. Pilates Plus
Read Bree G.'s review of Pilates Plus on Yelp
Pilates Plus is an expansive gym in Thousand Oaks that has a focus on Pilates, although they offer a range of additional classes that you can select along with Pilates. The studio is compact with an open design to let a large amount of sunlight in during classes. Each session is around 40 minutes in length, while the primary Pilates reformer classes are designed to provide toning and strengthening benefits to the body. They make sure to keep all of their classes small with around six or less people to ensure that each person receives individual attention. The Pilates classes available here include Pilates Plus, Beginner's Pilates Plus, Pilates Plus Stretch, Pilates Plus Bootcamp, and Pilates Plus/Gym XT.
The Pilates Plus Bootcamp is a little longer than most classes at 55 minutes and provides an extra workout session where every muscle group is focused on. When considering a class, their pricing includes a special rate of $33 for your first three classes. Monthly unlimited classes start at $189 per month while a total of 9-13 group classes per month starts at $129. Single classes start at a rate of $30 per class. Pilates Plus is located at 2845 Thousand Oaks Blvd in Thousand Oaks and is open from 6:15AM-7:30PM Monday through Friday, 7:00AM-11:30AM on Saturday, and 7:45AM-11:00PM on Sunday.
4. Target Pilates Studio
Read Debbie C.'s review of Target Pilates Studio on Yelp
Target Pilates Studio is a renowned Pilates studio that strives to be different than most other Pilates studios, as all sessions are available in class sizes of one, two, or three. Each instructor within this Pilates studio sets their own schedules, policies, and prices, which means that you will need to select the instructor before you determine how much the class costs. When selecting Laura Keramidas as your instructor, the pricing ranges from $85-$125 depending on whether you choose a class size of one or two. Brigitta Dau offers a new client promotion of two private sessions for $120 or a semi-private drop-in for $35. A semi-private series of 10 classes is available at $320, while a private series of 10 classes can be had for $700.
Monica Kaye is the third instructor available at this Pilates studio and her pricing structure is set at private sessions for $125 each, a series of 10 duet classes for $650 and a series of 10 trio classes for $350. As the name of the studio entails, they focus on reaching the customer's target. For instance, if the customer wants to improve their flexibility, the class will focus on obtaining this goal. When considering a visit to the Target Pilates Studio, it can be found at 31316 Via Colinas #108 in Westlake Village and is open from 5:00AM-9:00PM Monday through Friday and from 6:00AM-1:00PM on Saturday.
3. Club Pilates Westlake Village
Read A J.'s review of Club Pilates Westlake Village on Yelp
Club Pilates Westlake Village is a spacious Pilates studio in the heart of Westlake Village that provides Pilates classes that center around the traditional Reformer-based Contrology method of Pilates, although they combine this traditional method with modern state-of-the-art fitness equipment. When you visit Club Pilates Westlake Village, your first intro class is entirely free of charge! They offer a total of nine different types of signature classes, ranging from CP Reformer Flow that focuses on strengthening and lengthening the entire body to the CP Control class that focuses on sculpting and toning the legs and glutes to improve balance and stability.
As you progress through the initial Pilates classes, additional ones will open up for you, as there are four skill levels at Club Pilates, including level 1, level 1.5, level 2, and level 2.5. Some classes are only available for people who have reached the upper levels, such as the CP F.I.T. class that's only available to anyone in levels 2 or 2.5. These sessions are available in groups of 6-10 people. Although exact pricing is not available, you can purchase class membership packages of 4-classes, 8-classes, annual, or unlimited. Club Pilates is situated at 2820 Townsgate Rd Unit 107 in Westlake Village and is open from 6:00AM-9:00PM Monday through Friday, 7:00AM-2:00PM on Saturday, and 8:00AM-2:00PM on Sunday.
2. WundaBar Pilates Westlake Village
Read Colleen M.'s review of WundaBar Pilates Westlake Village on Yelp
WundaBar Pilates Westlake Village is a premier Pilates studio in Westlake Village that offers a range of different classes with a focus on strengthening the core muscles through low-impact workouts. No matter which instructor or type of class you select, each Pilates workout is 45 minutes. These classes must be requested online where you will be able to pick a specific instructor and time that you want to workout at.
Although the majority of classes are available for group sizes of 8-9, most classes only end up having 4-5 people in each, allowing you to have more personalized attention during the workout. You can book one class or select a package of 10 classes, although it's recommended that you find an instructor that you like working with before going this route. WundaBar Pilates Westlake Village can be found at 2900 Townsgate Rd, Ste 117 and is open from 6:00AM-7:30PM Monday through Friday, 8:00AM-11:00AM on Saturday, and 9:00AM-12:00PM on Sunday.
1. Daily Breath Pilates
Read Ruth C.'s review of Daily Breath Pilates on Yelp
Daily Breath Pilates is among the best Pilates studios in Westlake Village with a focus on Reformer Pilates. This studio offers visitors a compact workout space to exercise in, while the classes are available privately or with a group. They offer six different class formats that offer completely unique experiences with different fitness equipment, including DPPilates Beginners Level 1, DPPilates Beginners Level 2, Strong Pilates, TRX/Pilates, Brazilian Butt Pilates, and Courageous Pilates, the latter of which is the most intense Pilates class available with a focus on whole body training.
Class sizes are generally small at around 4-5 people, while your first session at the studio is free. As for pricing, you can select one private class for $85, 10 private sessions for $750, 10 group sessions for $230, or 20 group sessions for $380. Monthly options are also available where you can attend eight classes per month for anywhere from $129-$158 or unlimited classes per month from $159-$219. Daily Breath Pilates is located at 4613 Lakeview Canyon Rd in Westlake Village and is open from 7:00AM-8:00PM Monday through Thursday, 7:00AM-6:00PM on Friday, 8:00AM-12:00PM on Saturday, and 8:00AM-11:00AM on Sunday.
While Westlake Village is a fantastic destination for anyone who enjoys Pilates, it's also a spectacular community that offers something for everyone and provides you with new and exciting places to visit all throughout the year. If you're interested in searching for a home in Westlake Village or would like to learn more about this spectacular and highly desirable residential community, contact Nicki & Karen of Compass today!