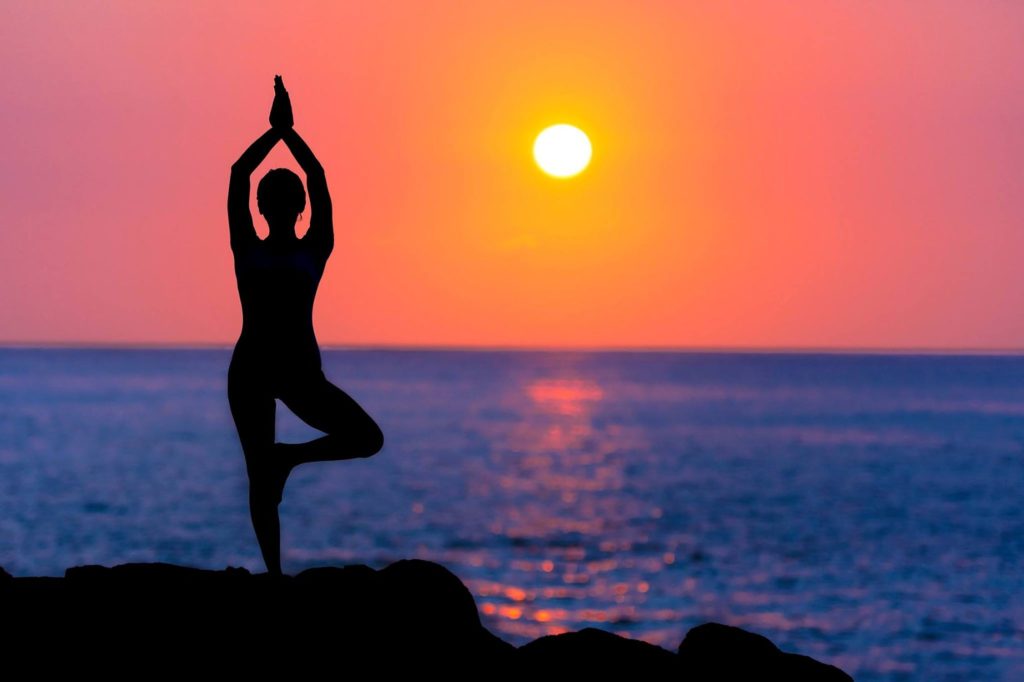 Malibu is home to some of the most prestigious home communities and world famous beaches including the El Matador State Beach and Zuma Beach. This city is comprised of some of the best residential communities in Southern California, providing you with an array of options when searching for the right home. Many notable celebrities and accomplished professionals call Malibu home due to the presence of luxury custom homes, panoramic ocean views, and proximity to downtown Los Angeles. While close to the city, Malibu offers a serene panoramic landscape that acts as a relaxing retreat from the city whether you're interested in sailing, fishing, or any seaside adventures. Many residents of this community enjoy a healthy and active lifestyle, which is largely due to the beautiful weather as well as the numerous high-rated yoga studios in the area. Here are our top 10 favorite yoga studios in Malibu:
10. Santosha Yoga Right Where You Are
Read Angie P.'s review of Santosha Yoga Right Where You Are on Yelp
Santosha Yoga Right Where You Are is a small boutique yoga studio that offers personalized and semi-private yoga classes for anyone who wishes to join. Christi O'Connell is the primary yoga instructor at this studio. She believes that practicing yoga will allow a person to recognize their true self. You can schedule a single class for $15, a three class package for $30, or a private class.
The Santosha Yoga Right Where You Are studio will occasionally offer yoga retreats that take place in a different part of the world, allowing you to experience yoga in a new setting. For instance, they held a yoga retreat in Costa Rica in early 2016. Customers who attend the yoga classes at this studio love how intimate the classes feel as well as how attentive Christi is when teaching. Their yoga studio is situated in Agoura Hills and they are open from 5:15PM-6:15PM on Monday, Wednesday, and Friday. The only way to attend their yoga classes is by making an appointment, which can be done here.
9. Yoga Upstairs
Yoga Upstairs is a sizable yoga studio that offers a wide range of different classes, including restorative yoga, lyengar, and hatha classes. Their studio offers cozy bamboo floors as well as yoga rope walls. Some of the props included at Yoga Upstairs extend from sand bags and bolsters to blankets and mats. They offer over a dozen different types of yoga classes that you can join as well as a variety of specialized workshops and events that include seasonal yin yoga and meditation.
If you are just starting out, you can get a month of unlimited yoga classes for $45. You can learn more about their pricing structure here. Members of this yoga studio feel that the best aspects of Yoga Upstairs are the free yoga props as well as the non-competitive environment that's great for beginners. You can find their studio at 5308 Derry Ave Suite K in Agoura Hills. They are open from 7:00AM-7:30PM on Monday and Wednesday, from 8:30AM-8:30PM on Tuesday and Thursday, from 7:00AM-1:00PM on Friday, from 9:00AM-6:30PM on Saturday, and from 9:00AM-12:30PM on Sunday.
8. Laura Morgan Yoga
Laura Morgan Yoga provides private yoga classes to their clients. The instructor of the studio, Laura Morgan, has over 25 years of experience in teaching yoga. All of the classes she provides are individually created in order to fit the yoga needs of the person who has scheduled the class. Customers love how attentive Laura Morgan is and how much she helps during the class.
The four different types of yoga you can choose from include restorative yoga, transformative yoga, ashtanga yoga, and vinyasa flow yoga. When you are scheduling a private yoga session, she can provide yoga classes to homes and offices within the Greater Los Angeles area as well as Malibu. You can schedule a private class at any time from 7:00AM-6:00PM on Monday through Friday. She can be reached at (310) 869-5766 when you wish to make an appointment.
7. Malibu Health Club
Read Diana H.'s review of Malibu Health Club on Yelp
The Malibu Health Club is a popular health club and gym in Malibu that offers a variety of yoga classes for you to consider. A unique aspect of this club is that it overlooks the ocean, providing you with a serene and relaxing destination to practice your yoga. They offer numerous yoga classes throughout the week, each of which has a different instructor. You can find out more about these classes by visiting this page.
Some of these yoga classes focus on meditation and relaxation while others focus on passive stretching. Customers enjoy the fact that the yoga classes are held in spacious rooms with a large variety of different props and amenities. To get started with yoga classes at the Malibu Health Club, you will need to sign up for a membership. The Malibu Health Club studio is located at 22917 Pacific Coast Hwy #220 in Malibu and is open from 6:00AM-9:00PM Monday through Thursday, from 6:00AM-8:00PM on Friday, from 7:00AM-7:00PM on Saturday, and from 8:00AM-5:00PM on Sunday.
6. Agoura Power of Yoga
Agoura Power of Yoga is a yoga studio that aims to make sure that yoga is affordable and accessible for everyone who attends. Each one of the classes they provide is offered as a drop-in class where you make a donation to attend, which can be as small as $1 with a recommended donation of $16. When considering signing up for a class, you can do so here.
The customers who attend these classes love the fact that there are a large number of teachers, which means that everyone attending receives personalized attention during the class. There are a variety of different classes for you to attend, including some that are available for children. Their studio is situated at 30315 Canwood St #10 in Agoura Hills and is open from 7:00AM-1:15PM and 3:30PM-9:00PM on Monday and Wednesday, from 7:30-1:15PM and 4:30PM-9:00PM on Tuesday and Thursday, from 7:00AM-4:45PM on Friday, from 7:00AM-7:30PM on Saturday, and from 7:30AM-9:00PM on Sunday.
5. Art of Waking Up
Art of Waking Up is a type of yoga studio that focuses on providing classes that center around both yoga and cardio. Jason Gentile is the main yoga instructor at this studio. He is a practitioner and teacher of yoga as well as rock climbing, the latter of which can be combined with yoga in some classes.
They offer individual classes throughout the week that include strong holistic flow yoga for $10 and balance and body awareness for $45. You can also choose to sign up for retreats that last a whole day or an entire week. Customers enjoy the fact that the class sizes are typically small. The studio can be found at 2012 S Robertson Blvd Ste 3 in Malibu and are open from 7:00AM-5:00PM on Friday through Sunday.
4. UnityOne Yoga
Read Jane S.'s review of Unityone Yoga on Yelp
UnityOne Yoga is a cozy yoga studio in Malibu that offers numerous yoga classes and retreats for you to consider going to. This studio is devoted towards providing their customers with the tools necessary to live a healthier lifestyle. The training and workshop classes offered at UnityOne Yoga are more extensive than most, which is displayed by the fact that the shortest workshop lasts for an entire day. Many of the classes can be applied to a yoga teacher certificate or a scholarship program if you are considering teaching yoga yourself in the future.
As for the standard classes, they are available all throughout the day. You can attend for as short as 20 minutes or for as long as two hours. Customers love how unique the classes are due to the presence of organic food and atmospheric music to aid in the training. The UnityOne Yoga studio is situated at 22917 Pacific Coast Hwy #220 in Malibu. The hours that they provide largely depend on the type of yoga class that you are taking.
3. Michelle Kronenberg Yoga
Michelle Kronenberg Yoga is a studio in Malibu that offers weekly classes and private yoga therapy if you believe a one-on-one session would be beneficial to you. The primary forms of yoga that are taught at this studio include iyengar yoga, meditation, and restorative yoga. Many of these classes can help with healing while also enhancing your ability to stretch and relax.
The customers who attend this yoga studio love how personal and informative Michelle Kronenberg is. They believe that her teaching is unparalleled and can be particularly beneficial for people who are experiencing pain in their body. The Michelle Kronenberg Yoga studio can be found at 29500 Heathercliff Rd in Malibu. When you are thinking of visiting the studio, you can attend weekly drop-in classes on Wednesday and Saturday starting at 9:00AM or can schedule a private yoga therapy class by contacting the studio at (310) 408-1948.
2. Malibu Fitness
Malibu Fitness is an expansive gym and yoga center in Malibu that offers both group classes and private classes. The standard types of yoga that they teach include vinyasa flow and hatha flow, both of which are taught at various intervals throughout the week. You can either become a member of the gym, purchase classes separately, or purchase classes in a package of 10 or 20, the pricing of which you can learn more about here. Customers who attend the yoga classes at this fitness center love how clean the rooms are and how amazing the staff is. The studio for Malibu Fitness is located at 29575 Pacific Coast Hwy in Malibu and is open from 6:00AM-9:00PM Monday through Friday, from 6:00AM-8:00PM on Friday, and from 7:00AM-6:00PM on Saturday and Sunday.
1. Malibu Beach Yoga
Malibu Beach Yoga is a fantastic yoga center that offers classes for any skill level. They also offer a range of different special events and workshops throughout the year that you can attend. If you are new to this studio, the rate is $30 for unlimited classes for 14 days. After this, an unlimited monthly membership is $150 while a single class is $20. Go here to find out which pricing structure you prefer. Customers of this yoga studio love the views that are available when they are performing yoga as well as the fact that both hot and air conditioned yoga are available. Their studio can be found at 29169 Heathercliff Rd #217 in Malibu and are open from 6:30AM-8:00PM Monday through Friday and from 9:00AM-6:30PM on Saturday and Sunday.
Conclusion
If you're considering a move to the world famous Malibu to enjoy the spectacular Southern California weather, custom luxury homes, and gorgeous panoramic ocean views, Malibu is the place to be! The real estate options situated throughout the city can be tailored to match any preference that you may have. Contact Nicki & Karen Southern California Luxury Real Estate today to help you find the Malibu beach home of your dreams!