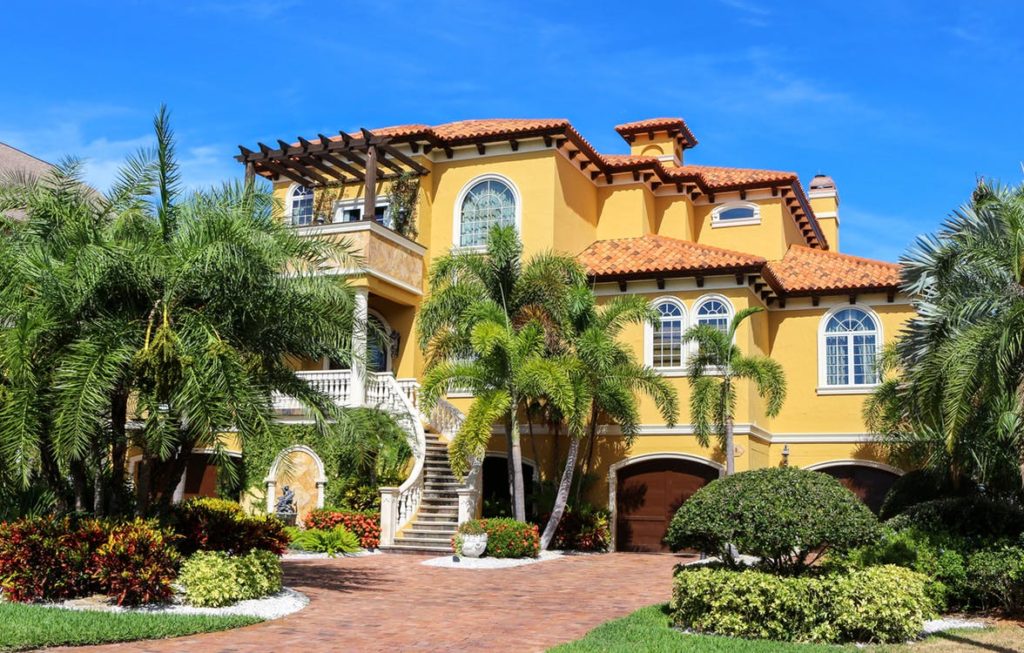 Southern California is home to spectacular luxury homes, from the beaches of Malibu to the beautiful Conejo Valley and Ventura County. Both the Conejo Valley and Ventura County provide the perfect setting for a custom luxury home in this highly desirable location of Southern California. Whether you're a nature lover or enjoy spending time in the city, all types of locations are represented well in this portion of Southern California, which makes it a great area to build your customized home. Luxury home builders will help you create the home of your dreams as they have the experience that it takes to build a quality home that will last you and your family for many years to come. With many reputable luxury home builders to select from, try to identify the criteria that's most important to you in a home builder before making your decision.
10. Diditan Group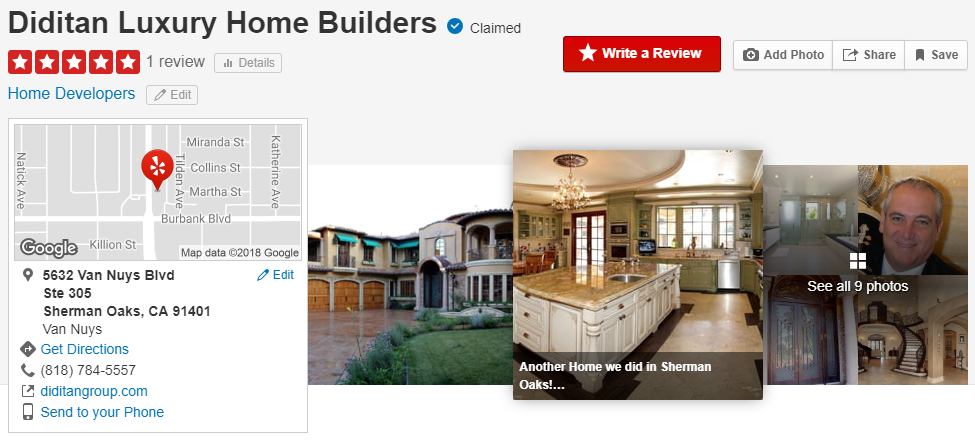 The Diditan Group is a luxury home builder that has garnered a stellar reputation within the industry. Their home building services are mainly provided in the Los Angeles area, which includes such destinations as Sherman Oaks, Palm Springs, and Encino. Although they specialize in creating luxurious single-family homes, their team also takes on luxury multi-unit projects. They strive to provide their clients with high quality workmanship combined with style and elegance, which is displayed in the distinct boutique-style architecture that they provide to the homes they build.
One of the main focuses of the Diditan Group is to make sure that the investments their clients make are the best that they can be. Their craftsmen and builders work closely with the finance team in order to ensure that the premium quality delivered by their work matches with the initial investment in a way that allows for a good ROI. Their past work is notable for using modern architectural styles as well as Spanish Mediterranean styles. The Diditan Group only use the finest materials, which means that they will ship from abroad if necessary.
9. SES Builders Inc.

SES Builders Inc. is a renowned contractor that specializes in custom home construction. Although they can be contracted for a wide array of projects that include remodels and home additions, their primary work is centered around luxury home construction. These luxury home builders have more than 10 years of experience and aim to provide client support that is personalized and comprehensive in order to ensure that all of the client's needs are met. They mainly serve the Greater Los Angeles area as well as most of the Conejo Valley.
When you are considering retaining their services for your new home, these luxury home builders offer a free consultation, which can be helpful when you're trying to find a builder that can fit into your budget. They have completed many new construction projects during their 10 years in business, all of which were designed to match the client's exact specifications. They aim to provide luxury with everything they design, from the master bedroom to the pool area. They have experience in both contemporary and traditional architectural styles, which means that they will be ready to build whatever it is you want them to design.
8. SO Cal Builders & Design

SO Cal Builders & Design is a construction company that handles all types of jobs when it comes to making a luxury home, from plumbing to electrical services. Due to the fact that they avoid outsourcing some of the construction services to other companies, you can be confident that their work will remain consistent as they are designing your home.
Their design and construction teams are always focused on learning new techniques in order to provide their customers with modern building practices. They want the homes that they build to seem like a work of art. If you want to have a luxury home built but are rigid on your budget, SO Cal Builders & Design aims to provide the lowest prices in the industry while also using the finest materials. Their custom home services are offered within Los Angeles and the surrounding areas.
7. Epic Design Build Inc.

Epic Design Build Inc. is an architecture and construction company that provides luxury home construction primarily within the city of Claremont, which they are based out of. These luxury home builders have been in business since 2002 and have completed a large number of projects, which have been built in a variety of architectural styles that include the elegant American craftsman style as well as the contemporary style.
They want the spaces and homes that they create to be beautiful yet functional. Their design team also has a big focus on energy efficiency, which is displayed by their goal of building Eco-friendly properties. No matter which architectural style you choose, Epic Design Build Inc. will make sure that the exterior of the home matches well with the interior aesthetics.
6. IND Construction, Inc.

IND Construction, Inc. is a business that is family-owned and operated and offers a wide array of different home construction services that range from fence installation and laminate flooring installation to the development of custom pantries, all of which may be useful when you're building a new home. They primarily work in Los Angeles as well as the San Fernando Valley, allowing you to request their services from a wide range of locations.
Throughout the past 10 years that they've been in business, they have provided their customers with new construction projects that have a focus on the Cape Cod and Tuscany architectural styles. They will work very closely with you during the design and build phases of the project, which is due to the fact that their main goal is make sure that your desires are met. IND Construction Inc. has a Better Business Bureau rating of A+, which means that you can be assured of their quality.
5. Structure Home

Structure Home is a company that specializes entirely in the creation of custom luxury homes. These luxury home builders have designed all kinds of different homes during their 21 years in business, from smaller contemporary mission transitional homes to East Coast Colonial properties that are spacious and opulent. They can design anything that the client wants, which means that your dream home can be brought to life.
They pride themselves of their attention to detail, which is displayed by the fact that their custom home building process extends from the initial pre-development planning phase to the financing and property brokerage phase. They have built more than 1,700 residences, the majority of which are single-family residences. During the construction of your home, they aim to stay on budget and stick to the pre-determined schedule to ensure your satisfaction.
4. Allen Construction

Allen Construction is a construction company that primarily offers their services throughout the areas of Santa Barbara, Los Angeles, and Ventura County. A unique facet of the services that they provide is that all of the homes they build are made to be sustainable and environmentally friendly. They have more than 30 years of experience in the industry and believe that efficient management is just as important as expert craftsmanship.
Their prices are competitive due to the fact that they have built strong relationships with numerous trade contractors throughout the Greater Los Angeles area. As Luxury home builders, they can apply their luxury services to smaller residences as well as larger estates. The estate homes that they've built in the past range from sprawling French chateaus to ranch estates that make good use of space.
3. GoldenLine Construction Inc

GoldenLine Construction Inc. is a construction company with a comprehensive number of capabilities. They have focused on hiring professionals who have experience in many different types of home renovation and construction, which means that they are equipped to handle some of the more distinct building elements like subterranean basements or walls of glass. If your ideas are bold and striking, this might be the company for you. They are strict with the timetable they set and can work in every type of weather condition in order to get your home finished on time. They also take on a substantial number of projects each year, which likely means that you won't need to wait a long time to have your home built.
2. US Home Developers Inc

US Home Developers Inc. is a construction and remodeling company that mainly offers new home construction services. However, their work extends to home remodeling and kitchen remodeling, which means that they are able to build every facet of the home during construction instead of using other contractors for the brunt of the work.
They use only premium quality materials and believe that the key goal during the construction of a luxury home is to make sure that the design maximizes your personal comfort. They also keep up with the latest trends in energy efficient construction practices, which is something that you can benefit from if you want a luxury property without needing to spend too much on your monthly energy bills. These luxury home builders can also provide you with solar paneling if you're interested in that option.
1. AAA Development, Inc.

AAA Development, Inc. is a custom home builder that services all of Ventura County and is considered to be a leading contractor in the industry. Their main philosophy is to focus on process, team, and execution in order to deliver the perfect home. The design team will get together with you and draw up the layout of the home based on everything that you tell them. Once you approve the design, they will build it.
They also want the client experience to be flawless, which is why they use only the best suppliers and sub-contractors. As for execution, they never take any risks during the building phase in order to cut costs yet will do what they can to stay on budget. Along with the standard free estimate provided by most construction companies, AAA Development, Inc. offers a complimentary idea session to formulate the ideas that you have into an actual design.
Conclusion
Building a custom home can be an exciting process as you focus on crafting a property that is unique to your tastes and preferences. Custom luxury home builders will help match your creative vision in order to create the home of your dreams while also maintaining the experience necessary to get the job done well in a home that will last for years to come. If you require any kind of assistance in finding the right custom luxury home builder for you, feel free to contact Nicki & Karen Southern California Luxury Real Estate directly and we'll be more than happy to put you in touch with the many trusted Los Angeles custom home builders that we've worked with over the years!