If you're looking to perform a remodel or renovation that will increase the value of your home and help you obtain a better return on your investment once you list your home on the market, a kitchen remodel is likely your best option. The main reason why many homeowners decide to perform a kitchen model to increase home value is because the kitchen is largely believed to be the most important room in the modern home.
If you want to sell your home in the near future, making improvements and updates to your kitchen will likely appeal to many buyers who are searching for a more modern home with some of the latest appliances. Likely the best aspect of implementing a kitchen remodel is that the project can be as small or large as you want it to be. For instance, some homeowners will focus solely on installing new appliances. Other homeowners remodel the entire kitchen to obtain the full benefits of this type of project.
Depending on the scope of the work, the size of the project, and the size of your kitchen, a full kitchen remodel can take anywhere from a few weeks to four months to complete. The cost of a kitchen remodel can range from $4,000-$35,000. If you're only making some small changes to the room, you would likely be on the lower end of this range. On the other hand, more lavish and expansive remodels can cost upwards of $50,000-$75,000.
If you're mainly thinking about a kitchen remodel because you want the room to appeal to potential buyers, you may want to implement kitchen updates that will make the room appear more modern. Today's modern kitchen updates tend to center around simple functionality and an elegant appearance.
If possible, opt for an open kitchen design with an island in the center of the room. While you should mainly use neutral tones, bright accent colors like red and blue make a kitchen more inviting. Modernizing your kitchen can also be done with modern appliances. Keep in mind that the most popular hardware finishes for modern appliances include chrome and steel. The following guide offers a detailed overview of how this remodeling will increase your home value.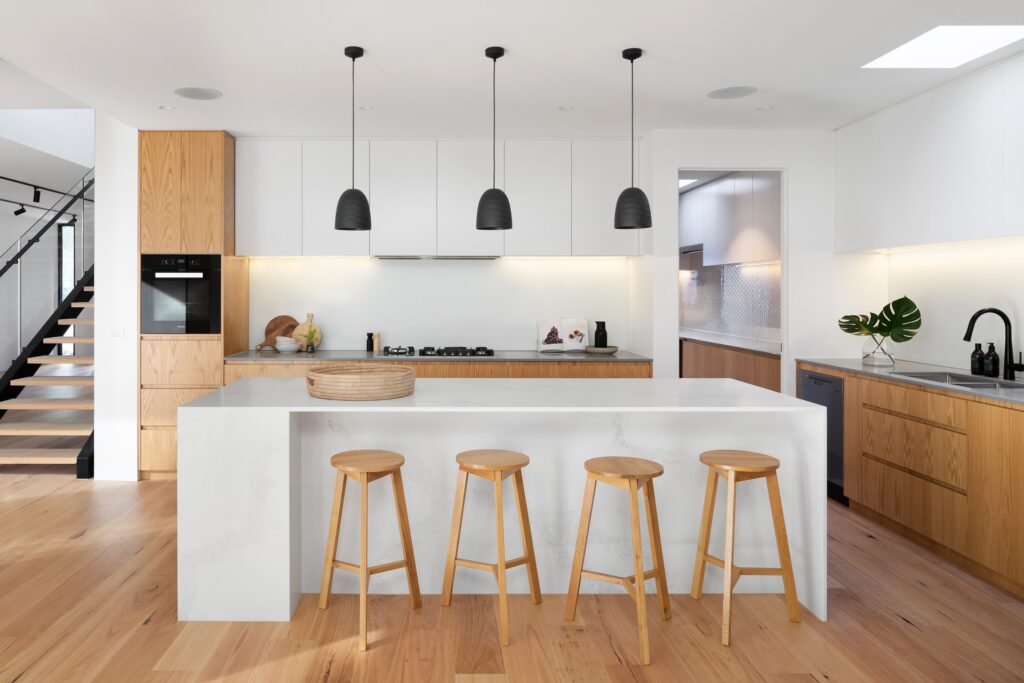 Remodeling Your Kitchen Is the Best Way to Increase Your Home's Value
As mentioned previously, it's highly recommended that you remodel your kitchen if you want to increase the value of your home and appeal to new buyers. Buyers are more interested in buying a home when they are able to identify functional improvements to the home.
The majority of buyers state that remodeled kitchens are an influencing factor when deciding which property to buy. Keep in mind that the average return on investment for a kitchen remodel is at or above 50% of the total remodeling budget. Your ROI can improve to 75-80% if the kitchen remodel is smaller in scope and size.
How Long Does a Kitchen Remodel Take?
While a kitchen remodel can take as little as six weeks and as long as four months to be completed, the average duration of a kitchen remodel is around 4-8 weeks. The contractor you hire for the job should be able to give you a more detailed estimate of how long the project should take and the potential issues that may cause delays in the project timeline.
Before you get started on remodeling your kitchen, there are many different types of kitchen remodels that you could select for your home, which include everything from one-wall kitchens to L-shaped kitchens.
One-wall Kitchens
This type of kitchen typically exists in smaller areas because of how simplistic the layout is. If you have a relatively small kitchen, this type of layout allows you to make good use of space without needing to forego functionality. All cabinets are placed against a single wall with lower and upper cabinets.
When creating this type of kitchen, focus on verticality. Since you don't have an ample amount of space to work with, cabinets should be positioned as high as possible. You could also consider placing your refrigerator at one end of the kitchen with the sink at the other end.
Galley Kitchens
This type of kitchen focuses on positioning two rows of cabinets that face each other, which allows for an inner galley between the two sets of cabinets. Keep in mind that galley kitchens don't use corner cupboards but instead focus on using every square inch of the space. If you have a larger family, this type of kitchen offers a considerable amount of storage space.
L-Shaped Kitchen
L-shaped kitchens are considered to be more practical and are ideal for both large and small kitchens. Cabinets are placed alongside two perpendicular walls. This type of kitchen has a somewhat open design that allows for more flexibility in regards to where meal prep countertops and appliances are placed. Most L-shaped kitchens work best with a walk-in pantry, which means that you'll be able to make good use of any corner space. These kitchens can also accommodate a breakfast nook that the whole family can enjoy.
U-Shaped Kitchen
U-shaped kitchens are ideal for homeowners who have ample space in this room. This type of kitchen is comprised of cabinetry that's positioned along three separate walls, which means that you'll have a large amount of storage space. Consider only placing cabinets along two of the walls to avoid feeling enclosed.
Open shelving is highly recommended with this kitchen design. Because of how large this type of kitchen can be, multiple people can prepare meals or work in the kitchen at once. Make sure that window areas remain uncluttered.
Island Kitchen
This type of kitchen is highly popular in homes with open floor plans. By placing an island kitchen in the middle of the room, you'll be able to take advantage of extra storage as well as a spacious work surface. This island can consist of a prep bowl, a wine fridge, and a cooking surface. Make sure that your kitchen space is large enough to support the island kitchen design. To further enhance this room, consider installing some decorative lighting, which can also be used as task lighting.
Peninsula Kitchen
A peninsula kitchen is similar to an island kitchen but is also comprised of a kitchen counter that will jut out from cabinetry or a wall. If you don't have enough space to place a completely separate island in the middle of your kitchen, a peninsula kitchen may be the ideal design for you. You can use this peninsula for eating, meal prep, and other tasks. Just like island kitchens, peninsula kitchens provide you with the perfect opportunity to interact with your family members or friends while meal preparation is ongoing.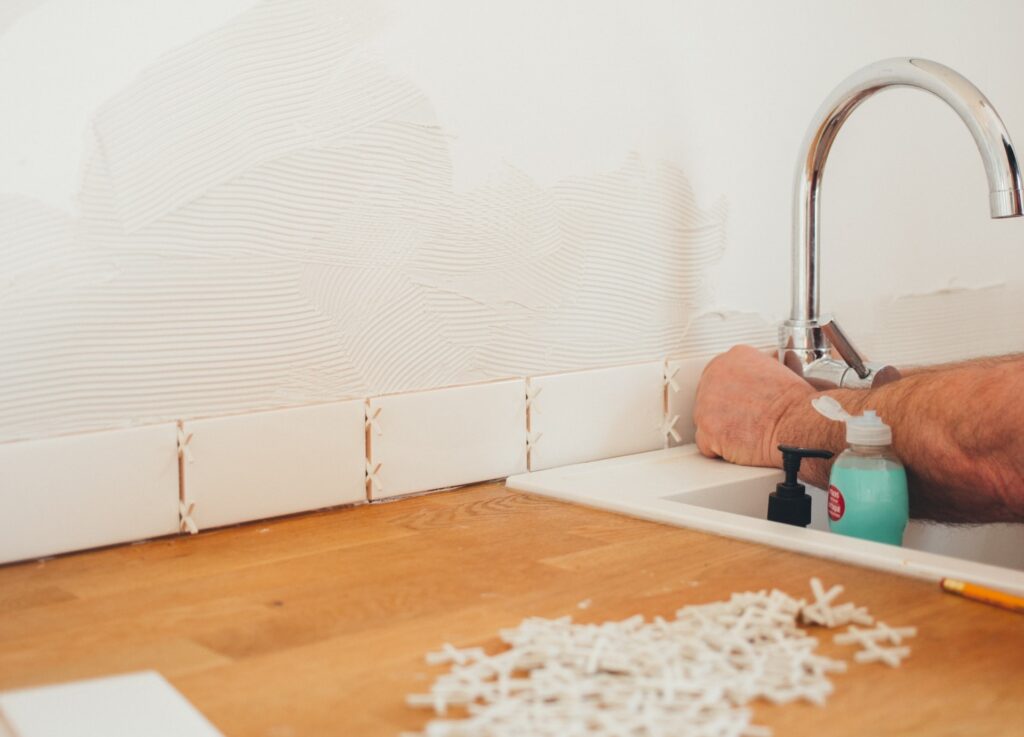 How Much Does a Kitchen Remodel Cost?
When you're planning a kitchen remodel, the cost you pay largely depends on the materials you use. If you want to perform a low-cost kitchen remodel for $5,000-$15,000, this remodel can be done with:
A mostly do-it-yourself approach
Faucet and sink upgrades
Refinish cabinets
Paint ceilings and walls
Upgrade a couple of appliances
Replace current countertops with affordable materials like tile, laminate, and vinyl
Install insert or LED lighting
If you have a larger budget between $15,000-$30,000, you can perform a kitchen remodel that involves:
Hiring installers
Having a new faucet and sink installed
Having semi-custom cabinets installed
Replacing your existing countertops with premium materials like metal, stone, and wood
Adding a kitchen island
Adding a tile backsplash
Replacing current flooring with stone, tile, or laminate materials
In the event that your budget is higher than $30,000, you could afford a kitchen remodel that involves:
Hiring a general contractor
Building and installing custom cabinets
Installing hardwood flooring
Installing overhead lighting
Replacing current countertops with premium materials like quartz and granite
Installing new faucets and sinks
Installing premium appliances
Making structural changes that could involve tearing down walls, adding gas lines, and installing pipes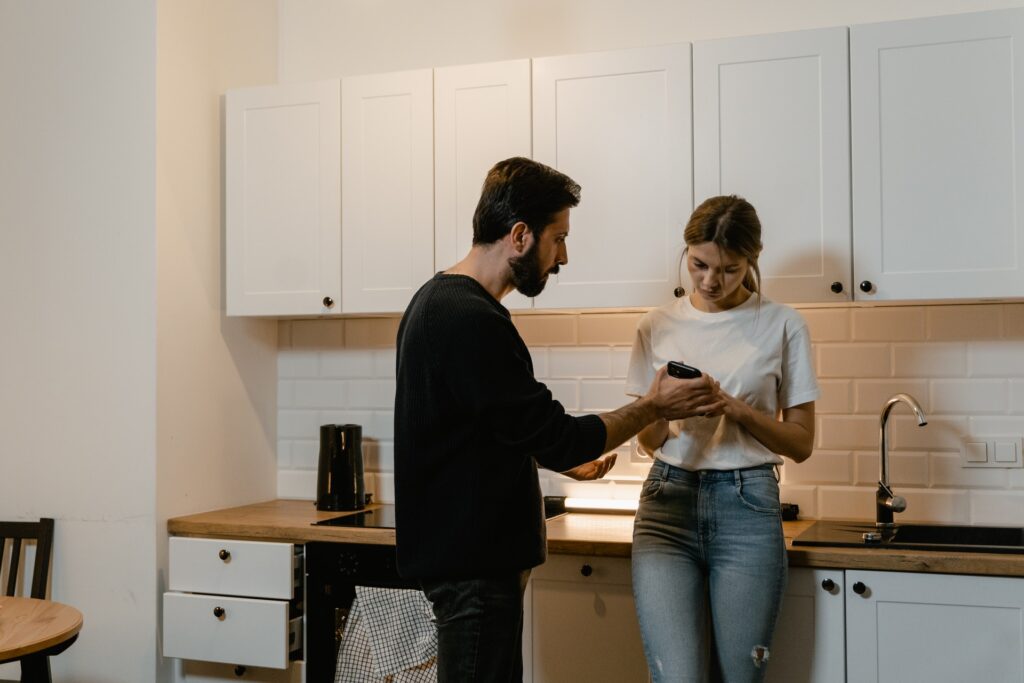 What are Today's Modern Kitchen Updates?
While there are many great updates you can make to your kitchen, the most modern changes that can be used with your kitchen remodel include everything from new kitchen countertops to the right kitchen light fixtures.
Cabinet Refacing and Refinishing
If you want to avoid spending a considerable amount of money installing new kitchen cabinets, you could instead choose to reface your existing cabinets while also replacing any hardware. Entirely new cabinets can cost upwards of $5,000-$7,500 alone. In comparison, refacing kitchen cabinets should only cost around $2,000-$4,000.
Kitchen Countertops
When focusing on kitchen countertops, you might not want to automatically choose quartz or granite countertops. Even though these are the best options, they are very expensive. You can obtain granite remnants, laminate, or Formica materials at a much more affordable price without sacrificing appearance. You could also go for porcelain or stone slabs for your kitchen. However, these materials are relatively low-quality options.
Tile Backsplash
Consider installing a tile backsplash that's outfitted with beautiful patterns and color palettes to enhance the appearance of your new kitchen countertops and refaced cabinets. If you want your kitchen to have a perfect transition from the countertop to the backsplash, it's possible to use similar color tones.
New Kitchen Appliances
Many buyers look for new appliances when buying a home, which could mean anything from a new refrigerator to a new HVAC unit. Because the kitchen is the most important room for many prospective buyers, you should think about adding several new appliances to give your kitchen a more modern look.
These appliances can include a new fridge, new double ovens, or a four-burner gas range. Along with making a kitchen seem more modern, new appliances also improve a kitchen's functionality. If you go this route, look out for sales in retail stores and home improvement stores.
Kitchen Light Fixtures
Nothing can enhance the appearance of a kitchen more than adding new light fixtures. Good lighting can better emphasize the colors and textures of your various kitchen elements. The types of lighting fixtures that you should consider installing include recessed lighting, cabinet lights, and hanging ceiling lights. Recessed lights tend to cost around $300 per fixture, which means that this alteration can be made without spending too much money.
Kitchen Sink and Faucet
Having a new faucet and sink installed in your kitchen can be appealing to potential buyers. Your sink is the area that buyers will use the most, which means that they will notice when a sink or faucet is old and outdated. Having a new sink and faucet installed can cost you around $400-$2,000 depending on the features you add as well as the size of the sink. There are several types of sinks to select from, which include under-mounts, apron-style sinks, and bar sinks.
Regardless of what type of budget you have, remodeling your kitchen is the perfect solution for increasing the value of your home. Before you select appliances, a kitchen design, or materials, make sure that you map out your budget and identify what you can afford.