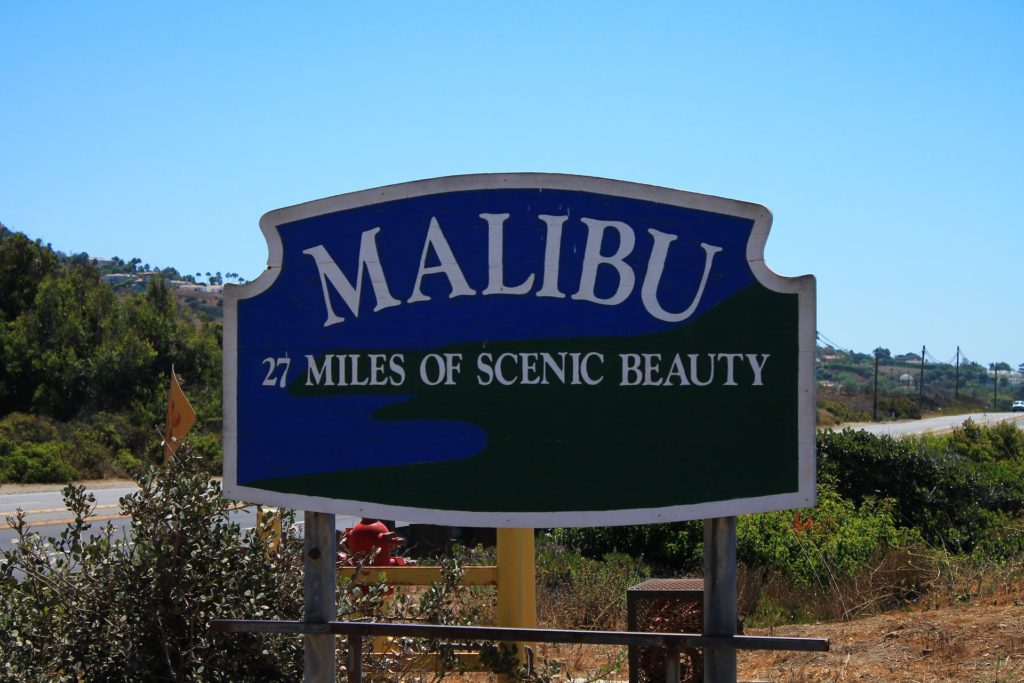 Whether you already live there or are considering buying a new home, Malibu never ceases to surprise with its beauty and is always worth the visit. This popular city is situated west of LA and is known for its beautiful beaches and being home to many celebrities. The city is also home to the Malibu Creek State Park, which boasts some of the best hiking trails in all of California. If you want to enjoy the sprawling Malibu beaches, there is an array of great rental shops in the area that provide all the surf and water-sport equipment that you may need.
While Malibu is known for its beaches and outdoor activities, the people who live in Malibu also have a great appreciation of art, which has been fostered by the Malibu Art Association and the Cultural Arts Commission. Many art shows, workshops, and demonstrations are held in Malibu all throughout the year, which allows residents and visitors alike to get a look at some of the pieces that have been created by local and national artists. The Cultural Arts Commission focuses on providing artists with grants, purchasing art, using city parks for art-related events, and sponsoring numerous cultural arts programs.
Likely the most popular art destination in Malibu is the Getty Villa museum, which is a must-see destination that curates a fine collection of Greek, Etruscan, and Roman art. Created by oil tycoon J. Paul Getty, this museum houses 44,000 pieces of art that are dated from 6,500 BC to 400 AD. While the Getty Villa is a wonderful place to go for any art lover, there are other art galleries throughout Malibu that are worth the visit. This article offers a more detailed look at the art scene in Malibu.
Must-Visit Malibu Art Galleries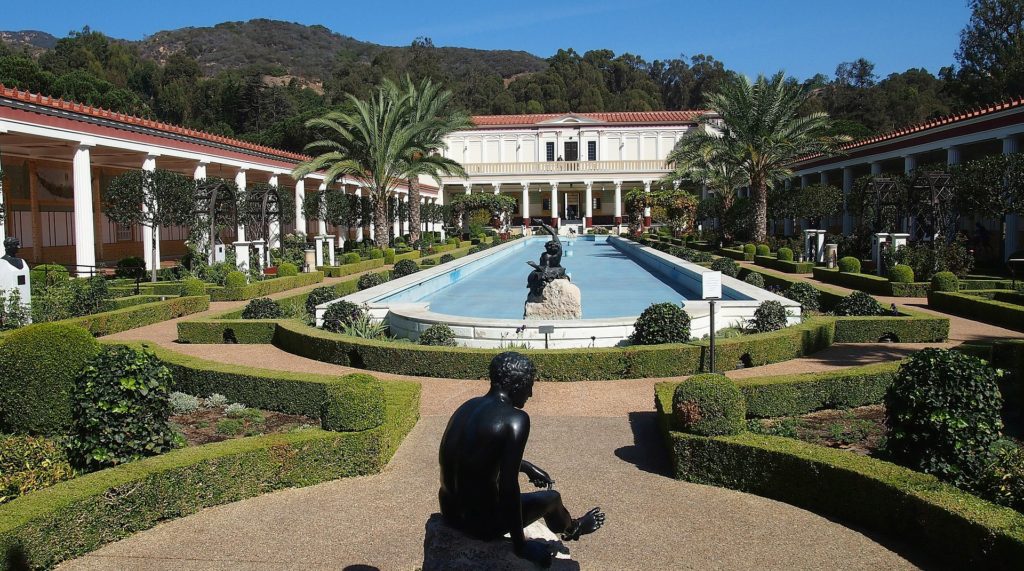 Most of these art galleries are located within the city, which means that you should have easy access to all of these destinations if you live in or around Malibu. This city has always had a robust art culture. However, this culture became even more expansive in 2012 when the Malibu Task Force provided the City Council with the "Cultural Arts Report" for 2012. This report displayed how important it was to continue developing and fostering the cultural arts throughout the city.
The report also made sure that the City Council understood the value of engaging with local artists as well as cultural arts organizations. The report from the Task Force believes that being committed to the arts would substantially benefit the individuals who work, live, and visit the city of Malibu.
Wall Street Gallery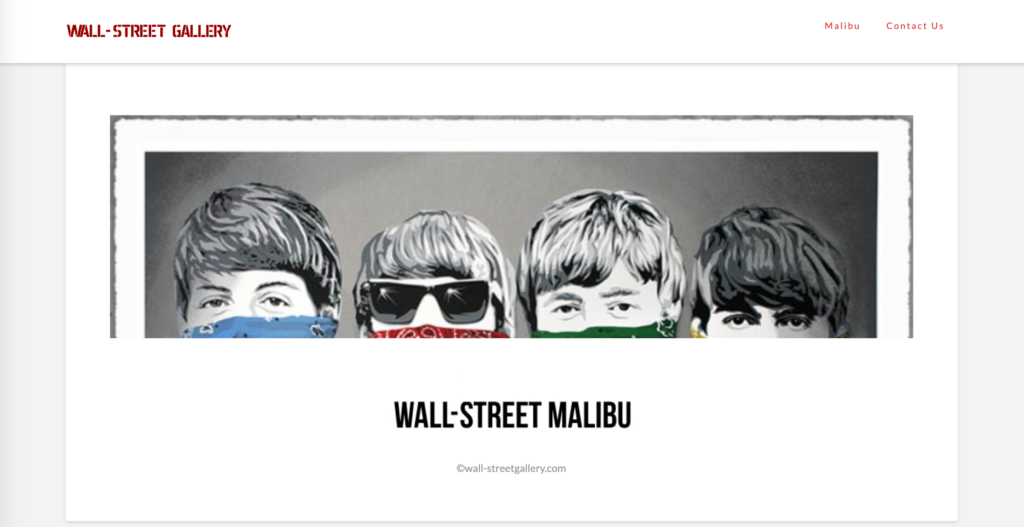 The Wall Street Gallery is a well-regarded art gallery that specializes in displaying pop art. This is a type of art first became popular during the mid-20th century and is characterized by everyday objects being used in art pieces. The movement behind this form of art wanted to show that artistic expression can be derived from any source without being disrupted by the surrounding culture.
The pieces on display at this gallery include many pieces of original street art that have been created by Mr. Brainwash. As a local street pop artist, Mr. Brainwash has been creating pop art pieces for well over a decade. Over the years, he has displayed his art in numerous locations. His very first show took place in 2008 in a former T.V. studio that was situated in Hollywood, after which his popularity and fame increased substantially. Since that time, he has traveled all over the country displaying his art pieces in galleries in major cities such as New York and Miami. If you're interested in pop art and would like to stop by this gallery, it's located at 3884 Cross Creek Rd Malibu, CA 90265.
David Hinnebusch Artworks
David Hinnebusch Artworks is a small art gallery in Los Angeles that's owned by artist David Hinnebusch. Anyone who wishes to visit this gallery will need to make an appointment before doing so. If you want to make an appointment, you can contact David Hinnebusch at 1-424-235-5338. While most of the art that can be found at David Hinnebusch Artworks is created by Hinnebusch himself, the gallery also features a small selection of pieces by local and international artists. Hinnebusch chooses pieces from other artists to display that use a similar artistic style as his own.
David Hinnebusch went to Santa Monica College of Art and Design in 1997. While this school is now closed, he used his education to grow his talents and improve his art. At one point in his career, he sold his work on the streets in Venice. His unique art style consists of contemporary influences mixed with Neo-expressionism. The Neo-expressionism art style is characterized by high amounts of subjectivity as opposed to the traditional standards for design and composition. The art materials that are used during the creation of the pieces are handled roughly for a distinct stylistic look.
However, Neo-expressionism is just one aspect of his artwork. Contemporary art focuses on reflecting on modern society and the issues that are relevant to the artists who use this style. Both of these art styles became popular in the late 20th century. However, few artists have combined the two styles, which means that visiting this gallery will give you the opportunity to see unique pieces of art. You can find this art gallery at 719 S. Spring Street, Los Angeles, CA.
Enso Gallery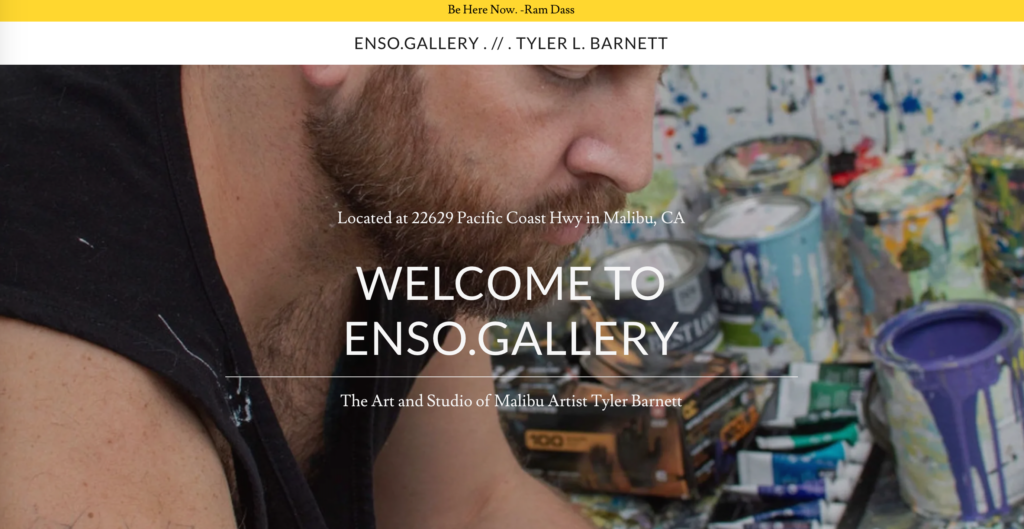 Enso Gallery is another popular art gallery in Malibu that's owned and operated by artist Tyler Barnett. The gallery solely features his own artwork. The pieces that are shown at Enso Gallery are unique because Barnett blends traditional Japanese Enso art with psychedelic influences for highly abstract, bold, and colorful artwork. Enso is a circular symbol that represents strength, elegance, absolute enlightenment, the universe, and the void. It's mainly characterized by a minimalist appearance that's derived from popular Japanese aesthetics.
It also serves as a sacred symbol within Zen Buddhism that means circle or the circle of togetherness. Artists who use Enso for their work focus on singular brushstrokes in order to let go of the mind and allow the body to better create. When a painter makes just one brushstroke, there's no room for additional modifications and additions to the art. The other component of the artwork by Tyler Barnett borrows from psychedelic art, which was initially coined by Humphry Osmond, a British psychologist. Under his definition, psychedelic art occurs with any artistic effort that attempts to display the inner world of a person's psyche. This art movement was particularly popular in the 1960s but has remained relevant for many artists today. You can visit the Enso Gallery at 22629 Pacific Coast Hwy. Malibu, CA 90265.
Public Outdoor Art in Malibu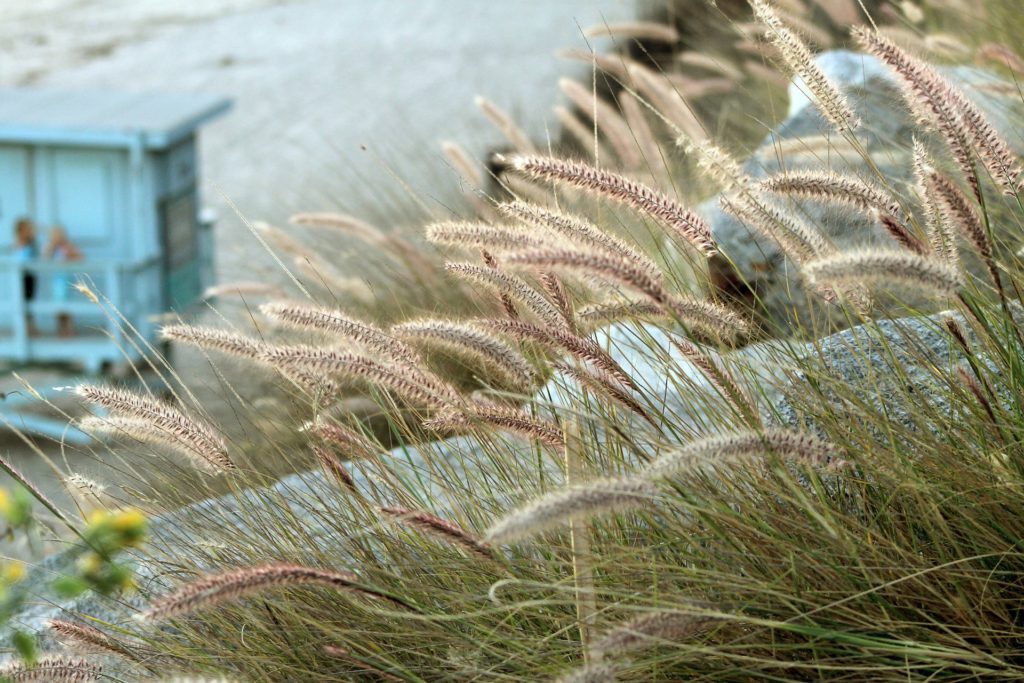 Aside from the privately-owned Malibu art galleries that you should definitely think about visiting, there are many installations of public art that are located at various parks all throughout the Malibu area. Public outdoor art is prevalent in Malibu no matter where you are in the city. The city's great support for the arts was exemplified when the City Council passed the Art in Public Places Ordinance in 2014.
This ordinance encourages local businesses to display art in their places of business or contribute in some way to future public art installments around the city. This encouragement extends to institutions as well as multi-family residential projects. The reason that this ordinance passed is because the City Council believes that artistic and cultural resources bolster the quality of life for everyone in Malibu.
Legacy Park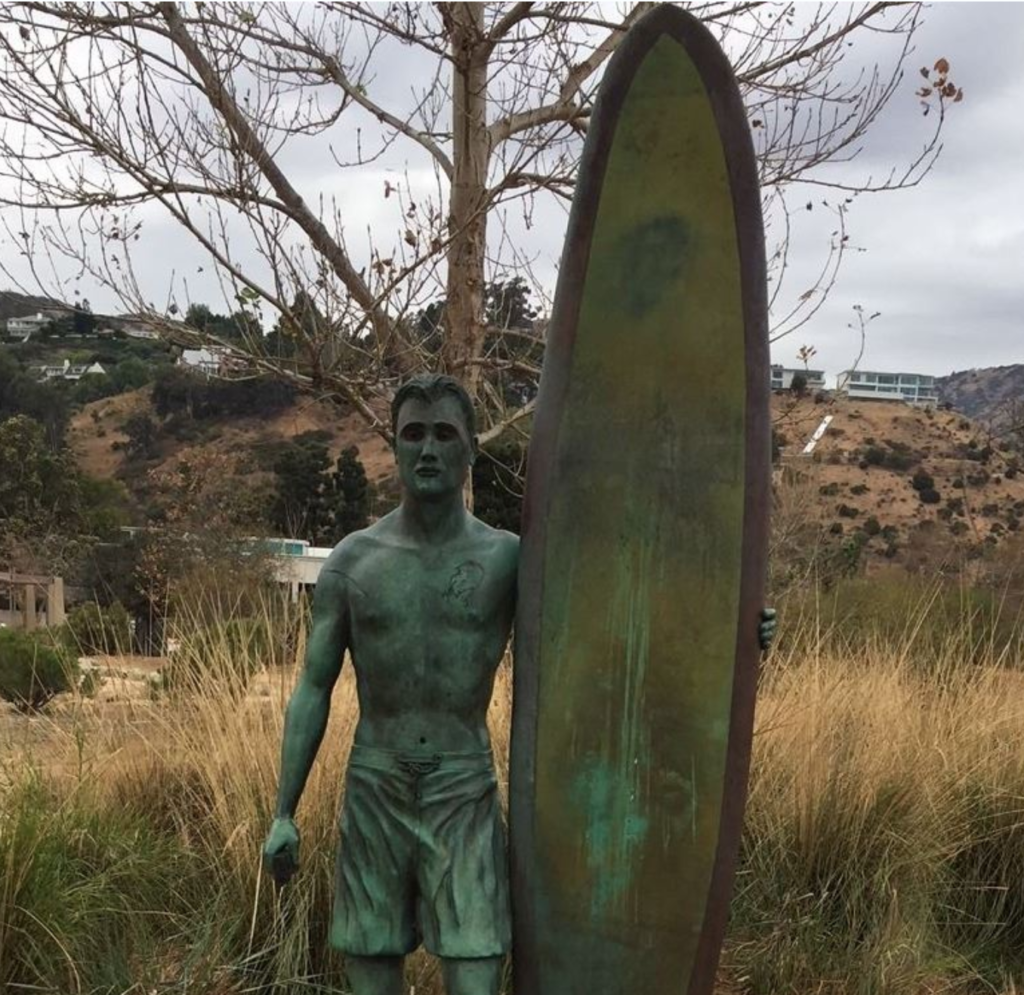 Malibu's Legacy Park provides visitors with coastal bluffs, prairies, native woodlands, and wetlands. While the park is a great place to visit when you want to spend time outside in the lovely Southern California weather, this park is also known for its many art pieces and sculptures that can be found throughout the property. The most notable pieces include:
"Unknown Surfer", Bronze, Jody Westheimer, 2011, dedicated to Surfrider Beach.

"Discovery" Bronze, J. Seward Johnson, Jr., 2010, freestanding sculpture that was molded after a painting by Andrea Gaye titled "Water Boy"

"Mosaic Animal Sculptures" Mosaic, Robin Indar, 2010, mosaic that's made from more than 400 pieces of tile that are hand-painted and were provided by the public

Malibu Bluffs Park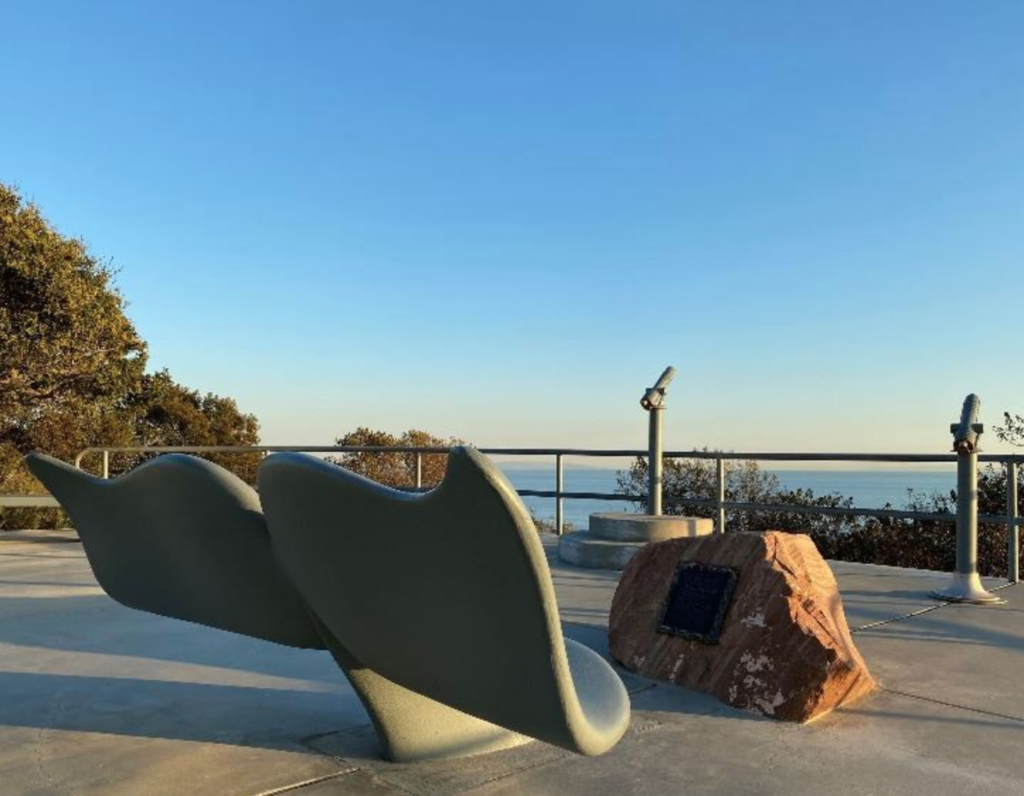 Malibu Bluffs Park is a six-acre park that is open to the public and includes a large playground, several fields for various sports, and a station where you can look for whales. Throughout this park are a couple of notable art pieces that give the park an extra reason to visit if ever you have time.
The notable pieces at the Malibu Bluffs Park include:
"Cassie Brown Memorial Whale Watch Station" Terrie Bennett, 1994, stone whale tale bench
Unknown, Bronze and tile mosaic, unknown artist, freestanding stork sculpture and tile mosaic that depicts a koi pond

Malibu Country Mart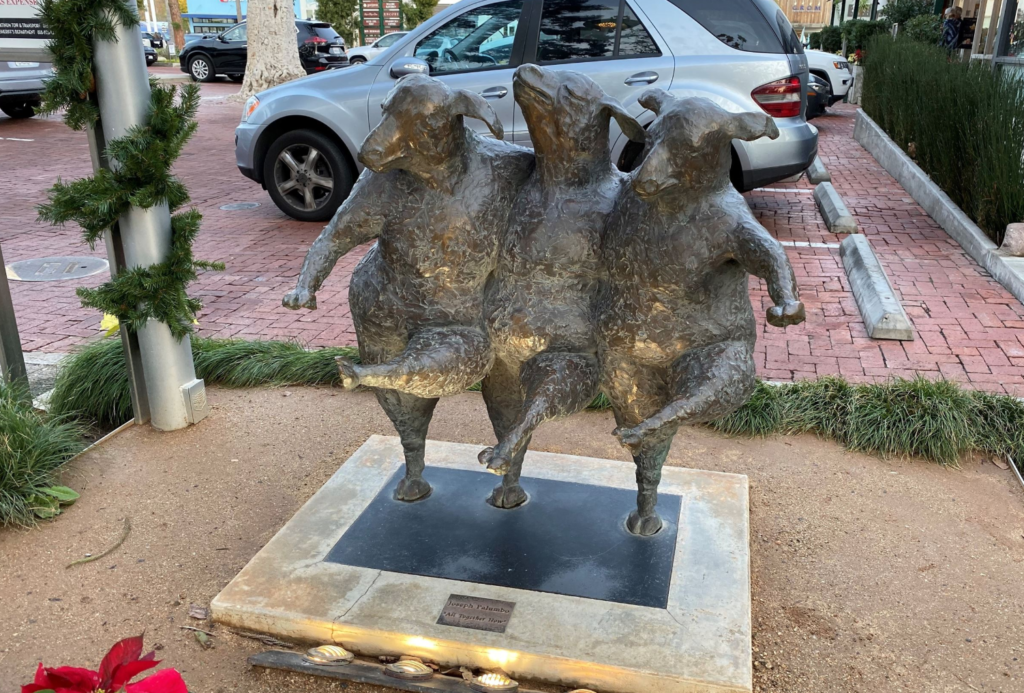 Malibu Country Mart is a spacious outdoor lifestyle center that provides visitors with dozens of boutiques to visit as well as numerous restaurants and entertainment options. The various stores that can be found in this establishment include everything from John Varvatos and Paige to Toy Crazy and Chrome Hearts. You should take a look at this article for a comprehensive guide on all that you can do when visiting the Malibu Country Mart.
The notable pieces at Malibu Country Mart include:
"All Together Now", Malibu Village, Joseph Palumbo, Bronze Three dancing sheep

Leaf Blowers: Forged steel, Norman Grochowski, unknown, freestanding tree sculpture

Chester the Jester: Bronze, Kimber Fiebiger, unknown, freestanding sculpture that rests in a fountain

Interested in Buying a Home in Malibu?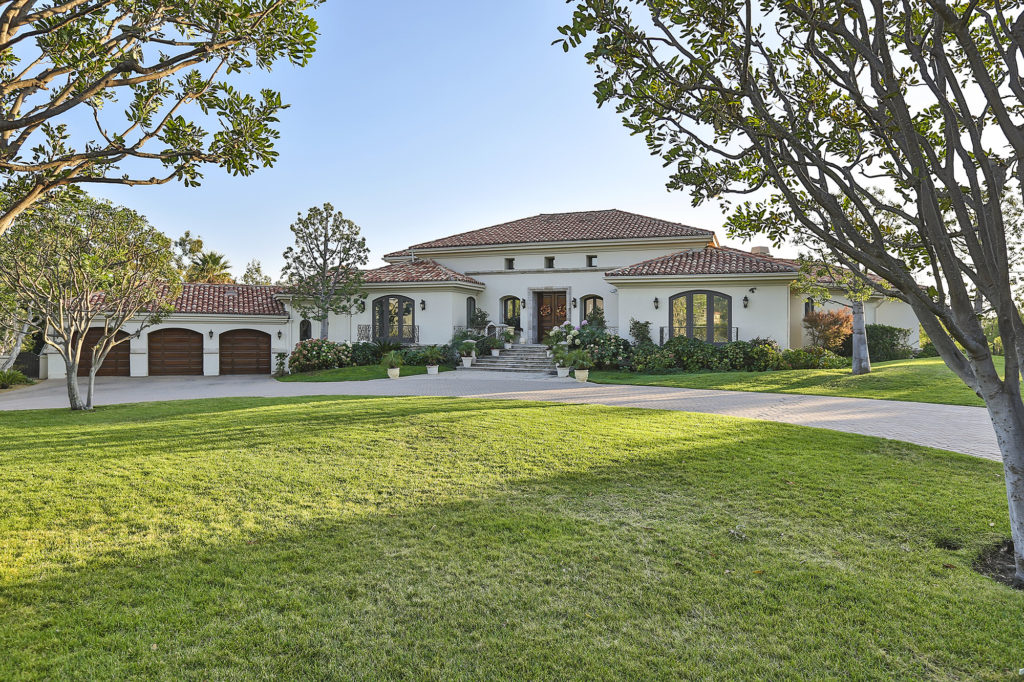 If you are interested in exploring the many art galleries throughout Malibu but have yet to purchase a home in the area, contact Nicki & Karen Southern California Luxury Real Estate today to schedule your initial appointment with one of our professional real estate agents. We can help you identify the home of your dreams and guide you through the buying process!