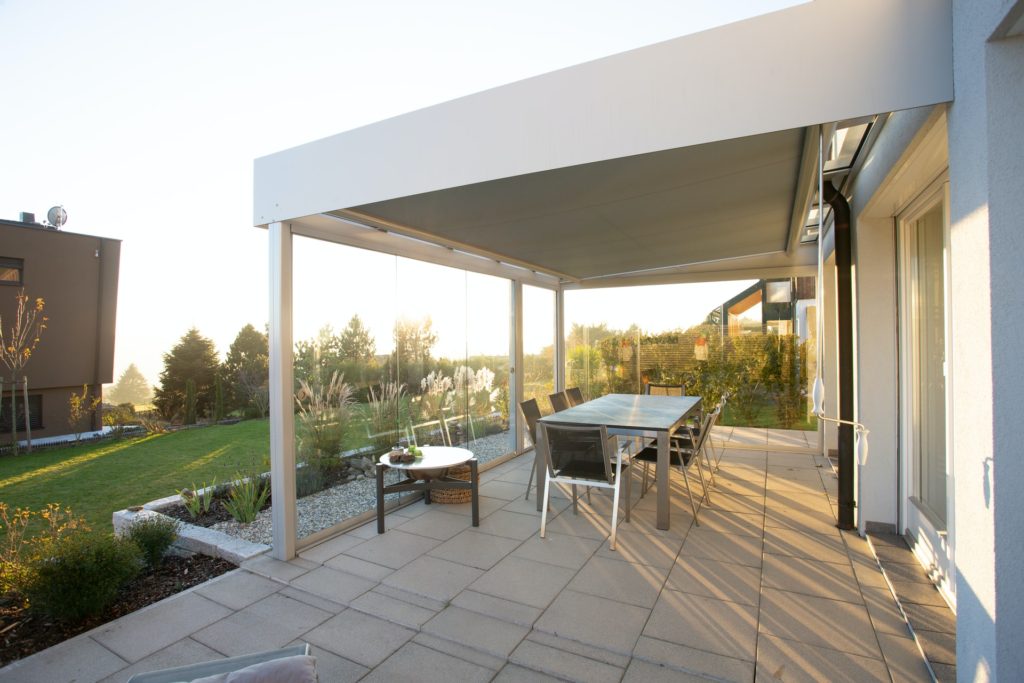 One of the most effective ways to add value to a home is to create an outdoor living space, which can be designed in a manner that fits your exact specifications. Whether you place couches in your outdoor living space or decide to install an entire kitchen, you'll likely want to keep the area covered with a porch awning, which ensures that you and anyone else in your household receives shade from the sun and rain. A porch awning is an overhang that can stretch out from a window, door, or deck to provide cover for your porch.
There are several different types of awnings available to you, which include retractable awnings and fixed awnings. Whether you obtain a retractable or fixed awning, these coverings can consist of metal, canvas, or wood materials. While the main benefit of a porch awning is that it provides homeowners with shade when relaxing on their porch, there are many additional benefits that you'll be provided with if you decide to obtain a porch awning.
When you're purchasing a new home, a porch awning should be a heavy consideration of yours. These awnings can help you create an outdoor area where gatherings can take place with friends and family. They can also improve the appearance of your home and extend the life of any furniture that you place in the area. Since the back windows or doors to your home will be covered by the awning, you should be able to reduce energy costs during the warm summer months. If you're thinking about buying a porch awning, you can expect them to cost anywhere from $300-$2,500. This article provides a detailed look at the many benefits of awnings as well as what you should consider when having an awning installed.
Key Takeaways:
Porch awnings consist of metal, canvas, or wood materials that provide shade to the surrounding area.
There are many benefits to acquiring porch awnings but some tops advantages include a great entertainment space, protection of your outdoor furniture, reduction of your electric bill, and an increase of resale value of your home.
Top Advantages to Porch Awnings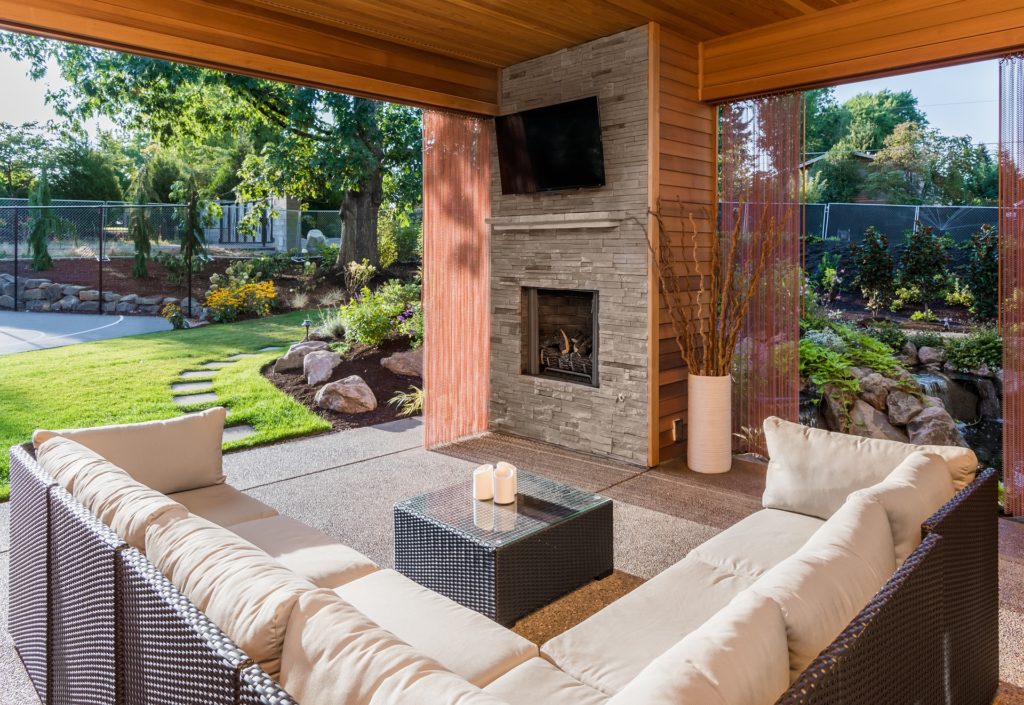 Porches are very popular entertainment areas in the home that can be perfect for relaxation or when you want to entertain guests. While it's possible to obtain furniture and items that will be able to hold up against the elements, it's still recommended that you purchase some kind of covering that will provide shade and keep at least some of the elements out when you're making use of the porch.
Porches are also very important when it comes to outdoor spaces. These areas provide hard surfaces that make it easier to entertain guests while avoiding the dirt and mud of the yard itself. When you outfit your porch with an awning, it will also be more accessible for anyone in your household who wants to use the porch. Without an awning, spending any time on the porch while it's raining or completely cloudless could be uncomfortable, which is why a porch awning could be a great purchase for your home.
1. Protect Against Weather Elements
A top benefit of outfitting your property with a porch awning is that it can protect against weather elements, which include hail, ultraviolet rays that come directly from the sun, and heavy rain. By keeping these elements away from your porch, you can entertain guests and spend time relaxing on your porch even when it's raining or the sun is shining brightly. If you don't equip an awning to your porch, there will be nothing to protect you and any other members of the household from these elements.
2. Protects Furniture
An awning is also highly effective at protecting your outdoor and indoor furniture. When sun rays shine against your home, the rays that get through your windows can eventually cause the colors of your furniture to fade and for the quality of the materials to worsen. By placing an awning over your porch, you can keep sun rays from hitting your furniture, which should extend the life of any pieces of furniture as well as your carpet.
In the event that you opt for a retractable awning, you can also directly control the amount of sun or shade that your porch gets. If you want some sun to reach the porch, the awning could be retracted to 50 percent of its length. If it starts to rain, you can extend the awning to cover the entirety of the porch.
3. Entertainment Area for Friends and Family
If you love to entertain guests and spend time with your friends and family, your porch can make for the perfect entertainment area during the warmer spring and summer months. Going outside when entertaining friends and family will allow everyone to enjoy the outdoors without needing to worry about inclement weather or getting sunburn. Since the awning covers the entire porch, you will be able to entertain your guests in all types of weather.
4. Reduces Your Electric Bill
As touched upon previously, getting an awning for your porch can significantly reduce your electric bill. During the warm summer months, your air conditioning unit will be on overdrive when the sun is shining and the temperatures are high. Your home can quickly heat up if the sun shines against the door that leads out to your porch, which is why many homeowners use dark shades or blinds to keep as much heat out as possible.
With an awning installed, the porch will be covered entirely, which means that the sun won't reach the door that leads out to your porch. As such, your home should remain cooler, which indicates that the air conditioner won't need to be used as often.
5. Increase the Resale Value of Your Home
Porch awnings are a great way to increase the resale value of your home. Prospective homeowners look for anything that allows them to get the most out of their investment. For instance, prospective homeowners tend to look for properties that come with relatively new roofs. If you want to increase the value of your home, placing an awning over your porch can turn a standard porch into an outdoor living area that can be used for entertainment and a variety of other purposes. The energy savings that occur after an awning has been installed are also highly appealing to buyers. If you decide to sell your home in the future, having an awning may allow you to obtain a higher sale price than you anticipated.
6. An Additional Aesthetic Design to Compliment Your Home
Installing a porch awning is a great way to enhance the aesthetic design of your home without detracting from it. Awnings can come in many different shapes, sizes, and designs, which means that you can tailor the awning to compliment your home. The awning can be customized based on numerous variables, which gives you complete control over how the finalized design looks. Placing an awning over the porch also helps to maintain your view of the great outdoors.
Tips on How to Get Your Porch Awning Installed Correctly
If you've decided to purchase a porch awning and are making sure that the awning is installed correctly, there are a number of things that you will need to consider. Some of the questions that you should ask yourself when you're about to purchase a porch awning include:
Do you want a retractable awning?

Where do you want the awning to be located?

What is the ideal height of the awning that you would like?

Is there a specific length that you want the awning to be?

What are the awning hood requirements you'll need?

Do you have a certain mounting preference?

If you select a retractable awning, this awning can be placed in four separate positions around your home, which include on the fascia, on the soffit, on the roof, or on the wall. The option that you choose mainly depends on what you prefer the position of the awning to be. When selecting the height of the retractable awning, make sure that it's positioned at least eight feet above the ground.
The length that you position the retractable awning at depends on how much of the elements you would like to keep out. If it doesn't rain much in your area, keeping the awning at half length would allow you to get some sun while also keeping a portion of the porch shaded. It's also important that you keep mounting alternatives in mind. There's always a possibility that you will be unable to find an ideal location for the installation of the awning. To account for these issues, you might want to obtain a free-standing awning.
Porch awnings are affordable yet highly beneficial items that can add significant value to your home. If you've been thinking about setting up an outdoor living area for your home, an awning can provide you with shade and protection from the elements, which should make it easy to entertain guests outdoors and keep your outdoor furniture safe. Installing an awning over your porch should also enhance the aesthetic appeal of your property, which can make your home more attractive if you place it on the market in the future. Since there are a wealth of options available to you when selecting an awning, make sure that you take the time to compare these options and select the awning that best fits your home.