Due to the picturesque rolling hills and numerous scenic trails that you can find in Southern California, much of the Conejo Valley enjoys the equestrian lifestyle. The beautiful Southern California weather and comfortable temperatures make it easy for residents of Southern California to spend their days outside.
Due to the popularity of horseback riding in the area, many ranch homes are available for prospective homeowners to consider. The majority of these ranch homes come with spacious layouts on vast lots that offer ample room for your equestrian lifestyle. In addition, many of the cities near these communities like Agoura Hills  and Thousand Oaks are considered to be ranch communities with public signage and roads specifically designed to accommodate horseback riding.
While many of the communities in the Conejo Valley are popular among the local equestrian community, below is a list of the top 5 ranch communities located in Southern California!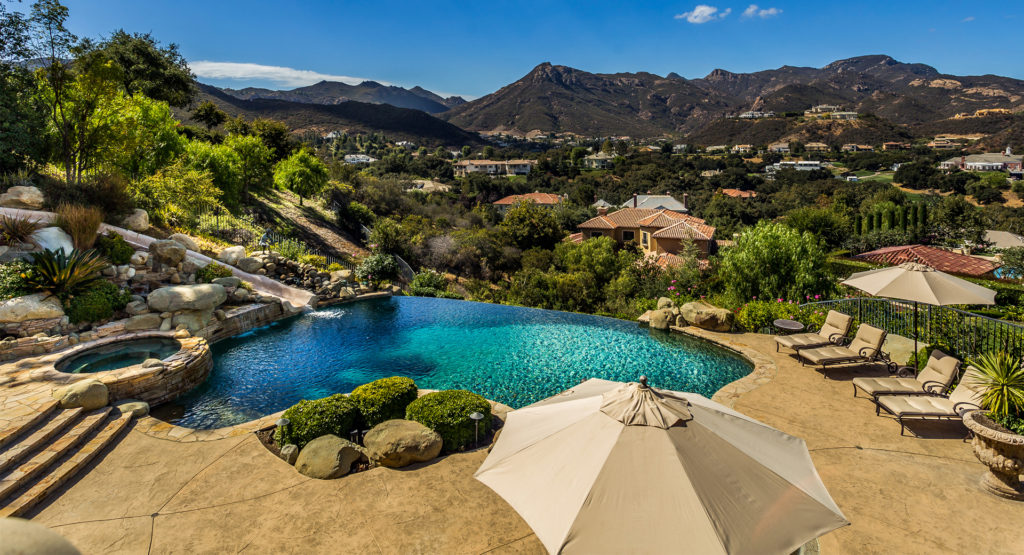 1. Thousand Oaks
Thousand Oaks is a very popular community in Southern California that accommodates a wide range of different homes. Because of the size of this community, there are a large number of upscale ranch homes that can found there. Since Thousand Oaks is among the largest cities in Ventura County, there are a variety of areas in the city that are comprised of ranch homes. You'll find a substantial number of trails and areas around Thousand Oaks that can be used for equestrian activities, which makes it an excellent ranch community. While the city itself may not be as rural as Hidden Valley or Somis, the ranch homes in the area have large enough for many seeking the ranch lifestyle.
The types of ranch homes found in Thousand Oaks are usually single story homes with wide floor plans and convenient access to horse trails. Many of these homes are also comprised of pools, fireplaces, and similar amenities that make them comfortable homes to live in. If you're going to be keeping a horse or two on the property, these ranch homes are typically outfitted with fencing for both privacy and livestock, which means that you can keep your horse on the property with ease.
The price that you pay for a ranch home in Thousand Oaks depends on many factors including the square footage of the home as well as how large the lot is. Since these ranch homes are located in the city, the lots that come with them are usually between .5 and 2 acres. When you're searching for one of these homes, the ranch properties in Thousand Oaks range in price from $1-$2.8 million. The largest properties have floor plans that come in at 8,000-10,000 square feet.
Most of the ranch homes in the city are located in the western portion of Thousand Oaks just nearby the small town of Newbury Park, which is largely due to its proximity to the trails and lands within the Santa Monica Mountains.
Search Thousand Oaks homes for Sale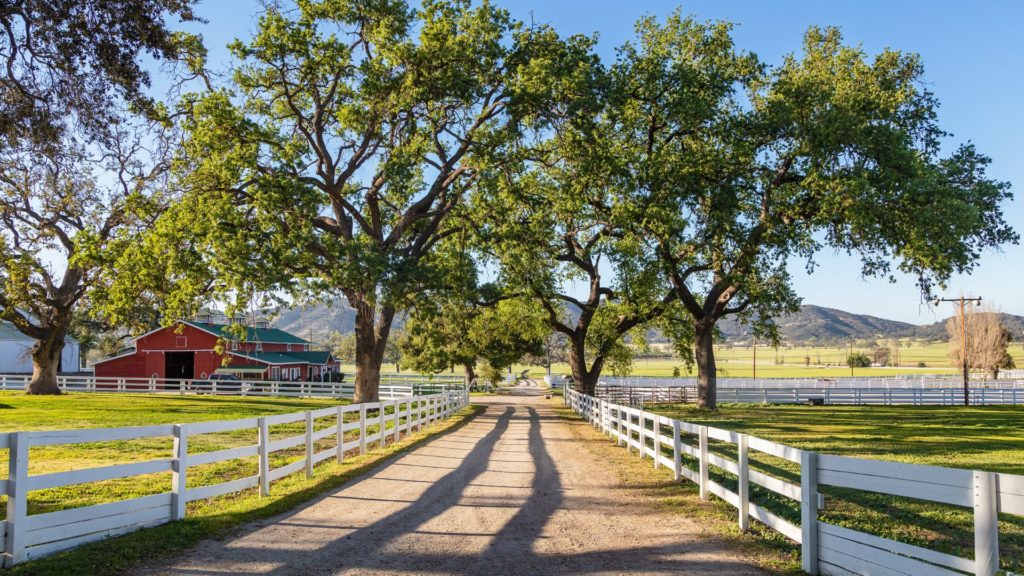 2. Hidden Valley
Hidden Valley is largely considered to be the most rural community in all of Southern California, which means that it's perfect for anyone who wants to live an equestrian lifestyle. Nearly all of the homes that are situated around the Hidden Valley community are ranch homes with lots of more than 20 acres. If you want the best ranch that money can buy, it's likely that you'll want to go to Hidden Valley for your search.
The ranches in this community are usually outfitted with all of the features that you could expect from a ranch property, which includes livestock fencing, large and open areas for riding, and spacious barns where your horses can sleep and rest once the day is done.
Some of these ranches have even been used for the filming of major Hollywood movies in the past as well as Olympic training. Along with the stallion paddocks and training pens, you can also expect these ranches to come with premium drainage systems. Since most of these homes come on vast lots that can reach as large as 250 acres, there are only 37 ranches in all of Hidden Valley.
Due to the expansive lots and spectacular amenities that are available with ranches in this area, the average price for a ranch home can extend from around $4 million to as high as $20 million. Because of the immense size of some of these ranches, you won't need to travel to another destination to find enough room for your horse to stretch their legs. Most if not all of these homes are considered to be single-family residences. The Hidden Valley community is small and is located just outside of the Santa Monica Mountains and to the south of Newbury Park and Thousand Oaks.
Search Hidden Valley homes for sale


3. Agoura Hills
Agoura Hills is a fantastic community just beside Thousand Oaks that offers a quaint and relaxing lifestyle to prospective homeowners who are searching for a ranch home. Due to its proximity to nearby Thousand Oaks, you are afforded a relatively rural setting while also being in close proximity to the popular shopping and entertainment hotspots in Thousand Oaks. While this community offers a comfortable equestrian lifestyle, the lots aren't quite as sizable as the ones found in Hidden Valley. Most ranch homes are situated on 1-3 acres of land, which is more than enough space for standard equestrian facilities.
For instance, one property that's situated on a single acre of land is outfitted with seven covered stalls, a tack room, a covered hay shed, and a lighted dressage area. Most ranch-style homes in Agoura Hills come with similar amenities. When you're searching for the right home in Agoura Hills, the ranch properties typically range in price from $1.2-$3.5 million. Even the lower priced ranch homes tend to come with many equestrian amenities.
These homes are typically available as traditional ranch-style properties as well as cottages that come with ranch amenities. The ranch homes in Agoura Hills are typically located in the northern portion of the community just nearby Cheeseboro and Palo Comado Canyon.
Search Agoura Hills homes for sale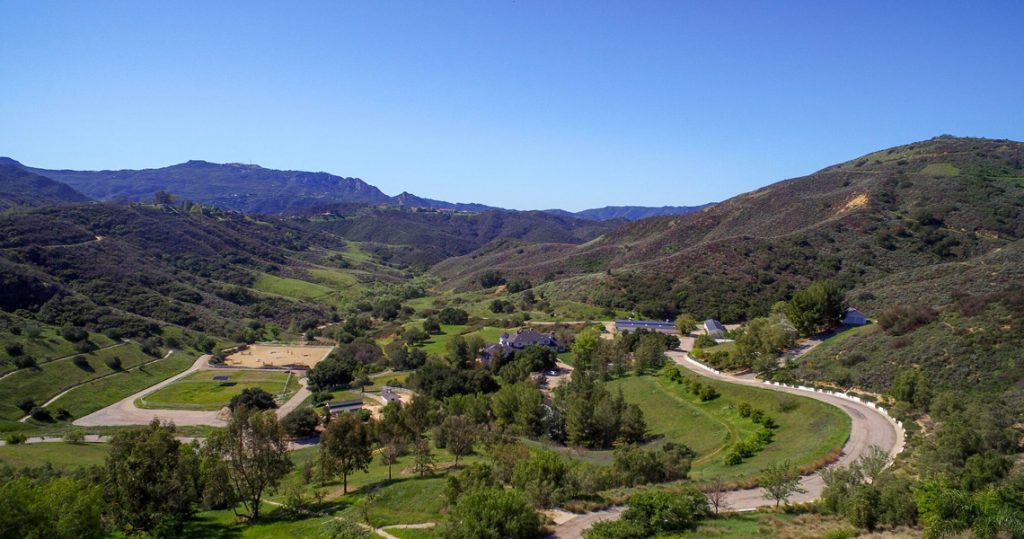 4. Calabasas
Calabasas is a large city in the northwest Santa Monica Mountains that's surrounded by majestic mountain views and is home to some of the best parks and recreational facilities in the vicinity. As a community, Calabasas is known for its fantastic shopping, entertainment, and art scene as well as the myriad of other cultural events that take place there. It's a fantastic ranch community primarily because it's surrounded by mountains. No matter where you live in the community, you'll be close to a number of hiking trails that can be used for equestrian purposes. The location of Calabasas among the mountains also means that the area is oftentimes breezy and comfortable during any month of the year, which makes staying outside relaxing.
The types of ranch homes that are found in this community are large single-family residences that can come in a variety of styles. Some are fashioned to appear like traditional equestrian and ranch-style homes with wide layouts and high-beamed ceilings. Other ranch homes appear as log cabins or estate homes, which ensures that you have ample variety when trying to find the right home. The ranch homes in the Calabasas community range in price from just under $2 million to well over $5 million.
When you select a higher priced ranch home, you should expect to be provided with lots of up to five acres, barns that come with as many as 10 stalls for your horses, and spacious riding and jumping areas. Some of the additional amenities that are available with most ranch homes in this community include tack rooms, wash racks, sizable pastures, corrals, and paddocks. The majority of these ranch homes are located in the southern portion of Calabasas nearby the Stunt Ranch State Park.
Search Calabasas homes for sale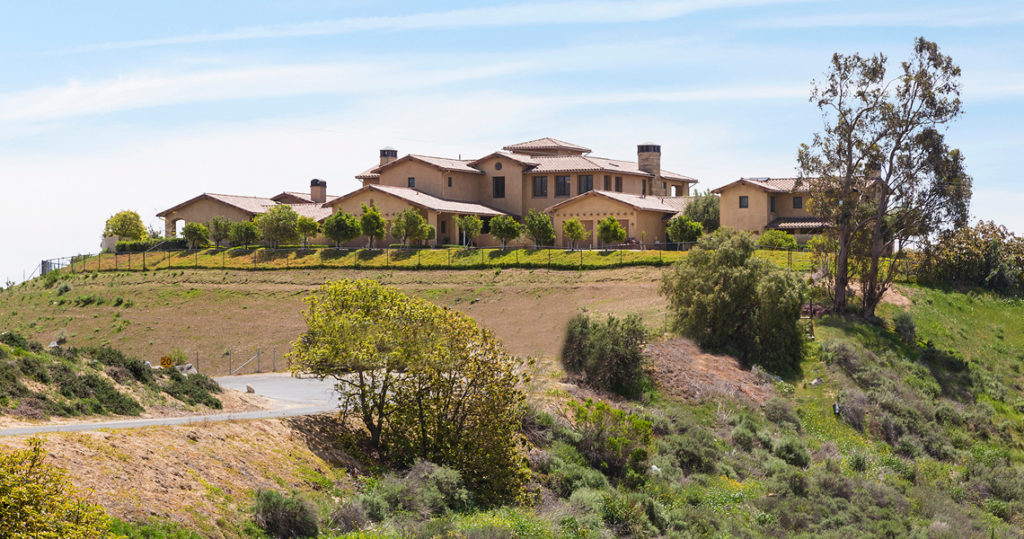 5. Somis
As an unincorporated community, Somis is comprised almost entirely of ranch homes that pair well with the equestrian lifestyle, which is why it's considered to be a fantastic ranch community. Because of the rural nature of this community, most of the homes began as farms that focused on growing crops of barley, corn, and wheat.
As is the case with the ranch homes in Hidden Valley, the homes in Somis tend to come with large lots of more than five acres as well as substantial amounts of equestrian facilities. The ranch homes in this community are very similar in design when comparing them to one another. They usually have single-floor layouts and come with a traditional equestrian design that's oftentimes paired with a barn or two. Many of these properties also come with more luxurious estate homes that are comprised of upscale amenities.
If you would like to live in the Somis community, the ranch homes that you can find there usually come with layouts that consist of 3-5 bedrooms and bathrooms and floor plans that range in size from 2,500-7,000 square feet. Some of the homes are equipped with light equestrian facilities while others come with state-of-the-art facilities. If you want premium equestrian facilities alongside your ranch home, a selection of these properties come with complete boarding and training facilities, jumper and dressage arenas, covered pens, numerous tack rooms, controlled venting, and barns with covered stalls.
The average price for a ranch home in this community is right around $2 million. However, these ranch homes can be as low as $1 million and as high as $5 million depending on what you're looking for. If you're currently searching for a ranch home in Somis, most ranch properties are located in the southern and eastern portions of the community, which means that you'll be approaching Moorpark during your search.
Need help finding the perfect Ranch Home in Southern California?
Get in touch with the team of local real estate professionals at Nicki & Karen Southern California Luxury Real Estate and we're more than happy to help you buy or sell your Conejo Valley ranch property! With our years or local experience and market insight, we're confident that we can get you the best price for your home!