Westlake Village is a hub for entertainment and shopping that's home to some of the most popular shopping destinations in Southern California. People from all over the Greater Los Angeles area head to Westlake Village for all of their shopping needs whether they're searching for an upscale grocery store, pilates studios, fine italian dining, or a luxury mall. The close proximity that Westlake Village has to Thousand Oaks, Malibu, and most of the Conejo Valley makes it an ideal location for these venues. The fantastic location is further bolstered by the beautiful weather and amazing scenery of Southern California. The luxury lifestyle that is common among residents of Westlake Village and the surrounding areas caters to the upscale shopping and entertainment venues that Calabasas has to offer. The following are 7 of the best and hottest shopping locations in the city that you'll want to visit once you've purchased a home in or around Westlake Village!
View this post on Instagram
7. Sugar
Sugar is a popular boutique in the Westlake Village with a focus on stylish women's clothing and accessories. The atmosphere at this shopping venue is meant to be relaxing and laid back as you browse the clothing on display, which is immediately evident as you enter the large French doors that greet you upon arrival. While clothing is the main focus of Sugar, they also aim to provide customers with exemplary services. You'll notice that the employees working there are highly attentive and will work with you to make sure that you find the outfit or piece of clothing that suits your needs. Although they solely offer specialty brands, these brands provide customers with a wide variety of different clothing types and styles to consider.
The two dozen brands on display within the venue include Tart Collections, Splendid, Lavender Brown, and Bella Luxx. The clothing and accessories that they have on hand range from your everyday casual wear to formal wear that you would use for a night out. When you shop at Sugar, they offer rewards card that's referred to as "sugar bucks", which provides you with regular discounts that can be applied with each trip as well as special discounts whenever a large sale is ongoing. Sugar is located directly within the Westlake Plaza and Center at 982 S Westlake Blvd. #4 in Westlake Village.
View this post on Instagram
6. Westlake Plaza and Center
The Westlake Plaza and Center is a shopping mall in the heart of Westlake Village that offers a wide array of different experiences in a single location. One visit to the Westlake Plaza & Center mall will provide you with retail shops, grocery stores, entertainment venues, and restaurants for you to visit. Although most of the mall is located indoors, there are plenty of gazebos and seating areas outside that provide you with great locations for relaxing and socializing with friends. The atmosphere at this shopping mall is a lively and energetic one because of its locla popularity. Some of the dozens of unique shops and boutiques found in the Westlake Plaza and Center include Caruso Art, John of Italy Salon & Spa, and Bella Nuovo Shoes.
Don't forget to stop by Mendocino Farms on your next visit, which is an oft-visited market that is also used as a gathering place. The two dozen restaurants and cafes situated in this shopping center include such favorites as Le Pain Quotidien, Pitfire Artisan Pizza, and Sweet Arleen's. Most of these restaurants come with spacious patios that connect to the outdoor plaza where you can sit and eat to get some fresh air. You can find the Westlake Plaza and Center at 942-1014 S Westlake Blvd.
View this post on Instagram
5. Love at Second Sight
Love at Second Sight is a one-of-a-kind boutique in Thousand Oaks that provides visitors with a chic setting and comfortable atmosphere that matches the beautiful Southern California weather. Most of the apparel they offer would classify as designer clothing consisting primarily of luxury apparel. The many accessories that they have on hand include luxury jewelry, handbags, and footwear. A fantastic aspect of this shopping destination is that the clothing and accessories are organized well and placed within a large shopping area where the sections are clearly labeled and the different types and styles of clothing can be found in a matter of seconds.
Before you travel to this shopping destination, keep in mind that it's a high end consignment store, which means that the clothing and accessories are being resold. Despite this, all of the clothing offered at Love at Second Sight is kept in great quality. Some of the brands offered at this store include contemporary designers like Rebecca Taylor, Tory Burch, and Lululemon. Love at Second Sight is located at 3749 Thousand Oaks Blvd. in Westlake Village.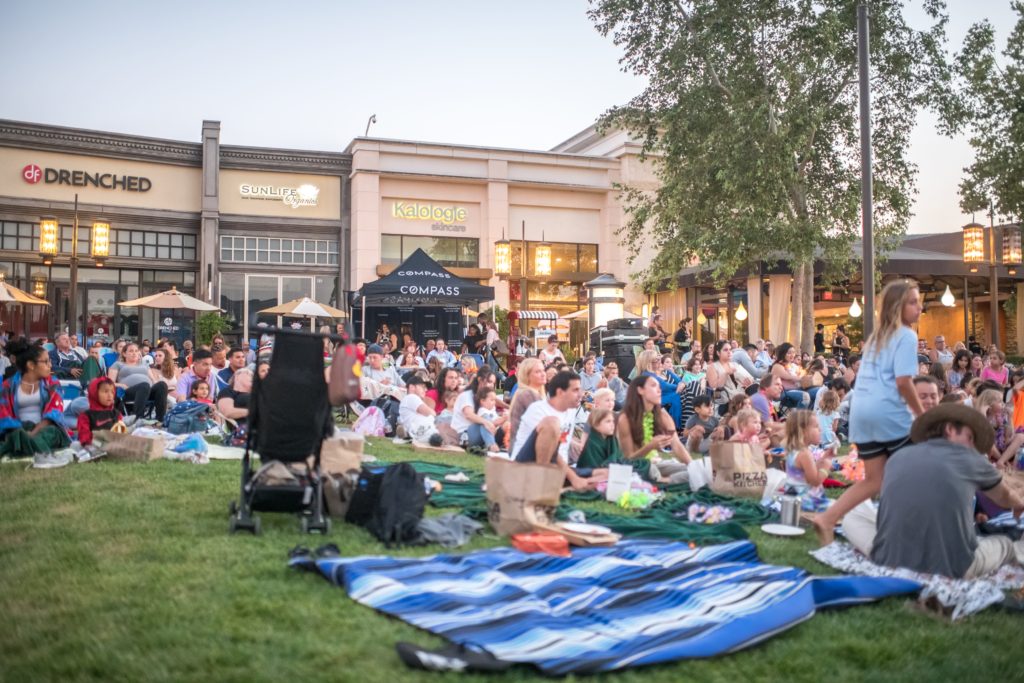 4. The Lakes
The Lakes is a vast shopping mall in Thousand Oaks that's notable for offering a fun outdoor ice skating rink for visitors to spend time at during the colder winter months. They aim to provide visitors with shops and restaurants that offer something different from other shopping destinations in the area, which is why this mall only houses a total of 10 shopping, dining, and entertainment locations. If you want fresh and organic local produce, stop by Lassens Natural Foods & Vitamins for all of your healthy lifestyle needs. The main stores found at this location include Kalologie Skincare, BCBC Nails Spa, and Drenched Fitness. The dining options at The Lakes include casual eateries like California Pizza Kitchen and P.F. Chang's as well as upscale destinations like Sabor Cocina Mexicana and Umami Burger.
The Lakes is known just as much for its many exciting events (including Summer Movies on the Lawn Presented by Nicki & Karen Compass!) as it is for its shops and boutiques. Many of these events come in the form of a Kids Club, which is a wonderful weekly event that provides fun activities for children of all ages. These Kids Club events are held every Wednesday and include all kinds of live music and entertainment that your children are sure to love. When you're trying to find The Lakes, it's located at 2200 Thousand Oaks Blvd. in Thousand Oaks.
View this post on Instagram
3. The Oaks
The Oaks is a sprawling shopping center that's situated along two levels, which means that you'll likely require multiple trips to see all that the mall has to offer. The Oaks is an outdoor and indoor mall where some of the shops can be found outdoors. The atmosphere is a calm and relaxing one, which is further exemplified by the cozy seating area situated at the center of the mall that provides visitors with plush sofas and chairs to relax in after a lengthy walk. You'll find smaller boutique shops as well as larger name brand stores within The Oaks. Nordstrom and Macy's are a couple of the more popular shopping destinations in this mall. In total, there are more than 180 shops and restaurants located all throughout The Oaks, which extend from Foot Locker and Disney to Lush and Urban Outfitters.
If ever you want to see a movie once you've finished shopping, make sure that you visit the Muvico 14 Theaters, which is an upscale movie theater that offers reclining seating as well as an expanded concession menu with gourmet dishes. When you take your children to The Oaks, there's a spacious play area just beside the food court that your children are sure to enjoy. The Oaks mall is situated at 350 W Hillcrest Dr. in Thousand Oaks.
View this post on Instagram
2. Shoppes at Westlake Village
Shoppes at Westlake Village is a fantastic destination for shopping and dining that's likely the most popular within Westlake Village. This shopping mall is unique in that its architecture is designed to match the Mediterranean Revival architectural style that's popular throughout Southern California. The atmosphere is cozy and laid back with a slight upscale feel to it. The 15 stores found within the Shoppes at Westlake Village include popular stops like Target and Carriere Menswear as well as specialized stores like Tilly's and Seasons, the latter of which is a great place to go for all of your home decor needs.
There are also more than a dozen restaurants and cafes situated throughout the Shoppes at Westlake Village, which cover all different types of cuisines from Mexican to Italian. Although this shopping destination is considered to be among the best of its kind in Westlake Village for its many shops and boutiques, it also hosts a wide range of events throughout the year that make it a fantastic place to go for socializing. These events include movie nights, festivals, summer sales, and a large assortment of different events for the whole family to enjoy. When you're considering visiting Shoppes at Westlake Village, it can be found at 30770 Russell Ranch Rd. in Westlake Village.
1. Promenade at Westlake
The Promenade at Westlake is a shopping center in Thousand Oaks that strives to provides visitors with a high end experience no matter the shop, restaurant, or entertainment venue that they spend time in. While all of these stores are contained inside of the shopping center, there's also a spacious seating area where you can relax around a large fountain or grab a bite to eat at the nearby food truck. The two dozen stores at The Promenade include smaller boutiques like Cost Plus World Market and Vintage Grocers as well as popular global brands such as Chico's, Planet Beauty, and Sephora. The restaurants that they have on hand are designed to appeal to all tastes. Vegetarians and vegans will enjoy visiting Kreation Organic for a healthy meal. Other popular restaurants located around the shopping center include Paul Martin's American Grill and Marmalade Cafe.
When you're in the mood for a decadent piece of chocolate or dessert, See's Candies and Sprinkles Cupcakes are two locations that you won't want to skip. The most popular entertainment destination at The Promenade is Cinepolis Luxury Cinemas, which is a unique movie theater that is steeped in luxury and includes such amenities as reclining leather seats, in-theater dining service, and a full bar. If you're planning on visiting The Promenade on a specific date, you might want to plan your trip around the many events that are held at the mall. From wine tastings to yoga classes, these events add an extra flair to the shopping experience you're provided with at The promenade. The Promenade at Westlake is located at 100 Promenade Way in Thousand Oaks.
Conclusion: Shopping in Westlake Village
Westlake Village has a plethora of options to satisfy your local shopping cravings. This highly acclaimed community is known across Southern California as a premier destination to buy or sell a luxury home. Contact our team of local professional real estate agents at Nicki & Karen Compass for all of your Conejo Valley real estate needs and let us get you the best price for your home!