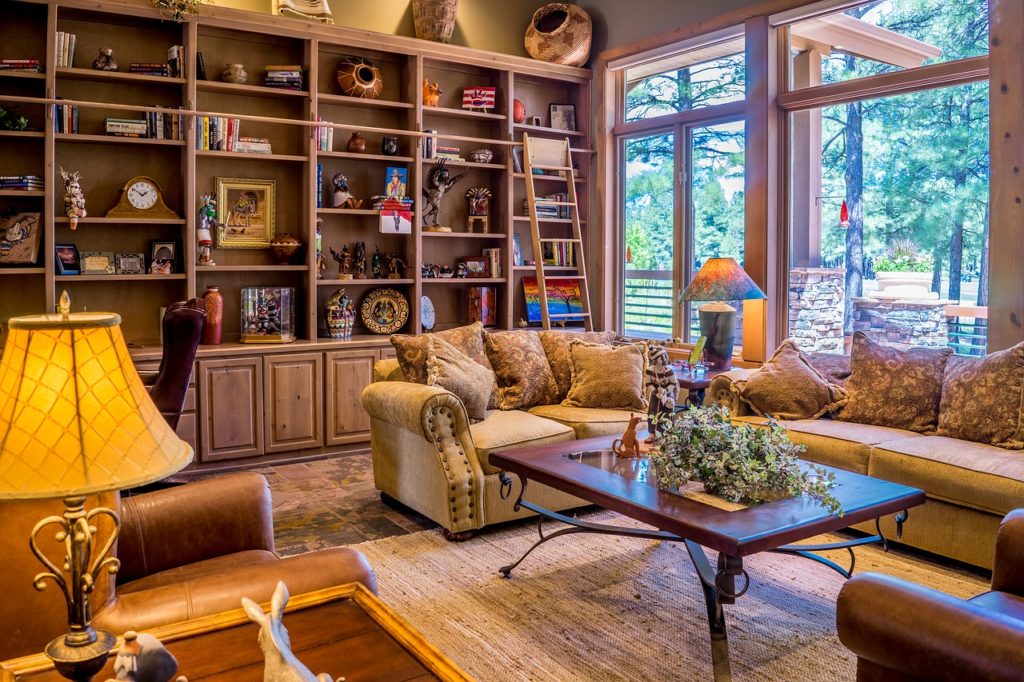 Nearly every home has its flaws and can be improved in some way. Changing the interior design of your home and enhancing its appearance can pay dividends in helping you bolster your home's strengths, make it more appealing to guests, and hide any flaws that currently exist. There are numerous places you can go to get some unique pieces to add to your home. While big-box stores and department stores may hold some visually appealing pieces of decor that would suit your home, you can find more unique items at local thrift shops and boutique online stores that may not be as well known as your average Target or IKEA.
Likely the best aspect of shopping locally or at a nearby thrift store is that prices are typically much lower when compared to what you would find at a big box store, which can help you save money even as you find more unique pieces to add to the interiors of your home. The style of your home can say a lot about you and your personality. Anyone who enters your home will be able to gain a better understanding of the type of person you are because of the decorating decisions you make.
While interior design and decoration can be as simple as buying a few pieces of furniture and calling it a day, you can substantially alter the entire look and feel of your home based on the decorating decisions that you make. This article offers a closer look at some of the tips and tricks you can use when decorating your new home.
1. Paint Your Walls Bright and Neutral
One of the most important interior design changes you can make to your home is to update or upgrade the paint on the walls throughout your home. Choosing the right colors can also enhance the rest of your home decor by providing the ideal backdrop. Even though you can choose to paint every room of your home in different colors, this decision almost always leads to jarring transitions between each room, which can ruin the flow of your home.
If you want to select colors that would work well with any interior design, consider bright and neutral colors. Hues like gray and beige are able to enhance an interior design without clashing with other pieces. Neutral colors give you more flexibility with your interior design.
If you choose a specific interior design style and find that it doesn't match your personality or look as good as you wanted it to, it's easy to change to a different style if your walls have been painted with neutral colors. Keep in mind that bright and neutral colors are known to make rooms appear to be larger than they actually are, which can be advantageous if ever you decide to sell your home. Cream, white, gray, and beige are some of the best neutral colors that you can use when painting the walls in your home.
2. Fill Open Spaces with Plants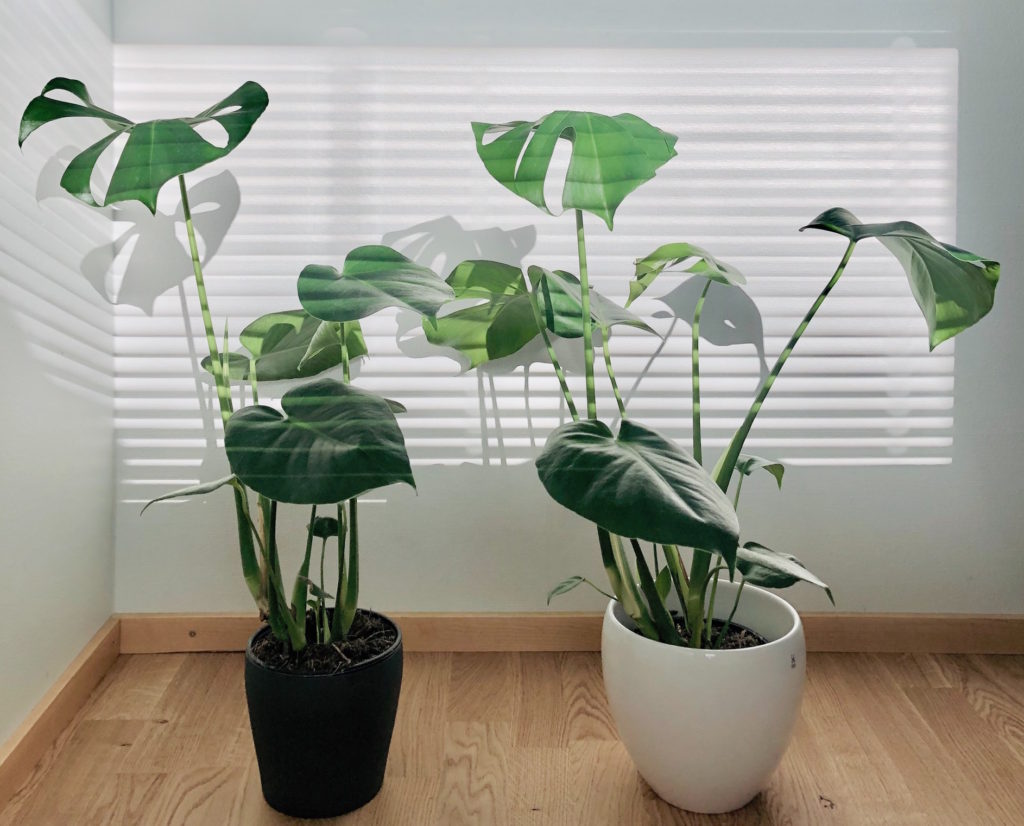 A great way to add personality and color to the interiors of your home is by filling open spaces with plants. Even if you just add a couple of plants, your home will begin to feel more lived in. If you've recently purchased a home or constructed your own home, adding plants is the perfect first step towards making your house feel more like home.
For indoor plants, it's best to avoid ones that require extensive maintenance. Some of the low-maintenance plants that are popular with homeowners include philodendron, cactus, and succulent plants. While these plants can be placed in practically any area of your home, likely the best positions are on nightstands and side tables. If ever you want to spruce up your interior design with a leafier plant, you might want to consider fiddle-leaf fig trees.
3. Style Your Bookcases
If you have one or two bookcases in your home, you have a fantastic opportunity to spruce up your interior design without too much effort. Your bookcase shouldn't solely be a place for storing books. Instead, you can add style to your bookcase with pictures, small plants, vases, and other items. In the event that your bookcase only contains books, you should still focus on organizing the books in a manner that matches your interior design.
You can also choose to differentiate how each shelf on the bookcase looks. For instance, the top shelf could contain a row of books that are oriented vertically with heavy bookends at opposite ends. Another row could contain a few books that are placed horizontally alongside some of your favorite accessories.
4. Make Sure Your Couches and Chairs Face One Another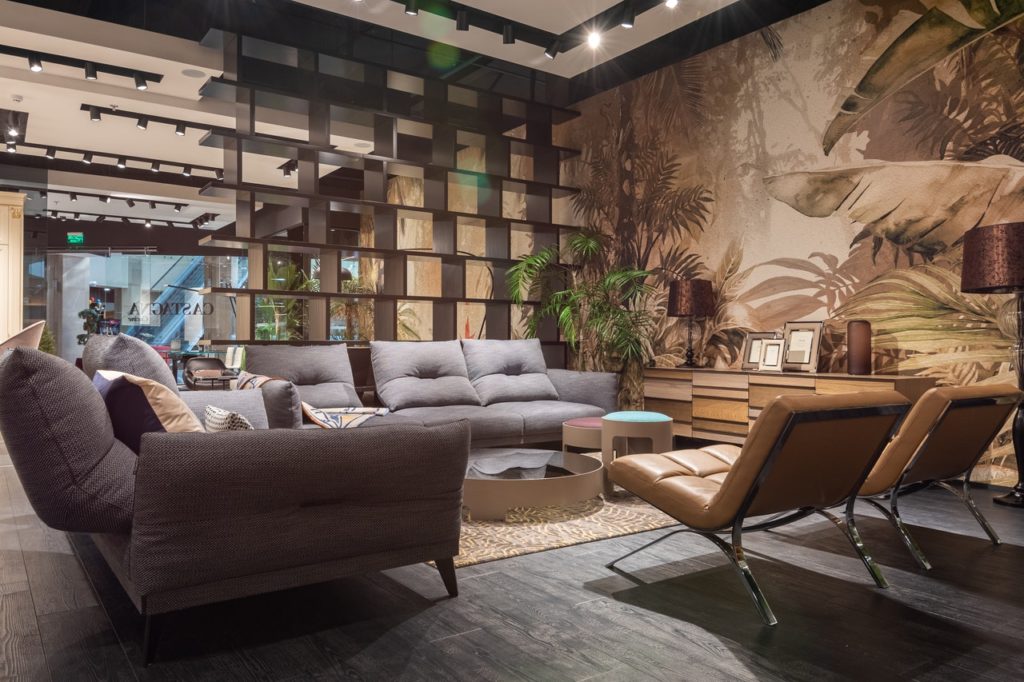 An oft-overlooked room for interior decoration is the living area. When you're searching for the ideal positioning for your chairs and couches, it's highly recommended that these pieces of furniture face one another, which serves to invite conversation and make the living area feel more intimate. When the couches and chairs in your living room are positioned accordingly, no one should need to turn their head every time they want to take part in the conversation.
There are two positions that you should look into for your living room furniture, which include the H-shaped positioned and the U-shaped position. The H shape involves placing a lengthy sofa directly across from two smaller chairs. You could place a coffee table in the middle to complete the design. As for the U-shaped position, this position involves placing a couch in front of the coffee table with a chair on each end of the table.
One of the more common mistakes that you should do your best to avoid is placing different furniture pieces against the various walls in your living area. While you might believe that this helps the area seem larger in size, the truth is that moving the furniture off of the wall can expand the apparent size of the room.
5. Include Mirrors
If you want the interior space of your home to feel brighter and more inviting, consider adding mirrors in every room. When placed in the right areas, mirrors can bounce light throughout the room. However, it's easy to position mirrors incorrectly, which can make your interior design look inadequate. For one, mirrors should never be placed across from windows. Instead, it's important that they are positioned perpendicular to any windows, which helps to more accurately bounce light around the room.
If you put a mirror across from a window, the only thing that happens is that the light is sent back through the window, which would do nothing to brighten up your interiors. While every room could use a mirror, bedrooms, dining rooms, and living areas are the ideal locations for mirrors.
6. Upgrade Your Lighting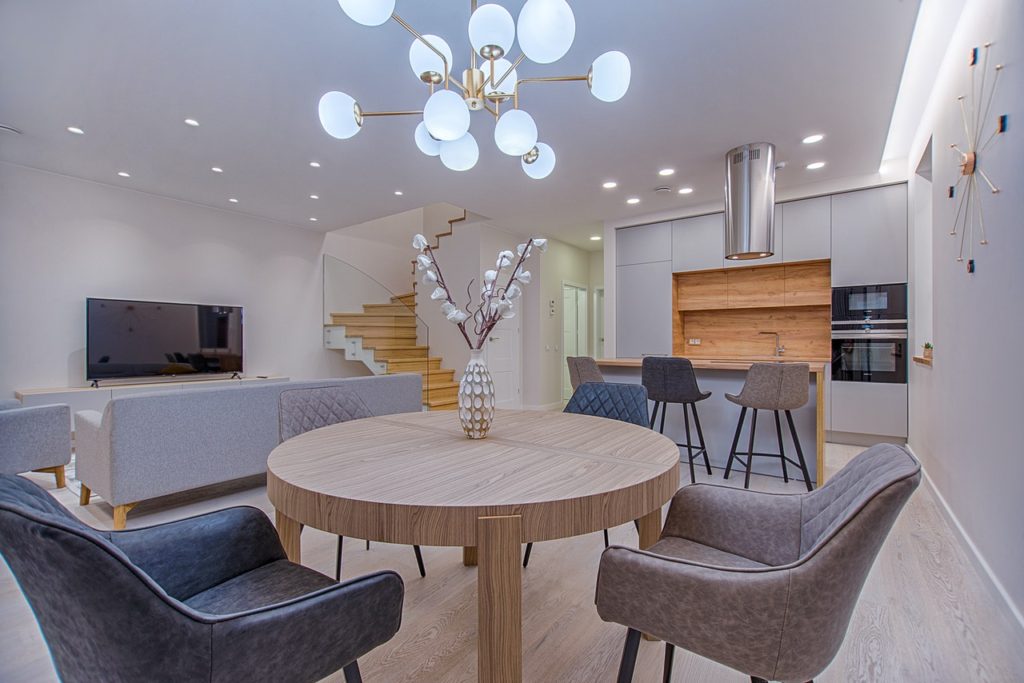 Likely the easiest and most effective improvement you can make when decorating your new home is to upgrade your lighting. The lighting in your home can set the mood of anyone who enters, which is why this is among the most important aspects of interior design. While string lights and torch lamps can add light to a room, they will do nothing for you when you're trying to strengthen your interior design. Small and chic table lamps are wonderful alternatives that don't take up a lot of space and are well-liked by practically everyone.
The three primary types of lighting that should be found in every room throughout your home include task lighting, accent lighting, and ambient lighting. For instance, accent lighting can better highlight some artwork that you've placed on your walls. On the other hand, ambient lighting is ideal when you're looking to illuminate a room. You can find some great lights in thrift stores.
7. Put Artwork Where You Can
The final tip you should consider using when decorating your home is to put artwork wherever you can. When you place pieces of art on the walls in your home, you're showing guests and family members a small window into your personality. While artwork should be placed in every room of the home if possible, it's important that you properly frame the artwork for the best results. First of all, try to avoid taping basic art posters to your walls, which can look tacky and doesn't go well with any interior design.
While there are some unconventional methods you can use when hanging art, likely the best option is to hang your favorite pieces of art with stylish frames. You could also think about using objects as art, which can include anything from plates and textiles to architectural salvage. Before you start hanging pieces of art on your walls, keep in mind that this artwork should be scaled correctly with the wall. If you want to place some artwork on a large wall, don't just position one small painting in the middle of your wall. If the artwork is properly scaled, it won't look out of place in your home.
When you take the time to decorate your home, you're making the decision to customize the interiors of your home and make your home feel more lived in. While you can use any interior design style that appeals to you, the tips and tricks mentioned above will pair well with every style you can select from.