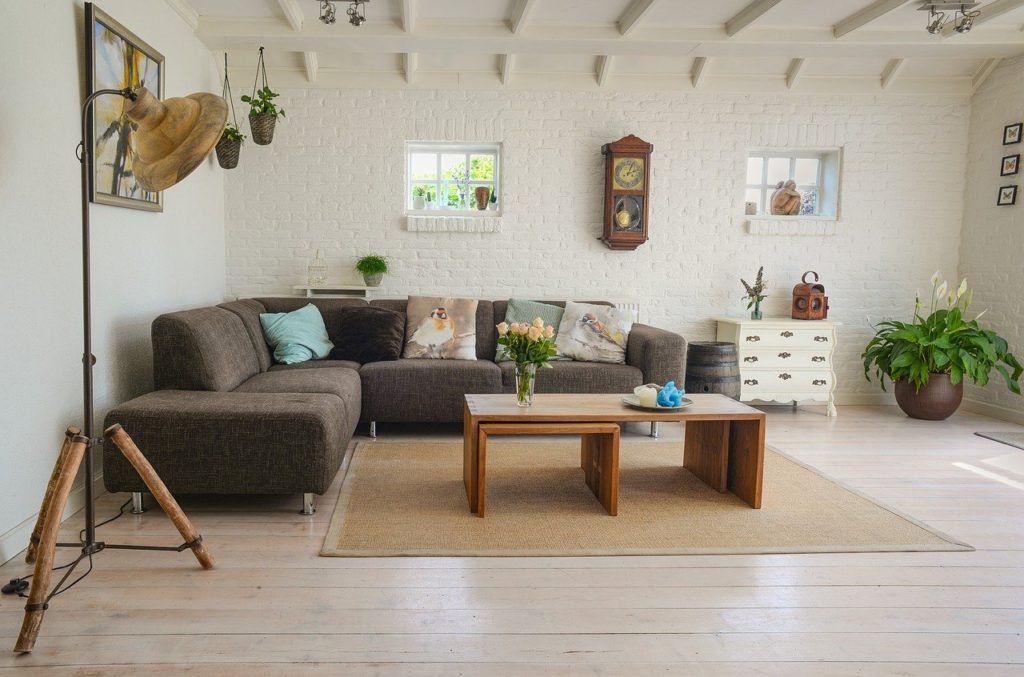 Nothing makes a house feel more like a home than sprucing up the decor and interior design. However, furniture and other pieces of home decor can be expensive if you need to purchase many pieces at one time. It's possible to lower these costs by purchasing thrifted home decor, which refers to any pieces of furniture and decor that are purchased at a flea market, thrift store, or garage sale.
Some homeowners have the mistaken belief that thrift stores and flea markets only provide access to lower-quality items. In most cases, the opposite is true. Many secondhand furniture and decor pieces have lasted for decades, which means that you can be confident in their quality and durability. Even if the pieces aren't in perfect condition, you can always perform a basic restoration if the piece has a strong base. Keep in mind that buying thrifted furniture and home decor allows you to reduce waste and save resources.
There are many different types of unique pieces that you can find when searching for home decor in a thrift store or flea market. Some of the most common home decor items that you can purchase from thrift stores and flea markets include pitchers, trays, mirrors, picture frames, area rugs, light fixtures, lamps, and coffee tables. You could even find some beautiful table linens at a fraction of the cost that you would typically pay.
While the savings that you obtain from buying thrifted pieces of home decor can vary depending on where the item is purchased, it's common for shoppers to receive savings of 50-80 percent with every piece they buy. This article provides a comprehensive look at the best places to shop for thrifted home decor in L.A.
The 5 Best Home Decor Shopping Spots in Los Angeles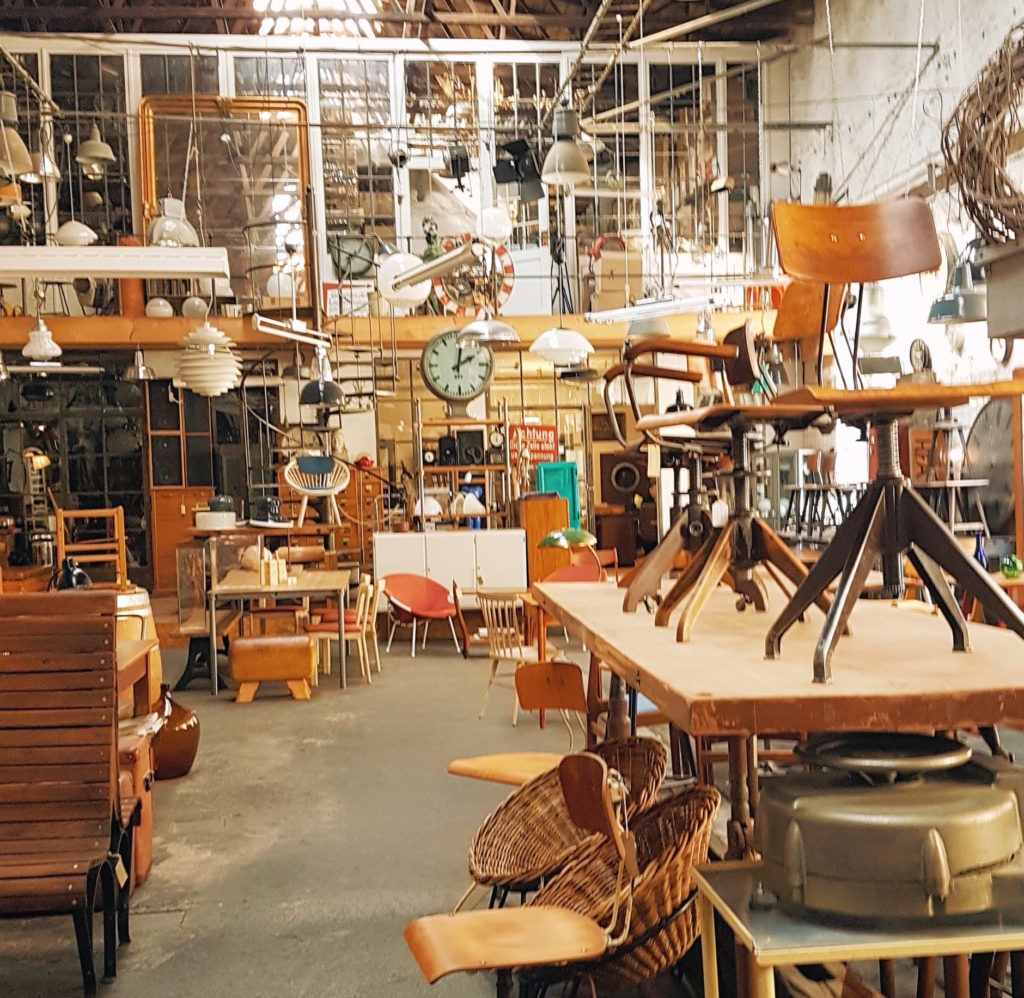 1. Melrose Trading Post
The Melrose Trading Post is a highly popular open-air market that can be found at 7850 Melrose Ave. in Los Angeles, CA. Keep in mind that limited on-campus parking is available at Fairfax and Clinton. This particular flea market is open to shoppers every Sunday. While the Melrose Trading Post has remained open throughout the COVID-19 pandemic, there are some guidelines that you must adhere to if you want to shop there.
Except when drinking and eating, every person above two years old must wear a face mask that completely covers their nose and mouth. Staff will also perform a temperature check on all attendees before they are allowed in. Make sure that you maintain a physical distance of at least six feet from other attendees. You'll find that numerous hand sanitizer units are positioned throughout the market to ensure that attendees can always keep their hands clean.
If you want to purchase a ticket to the market in advance, you can do so at this link. Otherwise, tickets are available at the entrance. No matter which option you choose, tickets cost $5 apiece. However, children under 12 can get in for free. The Melrose Trading Post provides guests with access to all kinds of furniture pieces and secondhand items. Vendors offer used and handmade clothing, vintage jewelry, leather goods, vinyl records, home goods, mid-century home decor, and antiques.
2. Silver Lake Flea Market
The Silver Lake Flea Market is held each Saturday and Sunday at 1911 Sunset Blvd. in Los Angeles. Parking for this flea market is available in the same parking lot as the Taix restaurant. If you decide to visit on Saturday, the market is open from 9AM-3:30PM. On Sundays, market hours last from 10AM-3:30PM. When you visit, you'll gain access to some of the best vendors in Los Angeles. The goods that they offer include everything from vintage home decor and antiques to art and home furnishings.
Chairs, clothing, and area rugs are common staples of the Silver Lake Flea Market. Likely the best aspect of visiting this market is that you never know what you'll find. Keep in mind that entrance to the market is free for the most part. If you park your car in the all-day parking lot, you'll be required to pay $10.
3. Long Beach Antique Market
The Long Beach Antique Market is a monthly flea market that plays host to more than 800 vendors that offer collectibles, antiques, and vintage clothing. During the one Sunday each month that the antique market is open, hours are typically between 5:30AM-2PM. Parking in the main lot is completely free. However, availability has been reduced due to ongoing construction.
The market itself can be found at 4901 E. Conant St. in Long Beach. General admission is $8 if you arrive between 6:30AM-2PM. Early admission is $12 if you want to arrive between 5:30AM-6:30AM. Children under 12 can get in for free. When it comes to COVID-19 safety measures, face coverings need to be worn whenever you're at the market. Social distancing is also necessary. Staff members make sure to clean and thoroughly disinfect surfaces and items regularly.
Because of the large number of vendors that offer their goods at the Long Beach Antique Market, you can expect to find many different furniture pieces and other secondhand items while you shop. These items include everything from hats and handbags to area rugs and coffee tables. Vintage artwork is also very common at the market, which gives you the opportunity to find unique accent pieces that can adorn the walls in your home.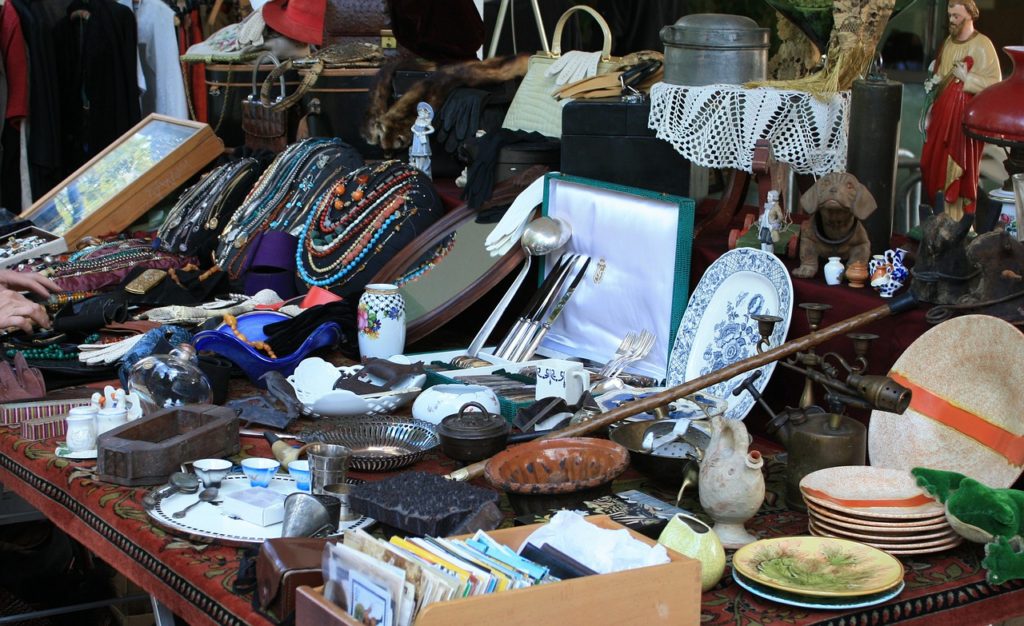 4. Topanga Vintage Market
The Topanga Vintage Market is an eclectic market that's located at Victory Blvd. and Mason Ave. in Woodland Hills, CA. The 180 vintage vendors that join this monthly market offer vintage antiques, apparel, and collectibles of all types. This market is considered to be among the most popular Los Angeles markets around and is usually open every fourth Sunday of the month. Entry is priced at $4 for most guests. However, children under 12 get in for free. Parking is also available at the location, which is completely free.
When you arrive, you'll notice that the Vendors at the Topanga Vintage Market offer all kinds of different goods and home decor. These items include antique instruments, fashion, vinyl records, toys, art, fine jewelry, tables, chairs, sports memorabilia, and numerous pieces of furniture that can complete the layout of your home.
5. Rose Bowl
The Rose Bowl is an expansive flea market that can be found at 1001 Rose Bowl Dr. in Pasadena, CA. It's open for one Sunday every month from 9AM-4PM. Keep in mind that this is likely the largest flea market in California as it plays host to more than 2,500 vendors. If you want to travel to this flea market, make sure that you wear a face covering and practice social distancing, both of which are requirements.
If you arrive at the market between 5:00AM-8:30AM, early VIP access is available for $20 per person. Anyone who visits between 9AM-3PM only needs to pay $10 per person. Tickets MUST be purchased with cash. As for parking, it's entirely free. No matter what kind of home decor or furniture piece you're looking for, you're certain to find it at the Rose Bowl flea market. The many vendors at the flea market provide guests with access to vintage clothing, collectibles, fashion, mirrors, artwork, and jewelry.
Top 3 Online Options for Thrifted Home Decor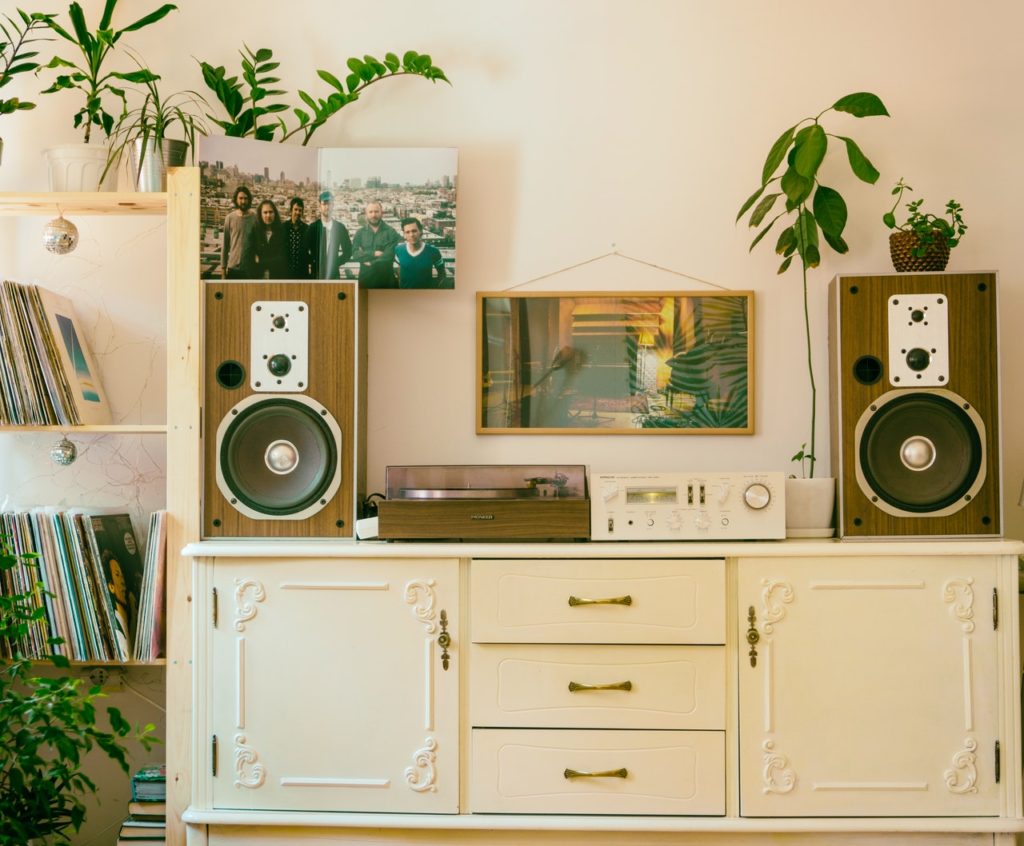 1. Facebook Marketplace
The Facebook Marketplace is a great option if you would rather purchase your thrifted home decor items online. You can navigate to the marketplace by going to this link. From here, you can purchase new and used home decor and furniture locally. You'll be given the opportunity to enter filters that start to narrow the items that you see. To begin your search, enter your location and a distance that tells Facebook how wide you want your search to be.
For instance, you could enter "Los Angeles" and "within 25 miles", which means that the search results would show you all used and new items for sale within 25 miles of Los Angeles. However, Los Angeles is a large city, which means that you should further narrow your search. To do so, select a category of interest. If you're searching for home decor and furniture, the most relevant categories are "Family" and "Home Goods". You'll then see pictures and prices of all of the items for sale in the relevant category.
Once you've found a product that you're interested in, you can message the seller to request a purchase. Keep in mind that there's no built-in payment mechanism with the Facebook Marketplace, which means that you'll need to agree on a payment method with the seller. The best aspect of using the Facebook Marketplace is that there are no transaction fees.
It's highly recommended that you use payment processors like PayPal and only purchase from a local seller. If you arrange to meet the seller in person and pay with cash, it's essential that you meet in a public location like a coffee shop. Waiting until you meet the seller in person will also allow you to get a closer look at the item before purchasing it.
2. OfferUp
OfferUp is a popular mobile-first marketplace that centers around in-person transactions. Just like the Facebook Marketplace, the main goal of buying items on OfferUp is to purchase locally. When you visit the OfferUP website, you'll be able to filter your search by location as well as 14 different categories. If you're searching for secondhand furniture and home decor, the best categories to use when conducting a search include "Home & Garden" and "Collectibles & Art".
Once you've found an item that you're interested in, you can view a description, pictures, and the price. From here, you can make an offer, which is then sent to the seller. If the seller accepts your offer, you can either pay with a credit/debit card to have the item shipped or negotiate a meeting with the seller to purchase the item in person. OfferUp provides buyers with protection on every purchase they make, which can be helpful if the seller doesn't ship your item or if the item was damaged when you received it.
3. Craigslist
Craigslist is likely the most popular online platform for thrifted items. Craigslist is essentially separated into different locations. For instance, people who live in Los Angeles would enter the Los Angeles Craigslist. From here, you can search Craigslist to find an exact item or navigate via one of many categories. Under the "For Sale" category, there are around 45 subcategories, which include options like "Furniture", "Collectibles", and "Household".
When you click on an item, you'll see a picture and an item description. If you've found the item that you want, you can then reply to the seller and request additional information. During these messages, it's possible to set up a place and time for the purchase to occur. Many people who purchase items on Craigslist choose to pay with cash. It's important that you're very careful when buying anything on Craigslist. To make sure that you're safe while the transaction is ongoing, you'll want to meet in a public place.
Buying Secondhand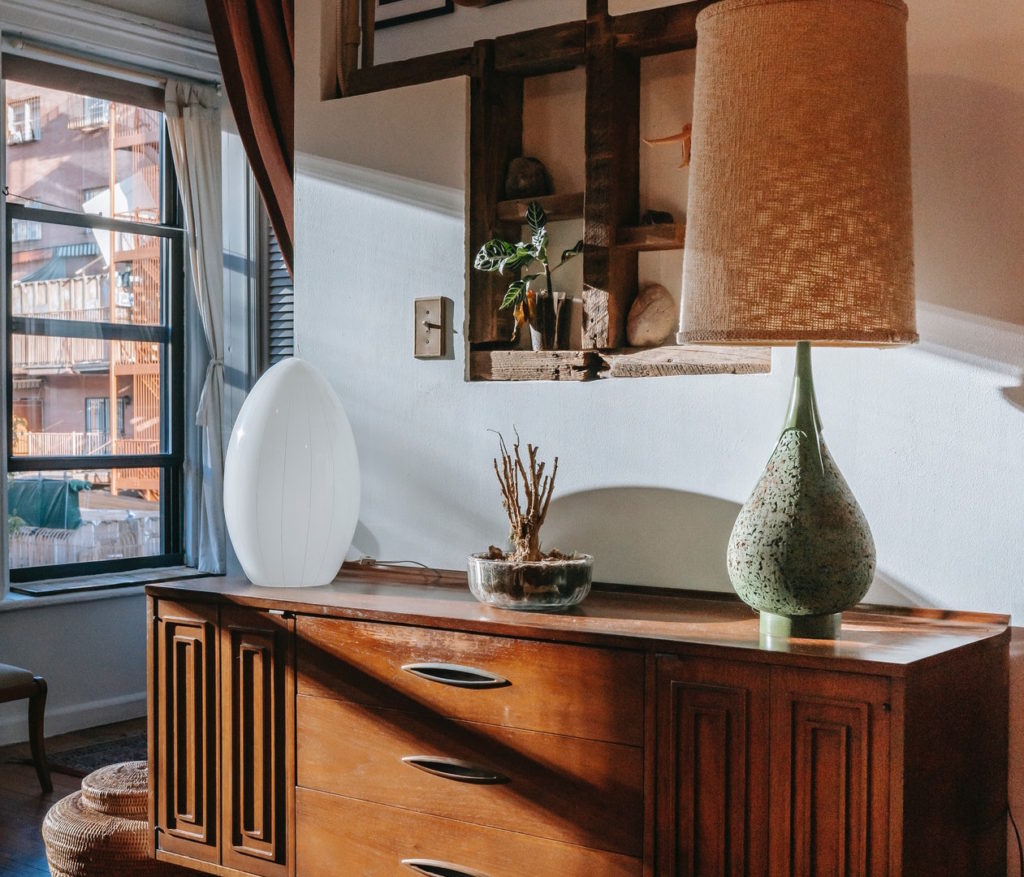 Buying secondhand is a great way to purchase quality and long-lasting items that may be difficult to find anywhere else. Thrift stores and flea markets are known for the unique pieces they contain that weren't necessarily mass-produced, which gives you the opportunity to purchase items that will add to the personality of your interior design. It's possible to find furniture pieces and home decor items that are more than 100 years old, which can give you a sense of history and community that you can't find when you buy furniture from a popular retail chain.
Buying secondhand is also a great way to help the environment. Making a new piece of furniture creates waste and uses up a large number of resources. When you purchase secondhand items for your home, important resources aren't used in the creation of these items, which allows you to do your part to help the environment. Keep in mind that secondhand furniture is also healthier to buy than modern furniture found at a chain store. Newer furniture pieces are commonly made with particle board that's kept together with formaldehyde. This chemical is a carcinogen that is known to induce nose and eye irritation. Buying secondhand means that this won't be an issue for you.