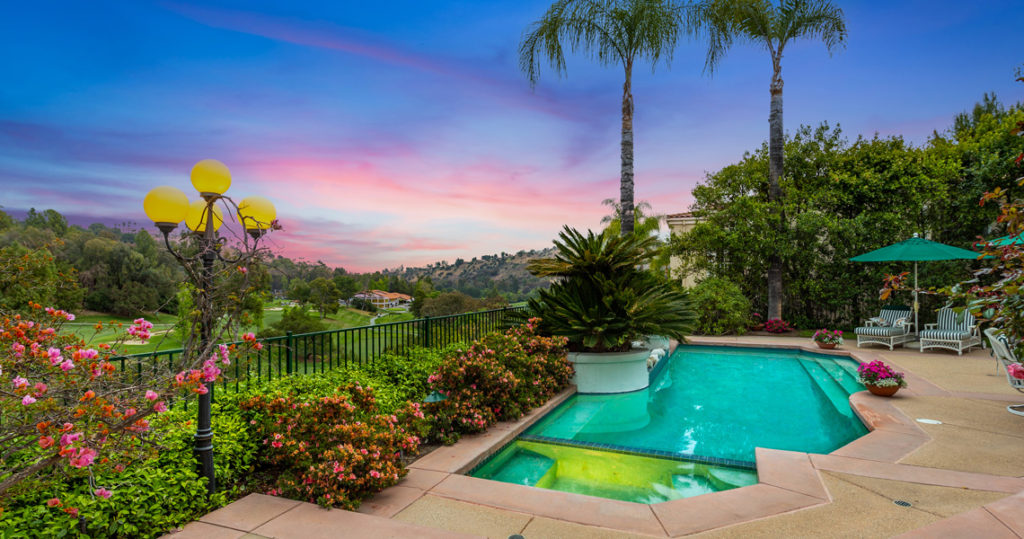 Searching for the ideal home takes time, patience, and a thorough understanding of what you want from a new home. While there are plenty of great places to live in and around Southern California, a top destination that you should consider is Calabasas, which is a beautiful city in Los Angeles County that's known for being home to the Leonis Adobe, which is among the oldest buildings that still stands in Los Angeles County.
Calabasas consists of numerous communities that are popular among new homeowners, the primary of which include The Oaks, Calabasas Hills Estates, Hidden Hills, and Vista Pointe. All of these communities are comprised of luxury homes and are gated, which means that you'll benefit from increased privacy and security when you buy a home in one of these communities.
This city has proven to be a high-profile area with many celebrity residents. Because of the safe neighborhoods and spectacular weather, the area is a favorite among people who are searching for a new home. This article takes a more in-depth look at the many reasons why Calabasas is a desirable community for potential homeowners.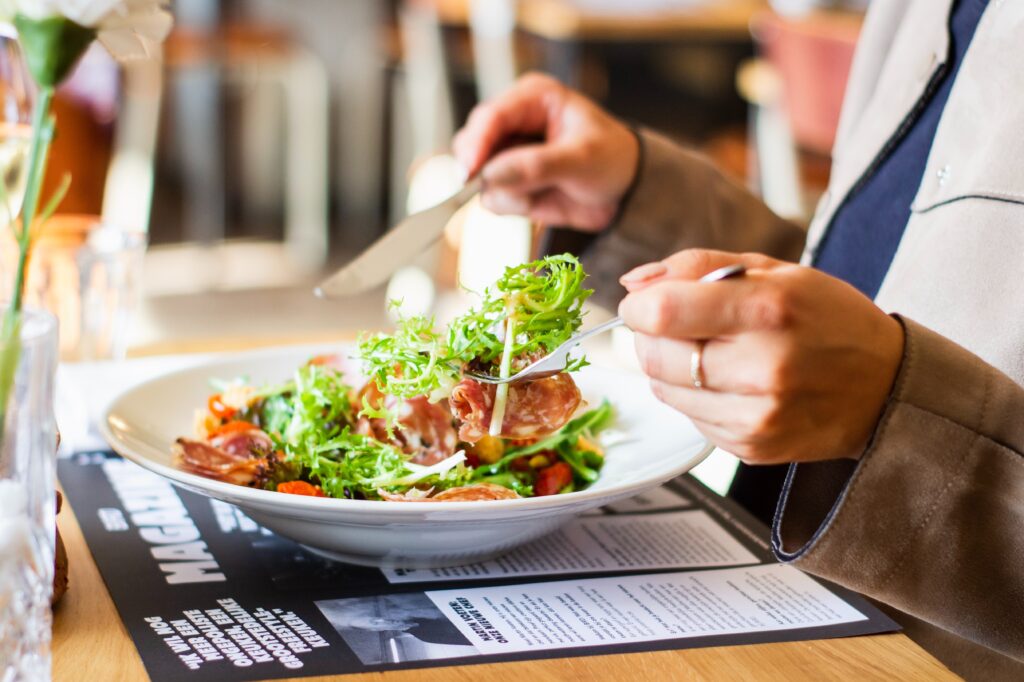 5. Outstanding Restaurants & Local Hotspots
Calabasas plays host to many outstanding restaurants and local hotspots, which include some great nightlife destinations. The restaurants and cafes in Calabasas cover nearly all cuisines, which include everything from American to Mexican. If you love Italian cuisine and want to sample a delicious Italian menu, consider making a reservation at Toscanova. Their menu is comprised of everything from pizza and pasta to fried calamari and Chilean sea bass. Visitors to Toscanova are presented with a chic and comfortable atmosphere. You can get great views of the city by having dinner on the outdoor patio.
Another well-rated restaurant to consider dining at is Shibuya, which is an intimate Japanese restaurant with a focus on sushi and sashimi. Their menu is exhaustive and includes most of the dishes you would expect to find at a Japanese eatery. Shibuya is a favorite among celebrities for its eclectic atmosphere and fantastic food. A few other Calabasas restaurants that you might want to visit include SUGARFISH by Sushi Nozawa, The Six Chow House Calabasas, and Marmalade Cafe.
If you'd like to know more about the nightlife in Calabasas, the two most popular destinations include The Rabbit Hole and Sagebrush Cantina, both of which provide live music, a well-stocked bar, and spacious areas for dancing.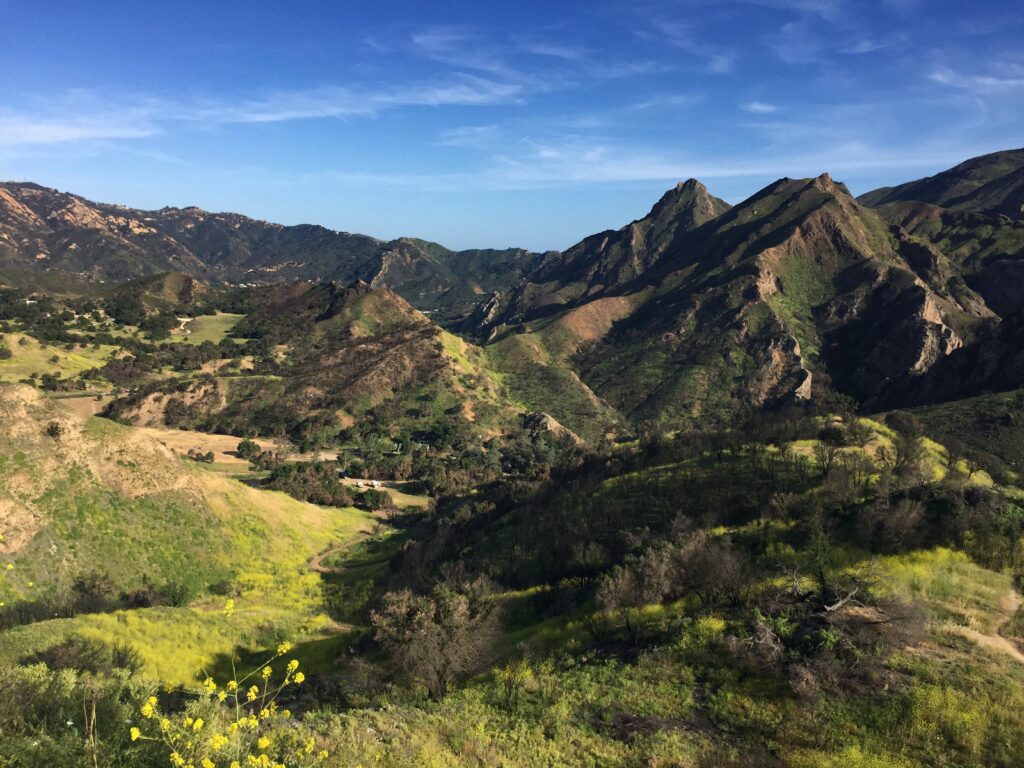 4. Beautiful Parks & Surrounding Natural Landscape
If you enjoy spending time outdoors among nature, you'll benefit from the amazing weather that Calabasas has. The city itself consists of dozens of beautiful parks as well as the surrounding natural landscape that you can explore whenever you want. Because of the city's close proximity to the sprawling Santa Monica Mountains, residents of Calabasas can go for a hike without needing to first drive a long distance.
While there are several dozen trails for you to select from, likely the best trails to hike in Calabasas include the Malibu Lake Trail, the Rock Pool and Century Lake Trails, and the Mesa Peak Trail. If you want to hike a difficult trail that will test your endurance, consider hiking the nine-mile Saddle Peak trail, which has an elevation gain of nearly 2,300 feet.
If you'd rather relax while you enjoy the Calabasas scenery, there are many wonderful community parks that you can spend time at. Of the many parks and recreational facilities in Calabasas, the two most popular ones include Calabasas Creek Park and Grape Arbor Park, the latter of which has some of the most picturesque views that can be had in Calabasas.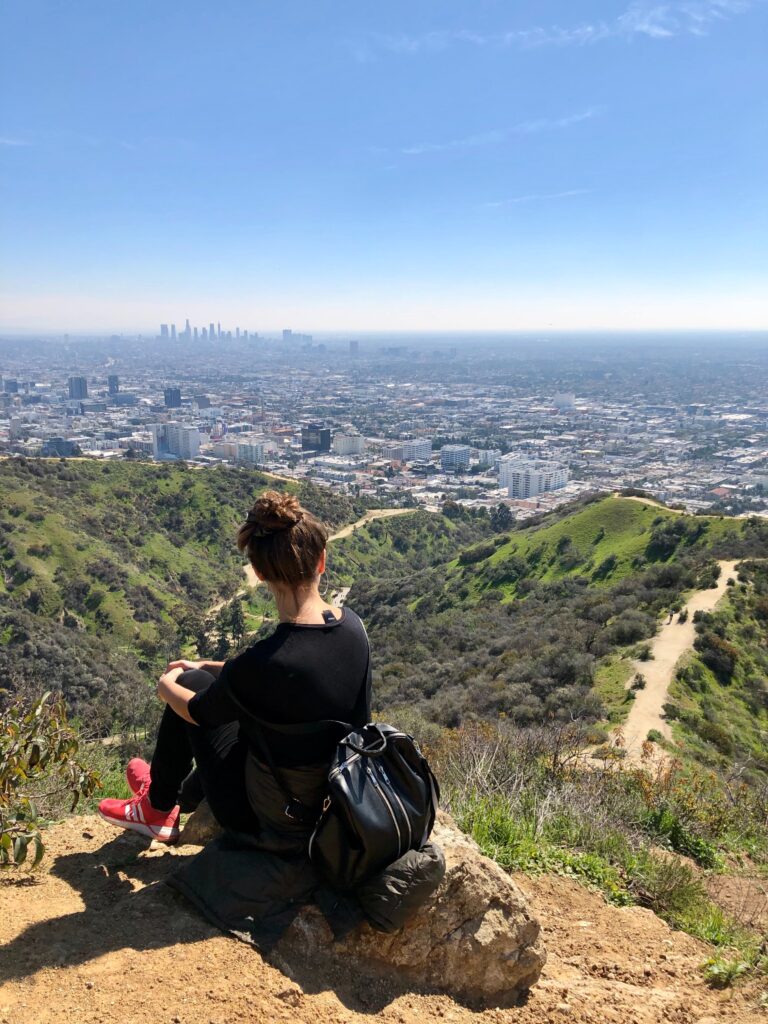 3. Close Proximity to Bustling Downtown Los Angeles
If you enjoy the bustling city life that Downtown Los Angeles provides but don't necessarily want to live there, Calabasas has very close proximity to LA. You can drive from Calabasas to Los Angeles in just under one hour, which should make it easier for you to schedule fun weekend plans, entertainment, or shopping trips in LA. While Calabasas has something to offer for everyone, being nearby Los Angeles means that you can make your life as varied and eventful as you want it to be.
Let's say that you've spent the last few weekends traveling to several of the best restaurants, hotspots, and attractions in Calabasas. You can change things up by taking a relatively short drive to Downtown LA. If you're there to take a mini vacation, consider visiting the Los Angeles County Museum of Art, Disneyland Park, The Getty, or the Santa Monica Pier.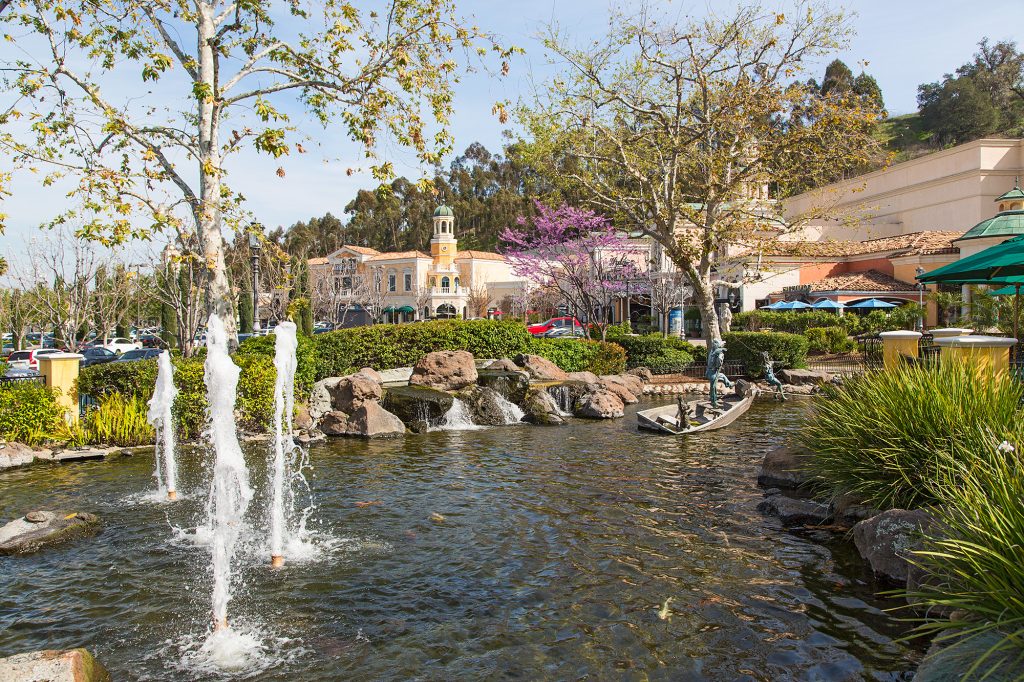 2. Fantastic Local Shopping & Businesses
Calabasas is also known for its fantastic shopping opportunities as well as the many businesses that call the city home. Because Calabasas is considered to be a more stylish and luxurious place to live among the many potential destinations in Southern California, most of the shops found throughout Calabasas are upscale stores or smaller boutique stores that provide unique goods and merchandise.
If you want to gain access to the best luxury stores that Calabasas has to offer, stop by The Commons at Calabasas, which houses upscale clothing stores like Kate Spade as well as beauty shops like L'Occitane En Provence. Sephora, Lululemon, and Barnes & Noble are a few additional shopping destinations you could visit when shopping at The Commons.
Another highly popular destination for residents of Calabasas is the Calabasas Farmers Market, which is a weekly outdoor market that provides visitors with locally sourced produce, flowers, wine varietals, and food of all kinds. The market is open every Saturday from 8AM-1PM. Nothing tastes quite as good as fresh produce that's grown by local farmers. The Calabasas Farmers Market allows you to sample this produce to find your favorites.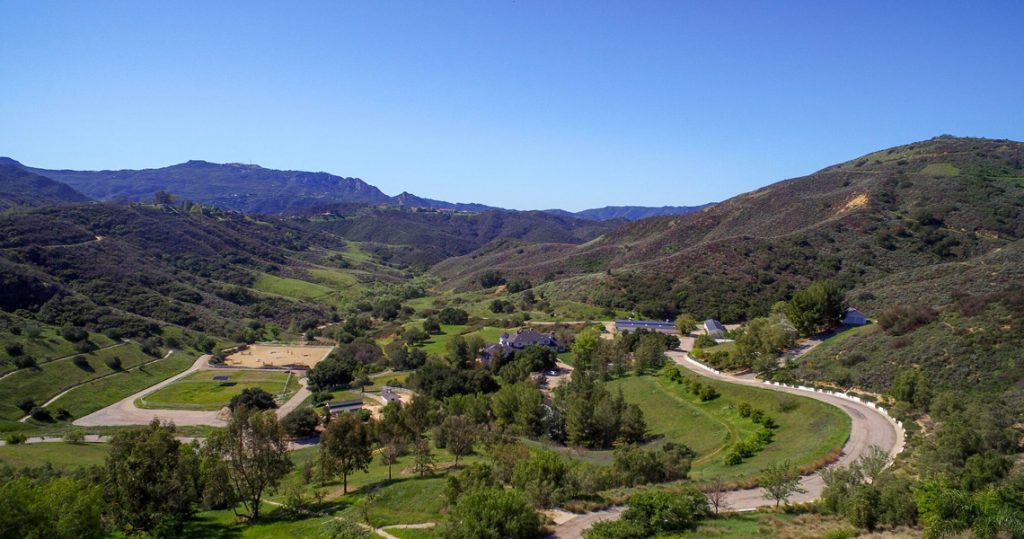 1. Spectacular Homes & Residential Communities
A key reason to live in Calabasas is that the city is comprised of many amazing homes and residential communities. If you want to purchase a luxury home in a luxury community, Calabasas is among the best destinations in Southern California. The city also has some great schools for your children to attend. As mentioned previously, Calabasas hosts numerous gated communities that provide homeowners with added privacy and security.
The more high-end gated communities also provide 24/7 security from professional security guards. If you want to be certain that your investment into a home will be protected from being devalued in any way, consider purchasing a home in one of the gated communities. These communities include The Oaks, Hidden Hills, and Calabasas Hills Estates. The homes in this city are highly varied to account for practically every need. You can find smaller single-family homes for $300,000-$400,000 as well as large estate homes that are priced as high as $20-$30 million.
Calabasas residents are mainly served by the Las Virgenes Unified School District, which itself consists of many reputable and esteemed schools. The city is host to four elementary schools, two middle schools, and one high school, the latter of which is Calabasas High School. Every school in this district has received its fair share of awards and recognition over the years. For instance, the National Blue Ribbon Award was given to Calabasas High School as recently as 2006. The Las Virgenes Unified School District was in the top 2% of school districts in California.
Conclusion
While the entirety of Southern California is considered to be a premier destination for new homeowners, Calabasas is among the best cities to live in regardless of what your interests are. Everyone who lives in Calabasas benefits from the amazing weather and comfortable temperatures. If you enjoy shopping, The Commons at Calabasas is just one shopping center in the city that you can spend time at. In this shopping center are nearly two dozen high-end stores that offer everything you need in home goods, beauty supplies, furniture, and clothing.
The restaurants in Calabasas are some of the best you can find in all of Southern California. Without even traveling to Los Angeles, you can dine at restaurants that offer menus of Mexican, Mediterranean, Italian, Japanese, Korean, and American cuisines. These restaurants are also highly varied in the type of atmosphere they provide to guests. While some restaurants offer a more elegant and sophisticated atmosphere that's perfect for a date night, other restaurants offer a more energetic and lively atmosphere that's ideal for a night out with friends.
When you live in Calabasas, you'll be in close proximity to Downtown Los Angeles, which means that the best of LA is just a short drive away. Anyone who's searching for a new home will find that Calabasas is the place to be. No matter what your price range is, you're certain to find several homes that meet your needs and provide you with the types of amenities you would expect from a luxury home. Once you've found your dream home, you'll be able to enjoy all that Calabasas has to offer.