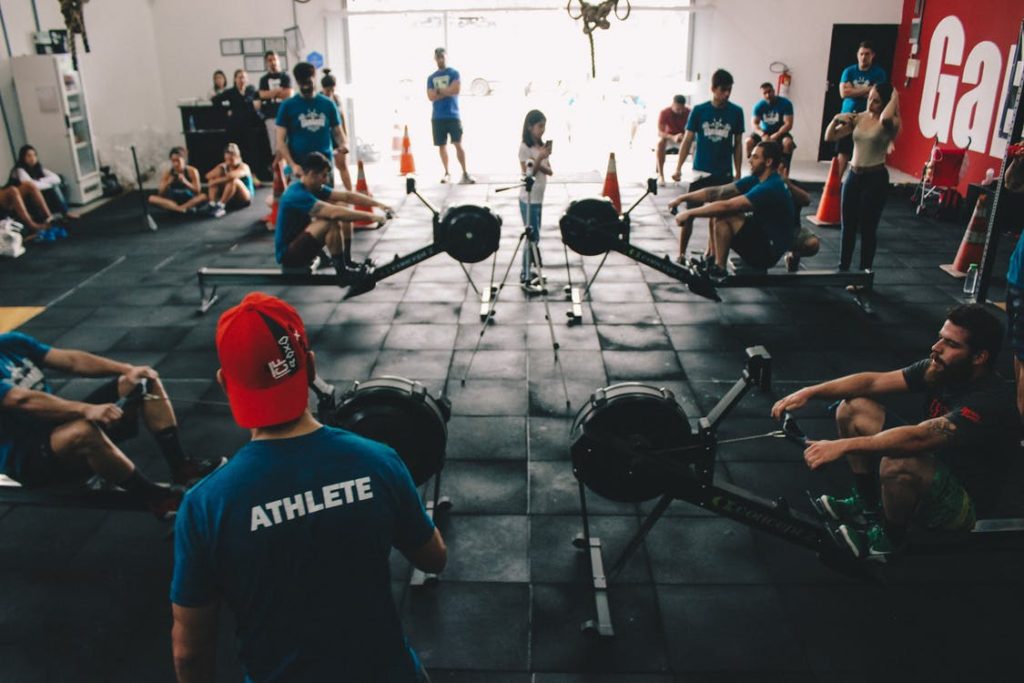 Westlake Village is a fantastic destination that offers a myriad of options for residents to get outdoors and maintain an active lifestyle. The beautiful Southern California weather of mild temperatures and sunny days is the perfect backdrop for those who wish to live an active and healthy lifestyle. When you're out and about, there are also plenty of options for shopping, dining, and entertainment, which means that you can find everything you need in one location. For the fitness conscious, Westlake Village offers a number of high quality performance and luxury gyms including Pilates and many other fitness activities! The following gives you a more comprehensive look at five of the best gyms in Westlake Village, each of which will provide you with a different experience.
5. Anytime Fitness
Anytime Fitness is a neighborhood gym in Westlake Village that's known mainly for being open 24 hours a day, which allows you to get a workout on your schedule. While this fitness center is open 24 hours a day, the staff is only there from 10:00AM-7:00PM, which is something you should keep in mind if you require training or assistance with the exercise equipment. A fantastic feature of this gym is that they offer a 7-day free trial that will allow you to test out the equipment and get in some workouts before committing to an actual membership.
Anytime Fitness is a relatively spacious gym that offers a range of state-of-the-art fitness equipment that allows you to perform strength training, cardio training, and functional training. They also have a large team of personal trainers who are available to provide specialized training in either private lessons or group lessons. The types of training that you can select extend to HydroMassage, virtual training, and body composition tracking. A less rigorous training class that new members to the gym automatically receive is a fitness consultation. This consultation provides you with an hour of personal training, a short warm-up, a light workout, and a fantastic fitness plan that covers your first 30 days as a member of the gym.
There are a variety of membership options that you can choose from, which start at a cost of $59 per month. As a member, you'll gain 24-hour access to the gym, free classes, wellness programs, heart rate monitoring, and a wide variety of different machines and equipment, the latter of which includes treadmills, exercise bikes, rowing machines, squat racks, free weights, medicine balls, and jump ropes.
4. Elite Fitness Plus
Elite Fitness Plus is a health club and gym in Thousand Oaks that offers something for everyone. Some of the primary services that are provided to members of this gym include private fitness training, semi-private training, athletic development classes, pre and post rehabilitation classes, nutrition counseling, and Kinesis classes. When you become a member of this gym, you'll be provided with some of the best fitness facilities in Southern California. No matter which part of your body you would like to work out, you'll find the equipment necessary to do so. There are also a large number of television sets around the gym that provide you with something to watch as you're progressing through your workout.
While the primary training classes offered at this gym include private and semi-private classes, you could also choose to join a foursome coaching class or a a small group e-F.I.I.T class, the latter of which is centered mainly around functional and interval training. If you're new to the gym, you can schedule a free session that will help you get to know more about the place before becoming a member. Keep in mind that all of the trainers and coaches at Elite Fitness Plus have degrees in exercise physiology, which means that you can be confident you'll receive effective training from them.
The equipment at Elite Fitness Plus is updated on a consistent basis to make sure that members have the latest weights, machines, and other exercise equipment. When you're thinking about joining this gym, it's important to understand that they do not provide traditional memberships. All of the workouts are by appointment only or within small group classes. You'll be provided with a free week of small group classes upon if you contact the gym before joining one of their classes.
3. Sportfit Westlake
Sportfit Westlake is a personal training facility in Westlake Village that provides visitors with a more focused experience when working out. From the moment you first enter, you'll be provided with a tour of the facilities that will give you a better idea of what types of classes and equipment are available for members. The gym itself is somewhat small but offers practically all types of fitness equipment, which includes cardio and strength training equipment. There are also a large number of accessories on hand like medicine balls. A somewhat unique inclusion within this gym is a climbing area with grips that allows you to obtain a more intense form of strength training.
If you want your child to start working out while they're young, children are welcome at the gym. There is a wide range of equipment and accessories that are specifically designed for younger kids. Along with the highly qualified personal trainers on hand who offer both private and semi-private fitness classes, you'll also be able to work with chiropractors if necessary, which will allow you to understand which areas of your body you should focus on when working out. If you want to become a member at this gym or sign up for a class or two with a personal trainer, you can learn more about the pricing by calling Sportfit Westlake at (818) 427-1460.
2. Ultimate Performance and Fitness
Ultimate Performance and Fitness is considered to be among the best fitness centers in and around Westlake Village by anyone who visits. Their main goal is to make sure that members of the gym reach their personal fitness objectives. You'll experience trainers who are very helpful and motivational while also keeping you accountable to make sure that you don't slip up with your fitness goals. They are among the largest private training studios in the Conejo Valley with a size of 5,000 square feet. The main fitness equipment included at this gym is centered around strength and cardio training, which means that you'll have access to free weights, dumbbells, elliptical machines, and boxing equipment.
The primary types of classes offered at Ultimate Performance and Fitness include standard personal training classes for kids and adults of all ages, private training, small group or couples training, post rehab training, and circuit training. A distinct feature of this gym is that they also offer sport-specific training for any athlete looking to better their skills. The range of different sport-specific training options available to you include football, baseball, basketball, golf, boxing, soccer, wrestling, track and field, and mixed martial arts.
All of the trainers and coaches at this gym are fully certified and have received degrees in exercise science or kinesiology. If you're thinking about becoming a member of this fitness center, they don't offer standard membership options. The only way to use the equipment that's offered at the gym is to join a personal training class. Whether you join a private or small group fitness class, you'll always have a trainer on hand to assist you with the workouts and help you become accustomed to using the equipment. The costs for personal training classes vary depending on the type of class as well as how many sessions you sign up for. You can determine the costs for your class of choice by contacting the gym at (818) 706-7322.
View this post on Instagram
1. Equinox Westlake Village
Equinox Westlake Village is a large luxury gym in Thousand Oaks that offers premium services and facilities for any member who joins. The unique aspect of this gym is that they focus on luxury amenities and facilities. Upon entering the gym, you'll be presented with facilities that are stylish and elegant while also providing you with a relaxing atmosphere. Their fitness equipment and services are stretched out across multiple floors, one of which consists of a fitness shop where you can purchase premium exercise and workout clothing. Along with the spacious fitness floors, members also gain access to a delightful spa and Olympic-sized pool, the latter of which provides you with a great place for aerobic exercises.
Different rooms in the gym focus on different types of exercises. One room is dedicated entirely to strength and resistance training equipment that will allow you to strengthen your muscles. Another room is comprised of a large number of modern exercise bikes that allow you to monitor everything from your heart rate to the number of calories you burn during the workout. When you're thinking of becoming a member at this studio, there are a range of group fitness classes that you can select from, which extend from the True Athlete class that focuses on athletic training to the precision running class.
Personal training classes are also available if you want a more personalized class to help you achieve your primary exercise goals. The trainers at the Equinox gym are considered to be among the best in the area and are able to help you maximize your fitness levels. You can sign up for Pilates or yoga classes as well if you want a slightly more relaxing workout. If you are considering becoming a member, you'll be able to try out some of the classes beforehand. You'll need to contact the gym to learn more about the membership costs. Some of the benefits that you will receive as a member include the ability to sign up for unlimited classes, a complimentary personal training session, discounts at the fitness shop and gym, and in-club amenities such as saunas, steam rooms, private lockers, and laundry service.
Conclusion
Whether you're a new Westlake Village homeowner and looking to find a new local spot to work out, or you've been a resident for years and want to switch things up, Westlake Village has plenty of fitness options to choose from! If you're in the market for a new home or are looking to sell your current property, contact Nicki & Karen Southern California Luxury Real Estate today to leverage our years or local real estate experience and get the best price for your home!