There are a myriad of things that you can do improve the appearance, quality, and value of your home, which range from adding a new roof to your home to renovating an entire room. Among the more appealing additions to a home is stamped concrete, which is a type of textured concrete that's designed for the purpose of replicating stones for a more stylish and upscale appearance to an outdoor surface. The types of stones that stamped concrete is able to replicate include tile, flagstone, brick, and slate. This type of concrete can also accurately match the appearance of wood, which makes it highly versatile.
The main benefit of obtaining stamped concrete for outdoor flooring is that it offers a stylish appearance at an affordable price. In fact, stamped concrete is typically more affordable when compared to the materials that it replicates. It also has the benefit of being highly durable and weather resistant, which makes it the ideal material to use on driveways, walkways, courtyards, pool decks, and patios. Since this concrete is stamped to achieve a certain look, you can choose to stamp the material with your preferred texture before installing it around your home.
The average cost associated with stamped concrete depends on a variety of factors, the primary of which involves the total size of the space where the stamped concrete is being installed. Prices will also need to be negotiated with the installer you choose. If the project is relatively small, the cost for the project should also be on the lower end. On the other hand, redoing an entire driveway with stamped concrete can be costly.
The design and style that you choose for the concrete will also play a part in how costly the material is. If the concrete is made with only a single color, the material should be affordable. For stamped concrete that has a basic texture to it, prices should be around $8-$12 per square foot. These costs can reach upwards of $18-$20 per square foot for more complex textures. Before you start using stamped concrete, it's important to determine if this material is right for your home, which will be detailed in the following article.
Key Takeaways:
Stamped concrete costs around $8-$12 per square foot and can replicate tile, flagstone, brick, or slate to add luxury to any area of your property.
It is easy to maintain through a brush and garden house but must be resealed every 2-3 years.
This article gives you a detailed list of pros and cons to make the decision that is right for your property!
Does Stamped Concrete Increase Home Value?
Stamped concrete is known to add value to any home because it allows you to add luxury to your property no matter the type of project you complete. This form of concrete can mimic natural stone, pavers, and bricks, which means that it can be used to create an aesthetically appealing driveway or patio surface. The end result is that the curb appeal for your property should increase significantly. Keep in mind that the outdoor appearance of your home is the first thing that potential buyers will see if you place your home on the market in the future. With stamped concrete, it's possible to improve the appearance and value of your home without spending too much money.
Stamped concrete is considered to be very durable, which is why it's regularly installed in outdoor locations. The top projects that stamped concrete can be used for include redoing a driveway, adding a courtyard to your home, improving the walkways around your property, and enhancing the appearance of your patio or pool deck. The weather-resistant aspects of this material means that it should last for a long time before needing to be replaced.
While stamped concrete can be used to emulate many different materials, it's very common for stamped concrete to resemble the appearance of brick pavers. These pavers are made from hardened clay that's heat cured before being molded into solid and smooth bricks that are commonly used for outdoor flooring. While brick pavers are great for outdoor surfaces, the full installation cost of these pavers is around $12-$18 per square foot, which means that installing brick pavers is usually more expensive than stamped concrete. If you want the cost of stamped concrete but the appearance of brick pavers, it's possible to use red and russet hues in the stamped concrete to create the desired appearance.
How to Maintain your Stamped Concrete
Cleaning and maintaining stamped concrete is important if you want it to keep its intended appearance. When this material is properly maintained, it should last for decades before needing to be replaced. To keep dirt from building up on the concrete, it's important that you sweep the surface and wash away the dirt on a regular basis. For these steps, you will likely need a detergent, a push broom, and a garden hose that provides you with decent pressure. The basic steps for cleaning this type of concrete include:
Make sure that you rinse the surface of the concrete well with a standard garden hose that's set to the highest pressure

Scrub the concrete with a broom and some liquid dish soap

Complete the cleaning process by rinsing the surface yet again, which will serve to remove all of the soap residue

It's also possible to use a heavy-duty pressure washer for some tougher stains that might be difficult to get out of the concrete with conventional cleaning methods. If all else fails, you might want to look into hiring professional concrete cleaners to handle the cleaning process. With a professional team of cleaners on hand, you can be confident that your stamped concrete is well-maintained.
Along with cleaning the stamped concrete, it's highly recommended that you seal the concrete as well. By applying at least a few coats of a protective sealer to the stamped concrete surface, you should more effectively keep grease, dirt, oil, and chemicals away from the surface of the concrete, which should significantly reduce the time you spend cleaning the surface. When applied correctly, the right sealer can also prevent ultraviolet rays from causing color fading on the concrete, which means that the concrete should retain its initial appearance for a lengthier period of time.
You should have the concrete sealed every 2-3 years. If the weather conditions in the area where you live are rougher, consider sealing the surface every year or so. After you clean the surface of your patio or driveway, resealing the stamped concrete is easy and can be done by:
Drying the surface completely with a leaf blower or by allowing the surface to dry by air for 24 hours

Applying sealer with a standard one-inch roller

Applying an additional coat of sealer once the first one has started to dry

Likely the best time of year to get stamped concrete would be during the spring season. During these months, the concrete will be able to cure properly, which means that the shape of the stamps should be held without issue. Try to have the concrete installed when inclement weather isn't imminent. If it rains immediately after the concrete has been installed, the final appearance of the concrete could be different than you anticipated.
Pros and Cons of Stamped Concrete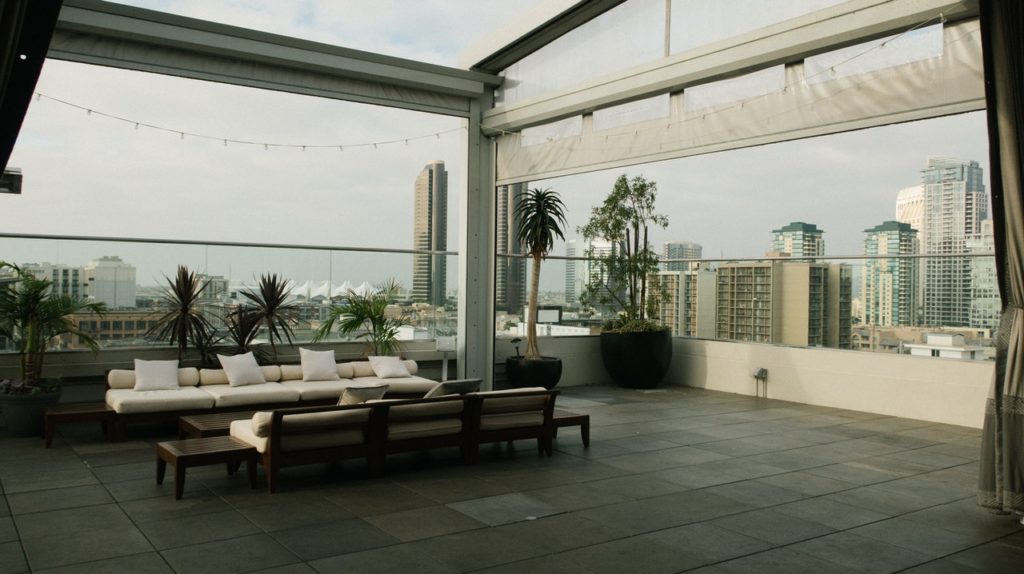 There are numerous pros and cons that come with installing stamped concrete on your property. The many benefits that come with using stamped concrete include:
This material is considered to be more affordable than pavers, brick, and natural stone

Stamped concrete is highly durable and should last for a long time

When the material is sealed, maintenance is easy

You can choose from an almost unlimited number of color and pattern choices

The material is generally slip-resistant if you apply a non-skid additive

The material should bolster the value of your home

The benefits of stamped concrete are hard to ignore, which is why this material is considered to be among the best for any outdoor project. Whether you want to improve the area around your pool or renovate your patio, stamped concrete is a good choice for an affordable material that provides an upscale appearance. However, there are a few negatives that you should be aware of, which include:
Repairs of stamped concrete can be time-consuming and difficult

The material can be damaged by alternating weather conditions and the application of deicing salts

It's not easy to install for anyone who isn't a professional

Minor cracks are common

Cleaning and resealing are necessary at regular intervals

While none of these negatives are major, it's important that you weigh the pros and cons to determine if this specific material is right for your home. While it's possible to install stamped concrete on your own, it's highly recommended that you request the installation services of a professional.
If you're searching for the right designs and patterns to use on your concrete, try to get inspiration from the architectural style of your home or the surrounding landscape. If the exterior of your home is made from brick, the stamped concrete could be made to resemble this material with the right color schemes and patterns. It's common for stamped concrete to be made to resemble the patterns of slate, flagstone, cobblestone, brick, and wood, which means that it can appear however you want it to. Once installed, stamped concrete should last for decades if properly maintained.
Stamped concrete is a highly unique material that can be made to resemble almost every other type of material. The versatility of stamped concrete means that you can create the exact patio, driveway, or courtyard of your dreams without needing to worry about how the material holds up to inclement weather. Stamped concrete is durable and weather-resistant, which is why it's a favorite of many homeowners. Because of the nearly unlimited number of patterns and color schemes that can be selected with stamped concrete, the finished product could be wholly unique.