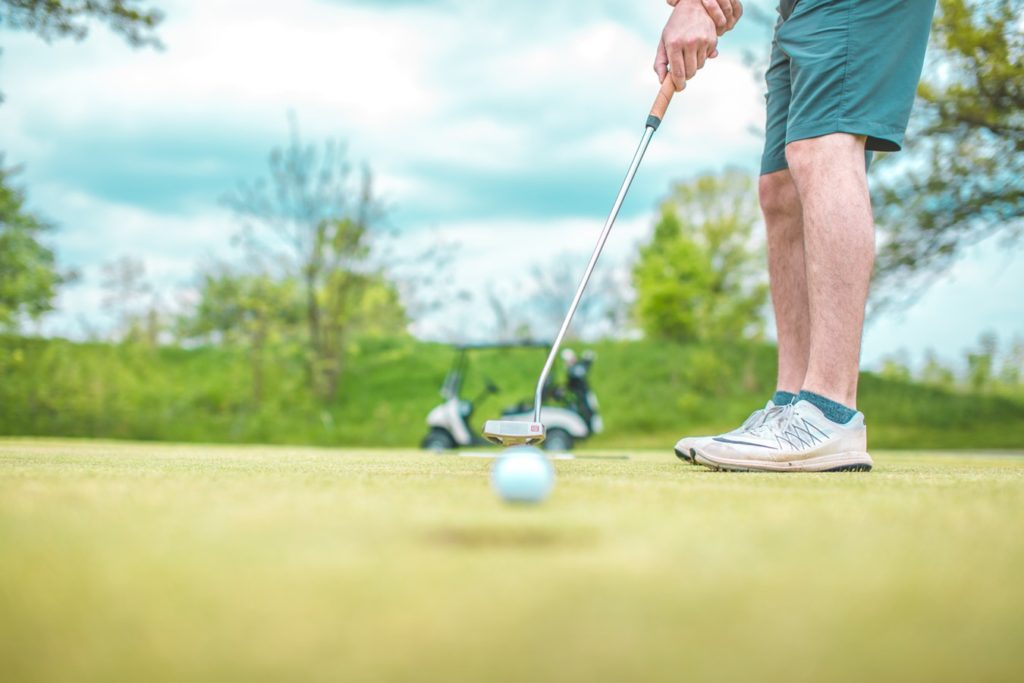 Hidden Hills is a private community nearby Calabasas that is known for its exclusivity and luxury. As such, the community is known for being home to many high profile celebrities and professionals live here and have chosen to do so due to the privacy and security afforded by the community. Hidden Hills is conveniently situated in a location that puts it nearby Calabasas, east of Westlake Village and Thousand Oaks, and to the north of Malibu, which is a fantastic destination for all kinds of beach activities. The city is also a short drive away from Downtown Los Angeles, which is a great place to travel for shopping and entertainment. Many residents who live within the peaceful luxury community of Hidden Hills enjoy golf and the peaceful lifestyle afforded to this luxurious and exclusive community. Below is a list of our favorite golf destinations and clubs around Hidden Hills that you will have access to as a resident of the community.
Calabasas Country Club

The Calabasas Country Club is a popular country club that acts as the primary golf club for residents of Hidden Hills due to its close proximity to the city. The golf course at this country club is comprised of 18 holes that offer spectacular views and a fair amount of challenge due to the numerous bunkers and water hazards situated throughout the course. If you or your children have never played golf before or would like to improve your skill level, there are a large number of instructional methods provided at the Calabasas Country Club, including individual instruction by PGA members and certified instructors as well as a Junior Academy that provides golf lessons for children of all ages.
Along with the golf course, members will also have access to a wide range of amenities that include a 6,000 sq. ft. health and fitness center, a restaurant and dining area that offers an upscale menu, and a variety of fun club events that are held all throughout the year. When you are looking to become a member of the Calabasas Country Club, there are numerous membership levels available to you that include associate golf, legacy limited golf, legacy full golf, social, health and fitness, better golf, limited golf, and full golf memberships. If you want to be able to use all of the facilities at the country club, the full golf membership is the one that you will want to sign up for. To find out pricing information, you will need to fill out the form that can be found at this link. When you are considering a visit to the Calabasas Country Club, they can be found at 4515 Park Entrada in Calabasas .
Sherwood Country Club
The Sherwood Country Club is a prestigious golf course that is considered to be among the finest in Southern California. The golf course that can be found at this country club was designed by Jack Nicklaus and is accompanied by a fantastic driving range where you can practice before taking to the course. The 18 holes at this course offer beautiful scenery as well as a range of different difficulties when swinging the club. While some holes are difficult even for experienced golfers, other holes offer only a small challenge, which means that you can have fun when golfing no matter how much you've played golf before.
The amenities at this country club are practically limitless and provide you with access to a full-service golf shop, fourteen tennis courts that include hard, clay, and grass surfaces, private banquet facilities, a variety of dining options, and a complete spa. This country club is also known for the myriad of social events that are held there throughout the year, which range from holiday events to casual theme dinners. If you want to become a member of this country club, the four memberships available to you include a standard golf membership, a national golf membership, a tennis club membership, and a social membership. The standard golf membership is available with a single payment initiation fee of $125,000 and monthly dues of just less than $1,500. You can find the Sherwood Country Club at 320 W Stafford Rd. in Thousand Oaks.
North Ranch Country Club
The North Ranch Country Club is a fantastic golf course and country club in Westlake Village that is home to a championship golf course that consists of 27 holes that are divided into three mini courses. The greens are considered to be spectacular for putting while the scenery offers up majestic mountain views as you swing your club. The country club consists of 12 tennis courts that are professionally lighted and can be used regularly if you obtain a golf or tennis membership. The tennis membership allows you to receive private lessons from professionals and includes a full tennis event calendar. You also won't want to miss the five-star restaurant at the North Ranch Country Club that offers a delectable menu filled with fresh food and access to a wine list that is comprised of more than two dozen wine varietals.
Some of the additional amenities you can take advantage of as a member of this club include complete massage services as well as a barber shop. When making use of the massage services, there are eight different techniques for you to consider that include a deep tissue massage and acupressure. The membership options that you can select from include seven different memberships, each of which comes with its own benefits. You can fill out this form to find out more about your preferred membership. The North Ranch Country Club is located at 4761 Valley Spring Dr. in Westlake Village.
Lindero Country Club
The Lindero Country Club is a club in Agoura Hills that is open to the public and consists of a 9-hole course that is situated over 2,000 yards of land. This course is known for the numerous lakes found around the holes as well as a running creek that rolls through the narrow fairways. Although the golf course is open to the public, the extra amenities that can be found at this country club are only available when you become a member. Members are provided with access to an Olympic-sized pool as well as four tennis courts and the Osteria Orto restaurant. Members can select their preferred tee times and are provided with a 10 percent discount off of all merchandise.
You will also be able to participate in a variety of different social events and activities. Individual memberships include a golf and pool membership as well as a golf only membership. The golf only membership has an initiation fee of $250 with additional monthly dues of $75. The golf and pool membership comes with an initiation fee of $350 alongside monthly dues of $100. There are also a variety of family memberships that include monthly dues that range from $65-$175 and initiation fees that extend from $300-$800. When searching for the Lindero Country Club, it's situated at 5719 Lake Lindero Dr. in Agoura Hills.
Westlake Golf Course
Westlake Golf Course is a course that can be found in Westlake Village and is a short drive west from Hidden Hills down the 101 Freeway. The course offers 18 holes of golf at a par of just 67, which makes it one of the easier courses on this list. If ever you want to practice your swing or try to improve the distance at which you can hit, the course includes a sizable 40-stall driving range that is lit at night for easy use at any time of the day. There are nine teaching professionals at the Westlake Golf Course that offer professional instruction on a variety of different aspects of golf, allowing you to target specific areas of your game that you would like to enhance.
The memberships available with this golf course are divided into men, women, and junior clubs. When you join one of these clubs, you will be able to participate in a large number of golf events and tournaments with other club members. If you have selected a tee time at the Westlake Golf Course, you can find the course at 4812 Lakeview Canyon Rd. in Westlake Village.
Woodland Hills Country Club
The Woodland Hills Country Club is a club that is nestled in the foothills of the Santa Monica Mountains, which means that you are provided with breathtaking views every time you go out on the course. The course itself comes with 18 holes and is considered to be a challenging course, which is mainly due to the deep bunkers spread throughout. Along with the golf course, the Woodland Hills Country Club is known for its restaurant where broiled monkfish and Kansas City filet Mignon are two of the most popular dishes among club members. The spacious clubhouse can also be used as a venue for weddings and other private events that you would like to host. The main focal point of the venue is the 1,000 sq. ft. dance floor.
When you want to obtain a membership at the Woodland Hills Country Club, there are seven membership types which you can choose from. If you have a limited time for golfing and only expect to be able to do so on certain weekdays, the weekday golf membership provides you with full access to the course, practice area, and clubhouse from Tuesday through Friday at a reduced cost. The full equity golf membership is the one you should select if you want to be able to make full use of all of the club facilities along with an unlimited amount of golf. This country club can be found at 21150 Dumetz Rd. in Woodland Hills.
Braemar Country Club
Braemar Country Club is a beautiful course that is situated in the picturesque rolling hills of Tarzana. Although the primary attraction of this country club is its unique 27-hole golf course, it aims to provide members with a wide array of different activities and amenities for them to partake in. The golf course is displayed alongside a 10-acre driving range along with a state-of-the-art practice center and junior golf academy. Members at this country club will be able to enjoy sprawling tennis facilities that consist of 20 separate courts, a sizable swimming pool along with a swimming academy, an extensive fitness facility, and a basketball court.
You will also be able to make use of the Member's Grille restaurant that is located on the premises and features delicious continental cuisine. When you are considering obtaining a membership at this country club, there are three membership tiers that focus on golf, tennis, and social athletics, which allows you to select the membership that best fits your needs. You can find out more about the membership costs by contacting them. When getting ready to play a round of golf at the Braemar Country Club, it is located at 4001 Reseda Blvd in Tarzana.
Are you looking to find the right luxury community to call home? Contact us today and Nicki & Karen Southern California Luxury Real Eestate will assist you in finding the ideal location for your new home!